BenQ W1070 vs Optoma HD142X – key features of equal competitors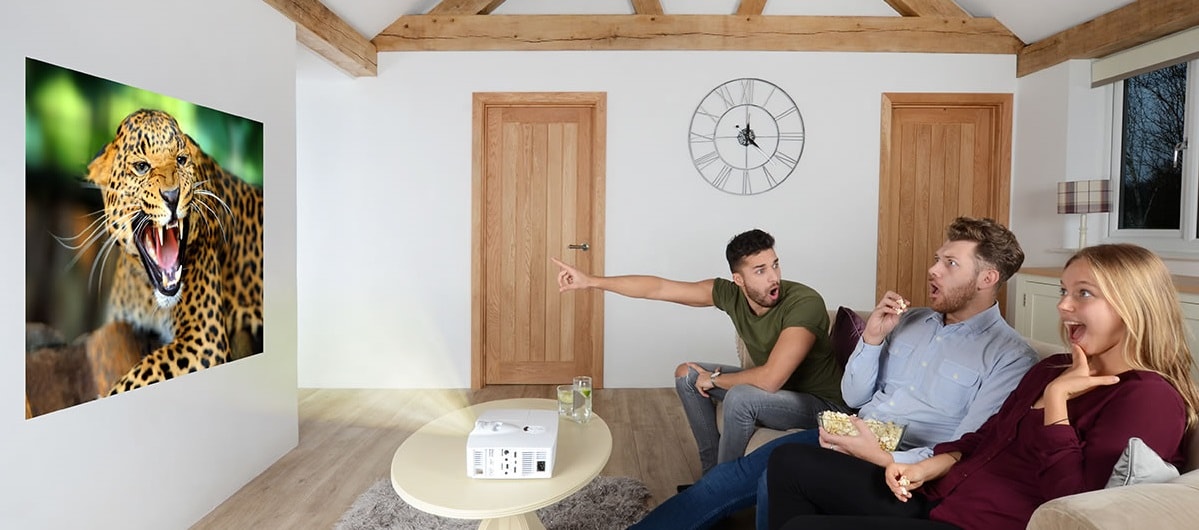 BenQ W1070 – profound contrast levels are worth the price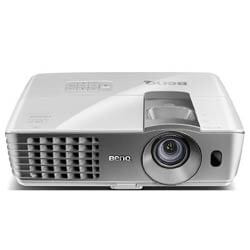 I've been alarmed at the very beginning of my Optoma HD142X vs BenQ W1070 comparison due to BenQ's W1070 by frontal light spilling. Consequently, it doesn't deliver all of its claimed 2000 Lumens of brightness.
BenQ W1070 PROS:
I've been utterly surprised by the amount of gamma presets that I've never seen before: a Black Level and red/green/blue hues offset and gain adjustments for fine tuning the color temperature, DLP's Brilliant Color option, and a full-color management system. You can touch up a definite color in a certain occasion and easily switch it back when it's out of need.
Even without color adjustments skin tones look natural and smooth without any pinky or red undertone; also, I haven't noticed any noisy iris. The picture has balanced colorization; the middle and edges are equally bright.
The vertical image shifting that is able to alter the image up or down optically, eases the usage and saves time, despite being limited in scope and achieved only via a screw hidden under a cover on the top.
BenQ W1070 CONS:
It neglects low-level shadow detailing, thus the pictures at some moment look flat. It can be adjusted, of course, but it influences the black level. So, I've tried, but then returned it back in the original configuration.
The lens looks cheap and useless; actually, it supports a very small amount of optical zoom, thus it's complicated to get it positioned in a helpful place in the long distance.
In addition to the limited amount of optical zoom, the focus rings are weak too. They're stiff to turn, making fine adjustments difficult to be precise.
Optoma HD142X – a fairly good picture but a weak 1.1X zoom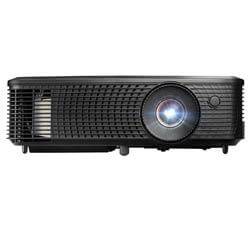 After BenQ W1070 vs Optoma HD142X reviewing, I was a little bit upset, because of Optoma's HD142X weak zoom that didn't adjust the picture size as I wanted, so I should found an appropriate place and height for its location.
Optoma HD142X PROS:
The vertical keystone is easy to use; on the remote control is a dedicated button for it, any additional physical adjustments are required.
The remote control is backlit and convenient to hold; in addition to the dedicated button for the keystone correction, each individual input has a nice touch.
Fan noise doesn't cause any disturbance; it's almost unnoticeable even in Normal mode.
Optoma HD142X CONS:
Colors look flat without depth and intensity but mainly accurate, however, skin tones, the most vital element, look pinkish.
Be ready for screwing a lot because all three legs are adjustable via screws that have small threads.
Appeared that it's not powerful enough for the room with a bright light, so I'm suspicious about its 3000 lumens that are claimed because a text looks a bit dull, colors – not intense, white areas − bluish.
Have you chosen BenQ W1070 vs Optoma HD142X yet?
Optoma HD142X has longer lamp life (5000 vs 3500 in Normal mode; 6000 vs 5000 in Eco mode). Meanwhile, Optoma HD142X has twice smaller contrast ratio (23000:1 versus 10000:1). BenQ W1070 is brighter (3000 versus 2000 lumens) that its counterpart in Optoma HD142X vs BenQ W1070 comparison. Unfortunately, BenQ W1070 doesn't have Type A USB.
Firstly, note the following points and then decide: BenQ W1070 doesn't have low-level shadow detailing that makes the image shallow, while Optoma HD142X ads pink undertone to faces.
If you are craving for more info, check up a chart and click on other my reviews.