The 6 Best PTZ Cameras in 2022 for Live Streaming, Video Conferencing, and Production
Title
Honey Optics 20x 4K Camera
Honey Optics 12x 4K Camera
Connectivity
USB, Ethernet, IP, HDMI, 3G-SDI
USB, Ethernet, IP, HDMI, 3G-SDI
What is a PTZ Camera?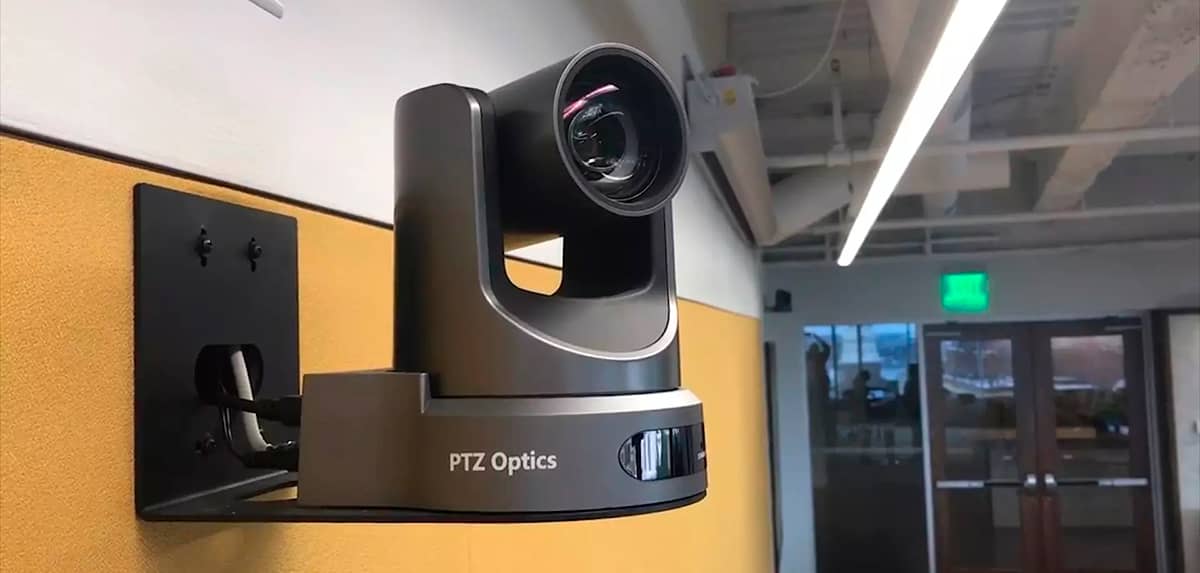 The PTZ camera meaning lies in its name, "PTZ" is an abbreviation that describes the control capabilities of a camera—Pan, Tilt, and Zoom. Such a camera has mechanical parts that allow it to swivel from left to right, tilt up and down, and zoom in and out. All of these moves can be controlled remotely using a special remote controller with a joystick (PTZ control systems are usually sold separately), software, or an app.
Most PTZ cameras are made up of two parts: the base and the tower. Specifications may differ depending on the model. They can be used with SDI video switchers, HDMI systems, IP video workflows, or USB video conferencing systems. There are also high-tech models that can detect movement within their field of view.
Such cameras are really popular and widely used in different areas since they allow for real-time video playback. PTZ cameras are widely used in these applications due to their swivel mechanism, optical zoom, and wide viewing angle:
outdoor and indoor video surveillance systems
video conference
broadcasting
live production
lecture or sermon capture
distance learning
PTZ cameras were quite expensive when they first appeared on the market. However, there is now a wide range of models available, ranging from around $100 to a few thousand dollars. Reading our informative reviews, you can find the best PTZ camera for your personal needs. We have tested some models: from the simplest ones to those that have nearly limitless capabilities. So don't delay reading the following reviews to make an informed decision.
PTZ Camera Reviews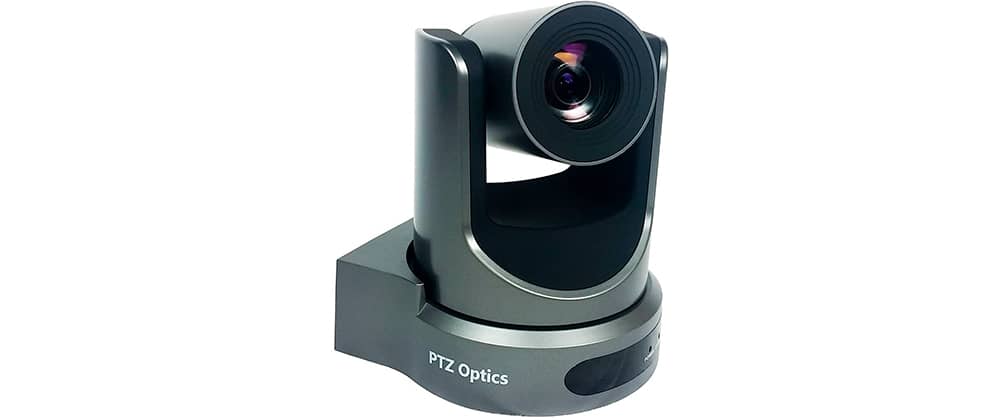 This model is among the most popular PTZOptics cameras that capture video in Full HD (1920 x 1080) resolution (up to 60 FPS). It supports such video formats as MPEG-4, MJPEG, and MPEG-H. The model also has 20x optical zooming capability. You can benefit from H.265 IP streaming and H.264 and multicast streaming.
The camera's housing is gray. There are two LED indicators on the front (Power and Standby). The camera has a 60.7° wide-angle lens. It ships with a power adapter, IR remote control, and an RS-232C cable.
On the back, there is a row of such inputs as LAN, HDMI, HD-SDI, and USB 2.0. The camera can stream from 3 ports simultaneously. You can also use the PoE connection for flexibility.
This PTZ camera has a premium price tag, but it provides a clear image with the impressive color transmission. Plus, it can work in low light conditions thanks to 0.5 lux, adding to the camera's versatility.
So, if you are looking for the best-in-class FHD model, the PTZOptics GEN-2 can potentially be the best pan tilt zoom camera. It also has a noise reduction function to provide a decent quality of sound.
PROS:
The camera is ISO 9001 Certified, which means that it passed the U.S. quality control check.
The picture looks dynamic in bright light conditions.
You can use external software for presets.
CONS:
It comes without a wall mount bracket, so you may need to buy it separately.
You can adjust the image quality only via the remote control but not via the web interface.
Overall rating: 9/10
Recommended controller: HuddleCamHD HC-JOY-G2
Logitech PTZ Pro 2 — Best Budget PTZ Camera for Live Streaming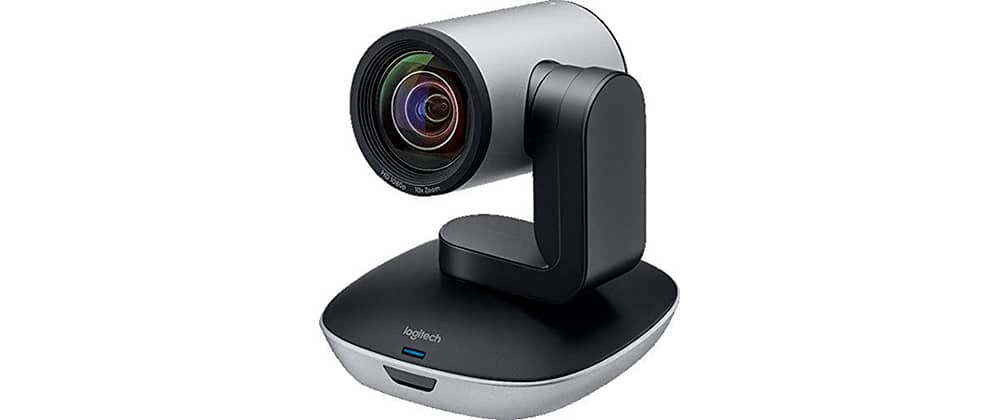 Logitech is known for its affordable PTZ cameras, and the current model is no exception. Although it's an upgraded and more expensive version of the PTZ Pro, it still appears to be almost twice cheaper than the other HD PTZ cameras on the market.
The LED light on the front indicates the camera's power status. It comes with a sleek small remote control, a power cable, a USB cable, a camera mount, and a cable lock.
This model is among the simplest and user-friendly among PTZ HD cameras, offering a plug-and-play solution. To get started with the camera, all you need is a power adapter and a USB cable. It's an HD camera that captures video at 30 FPS. This is sufficient for delivering lifelike, clear video during conferences or other important events.
Logitech manufactures its own lenses. This camera's lens has maximum focal lengths of 30 mm and minimal focal lengths of 28 mm. It also can zoom up to 10x and 90° field of view.
The mechanics of this pan tilt zoom HD camera allows for direct preset movement for smooth pan and tilt that captures all the actions clearly.
PROS:
The camera is compatible with video conferencing apps that run on Windows PCs and Macs, so it can be a great addition to any audio system.
The quality loss during zooming is minimal.
There is also a Kensington security slot on the rear, so you can easily prevent the camera from being stolen.
CONS:
It doesn't have the image stabilization feature.
The camera is too sensitive, making it hard to control its pan, tilt, and zoom features.
Overall rating: 8/10
Recommended controller: Leftek Video Conference Controller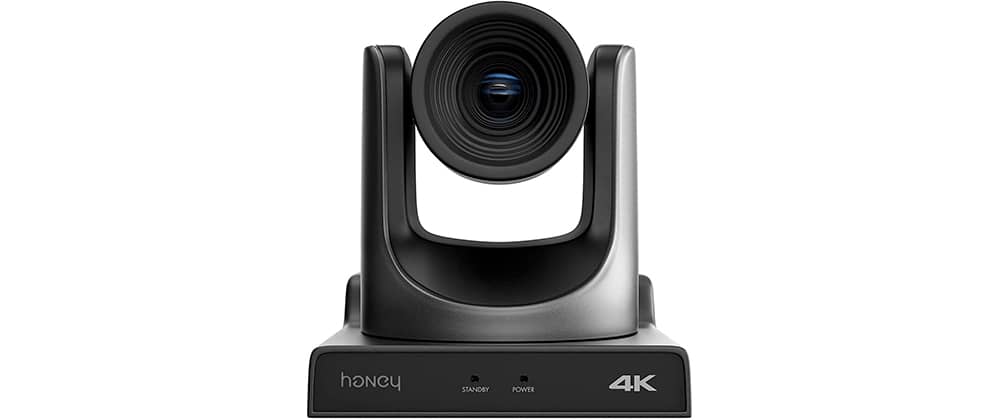 This model doesn't belong to the budget category since it offers a true 4K (2160p, 60/50 FPS) resolution. Nevertheless, it should be noted that many cameras with the same specs cost much more. Actually, it's one of the first affordable 4K PTZ cameras on the market. This way, it can potentially be the best PTZ camera in terms of price-to-quality ratio.
4K video quality also means that when zooming in, the image does not lose much quality, remaining clear and sharp. You can easily target the camera at certain objects when streaming at a distance since it has a 20x optical zoom.
This pan tilt zoom camera has five outputs on the back: 3.5mm audio input, LAN, HDMI, USB C, and SDI. You can stream from 4 sources simultaneously and use the LAN port and a single Ethernet cable to power the camera and connect it to the network for live streaming. There are two LED indicators on the front: Power and Standby
The camera supports H.265 and H.284 IP live streaming. In order to keep latency at a low level, the model comes pre-licensed with NewTek NDI. It helps reduce latency by up to 10 times. This is especially important when it comes to high-resolution video.
This model comes with an IR remote controller. You also can remotely control the camera via the Honey Optics web portal. To control two or more cameras simultaneously, you can also use the TriCaster software.
The Honey Optics camera is designed for indoor use only and it is considered as the best PTZ camera for broadcast. Its body is made of high-quality dense plastic. It's fixed on the base that allows mounting the camera on the table, ceiling, or wall.
The camera is backed by an extensive 5-year warranty. This really inspires a reliable quality since the other PTZs on the market usually come with 1–3 years of warranty. Furthermore, the company's customer service is extremely responsive and always ready to assist you in resolving camera-related issues.
PROS:
The camera uses the official CMOS sensor from Sony.
Videos and stills can be stored locally.
It has 2D and 3D noise cancellation functions.
CONS:
To get true 4K video recording, a fast and lag-free internet connection is required.
The web browser user interface is a little bit outdated.
Overall rating: 10/10
Recommended controller: FoMaKo Conference Camera PTZ Controller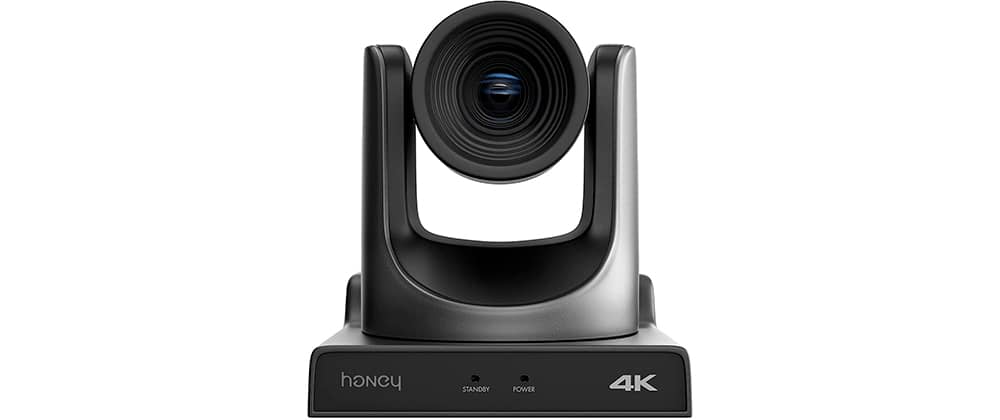 The only difference between this model and the previous one is the zoom capability, which is 12x. This way, if you are sure that you are not going to need great zooming, you can choose this version of the 4K camera PTZ from Honey Optics.
Overall rating: 10/10
Recommended controller: FoMaKo Conference Camera PTZ Controller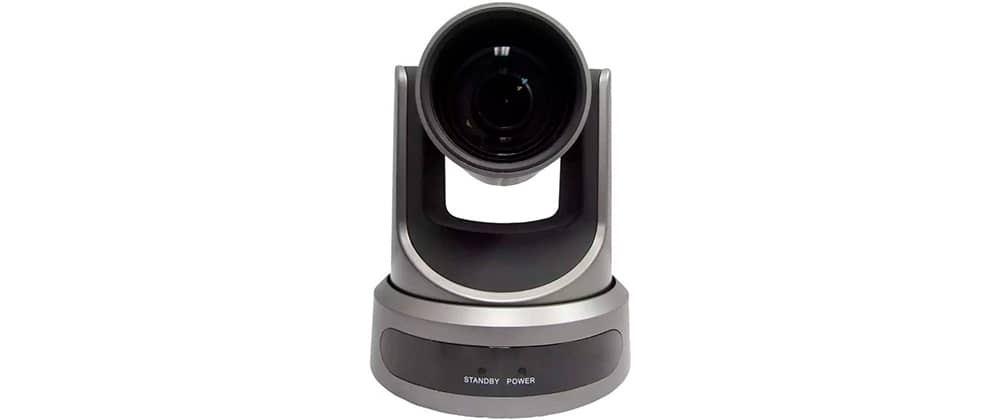 The camera captures video in Full HD (1920 x 1080) resolution at 60 FPS, providing a sharp, high-quality picture with plenty of details. That is why it can be considered as one of the best PTZ cameras.
The model has an Ethernet port that can be used for power, internet connection, and streaming. Apart from this, there are also SDI, HDMI, 3.5mm audio input, and RS-232 port. The last one is designed to accept VISCA commands and integrate with such control systems as Crestron and Extron.
The PTZOptics 30X-SDI is equipped with an advanced lens from Sony that has an optical zoom that ranges from 12x to 30x. This wide-angle lens has a 60.7° field of view.
The camera can be controlled via the provided IR remote, the web interface, or the PTZ Optics camera control app (available for Android or iOS). It's compatible with such popular apps as Skype, Zoom, GoToMeeting, and others. It can be mounted on the ceiling, wall, or pole.
PROS:
It can stream directly to CDN like Facebook or YouTube.
Stills and video materials can be saved and stored in the camera's internal memory.
It's possible to set up to 254 presets in the camera's web interface.
CONS:
It has issues with the white color balance.
Sometimes the camera refuses to tilt for no apparent reason.
Overall rating: 8/10
Recommended controller: PTZOptics SuperJoy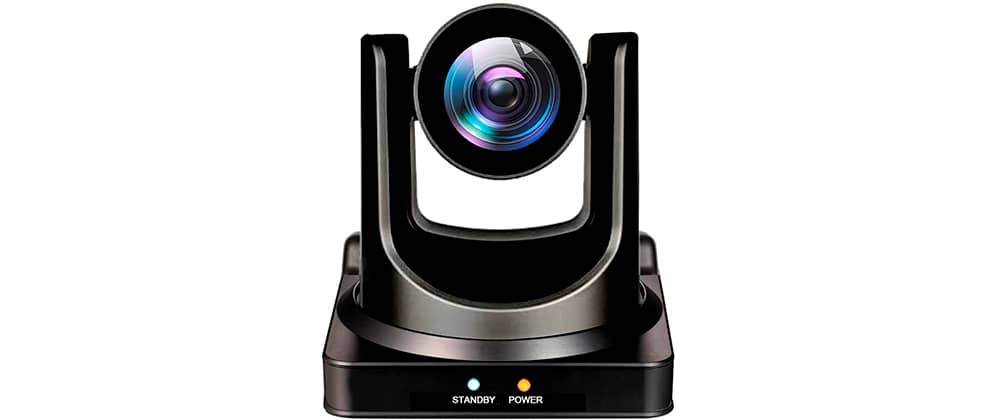 Compared to the similar models on the market, it can be considered as one of the cheap PTZ cameras with Full HD resolution. It records video at 60 FPS. The Japanese TAMRON all-glass optical lens and Panasonic sensor are used for increased brightness level and clearer image. The lens has a 20x zooming capability with a 60.7° angle. The focus is accurate and stable. The noise reduction function for clearer sound is present as well.
The camera has 4 video outputs: NDI, HDMI, IP, and 3G-SDI. Three of those outputs can be used simultaneously. It's compatible with any software that supports NDI HX (vMix, OBS, Zoom, Skype, and others).
The present model comes with mounting hardware and all the cables that are necessary for installation. The IR remote control is also included, but you can control and adjust the camera settings via the web interface if you wish.
PROS:
The Shinano motor provides smooth and completely silent movements.
The camera stands on a durable metal base that also has great heat dissipation capabilities.
It can record and stream in low-light conditions.
CONS:
The autofocus is slow.
Despite being the best cheap PTZ camera, its image settings are limited. It's hard to get the desired color correction, white balance, etc.
Overall rating: 8/10
Recommended controller: PTZOptics Second Generation IP Joystick Keyboard
Buyer's Guide
PTZ Camera Setup
To install your PTZ camera system, you should have the following items:
Power cable
Ethernet cable
Remote controller
Step 1. Power the camera
The first thing you should do is power the camera. The simplest way is to use the power supply that comes in a kit.
The camera can also be powered via Ethernet cable by connecting it to the PoE network switch. Prior to that, ensure that your switch has sufficient power capacity to supply the required power to the port.
Step 2. Set the camera's IP address
The next step is to set the camera's IP address. It can be done via computer. Firstly, make sure that your camera and your computer are both connected to the same network. Then, download the corresponding version (for Mac or Windows) of the camera's driver. You can do it from the included CD or the manufacturer's official website.
There you will see a "Search" window. When you click it, the program will locate the camera that is linked to the same network. Right-click on it and select the "configure" option. Now you can set the camera's IP address.
If you use a static IP address, you will be able to easily enter it into other equipment that communicates with the camera. Moreover, you will always know your camera's IP address. The vast majority of routers have a DHCP server that is assigning IP addresses to devices. On the "configure" page, set the DHCP mode.
Step 3. Access the camera's GUI settings
Now, you need to access the camera's setting GUI (Graphical User Interface). Copy and paste the camera's IP address into your web browser. You will see a window where you need to enter a username and password. Enter "admin" by default. Then, you should see some basic configuration options and controls.
Step 4. Connect the camera to a video system
Finally, you have to get your camera up and running. To do this, you need to output the video image to some medium. So, you should connect the camera to a PC or any other video system.
Firstly, it should be noted that the output resolution and frame rate from the HDMI and SDI output are determined by the rotary switch position on the back of the camera. There should be a chart that shows which position to select for the resolution and frame rate that you need. The default settings of PTZ camera systems with high resolution may not coincide with the resolution of a video device you connect it to, so you won't get any image. For example, if you want to connect a 4K camera to Full HD TV. So, you need to set the rotary switch into a corresponding resolution range (use a screwdriver for that).