6 Best Outdoor PTZ Security Cameras Review
Outdoor PTZ Security Cameras — Best Models Review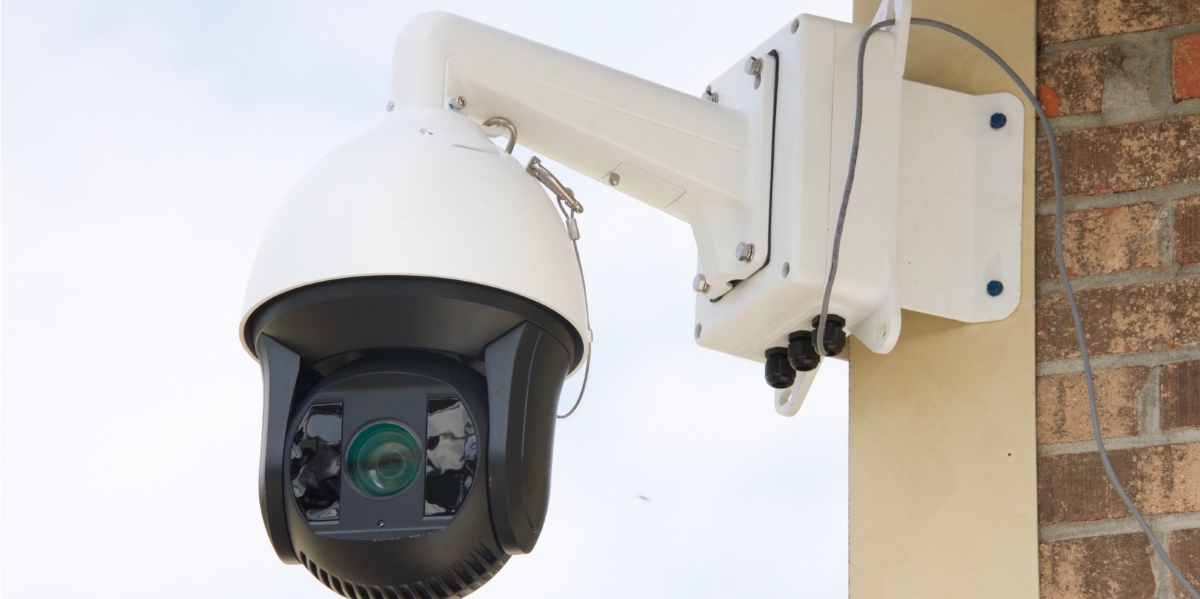 Monitoring your house and offices is more effective with outdoor PTZ cameras. They capture moving objects and use quick tilting to record from different angles. I tested six products in search of the best outdoor PTZ security camera and will give my honest opinion of them in this article.
My decision-making process rests on the cameras' audio quality, recording angles, and ability to produce clear images even after zooming in. If you want internet-connected cameras, you can rest assured that I examined that feature in the products below. And depending on the camera you choose, you can get sharp images no matter how far you zoom.
Each camera will excel in different features, but rest assured of reaching a verdict for the best outdoor PTZ camera for specific use cases. With the outdoor security cameras' pan tilt zoom features, you can effectively monitor your surroundings even when far away. Some models on this list produce high-definition night images, ensuring you don't miss a moment during playback, even in the dark.
Use my experience with these devices to decide the most suitable PTZ camera for additional security in your homes and offices.
Outdoor PTZ Security Camera Reviews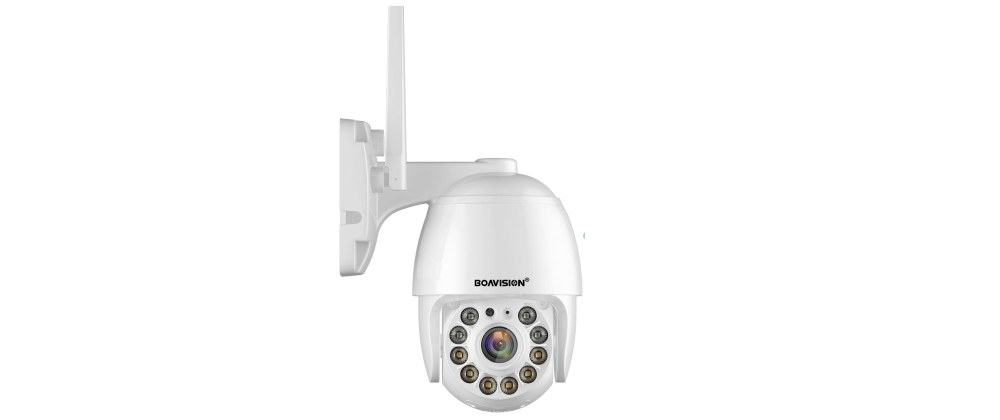 The BOAVISION HD22M102M is a 1080p IP camera with a 1920x1080 resolution, guaranteed to produce high-definition images. It has real-time motion alerts, a siren-type alarm, body tracking, and customizable sensitivity settings. The device is sturdy and can operate between 4 and 140 degrees Fahrenheit, surviving rain, sunshine, and snow.
The device has in-built floodlights that shine in the dark, illuminating subjects and giving you a clear view of whatever is happening. When shooting, you can zoom the lenses in up to four times, helping you see distant subjects for preemptive action. The lenses capture images within a surprisingly wide range for large spaces.
You can connect this Boavision camera to other devices using a WiFi network. It can also connect to the internet through an AP hotspot, local area network (LAN), or a router-connected network cable. Controlling the device is easy with the CamHipro app.
Boavision added in-built audio and microphone to the HD22M102M. The model can connect directly with smartphones, allowing you to hear sounds in the video. This feature allows you to monitor your environment and make out words during discussions by people in and around your home.
The best part is that you can also speak to people at the camera's location, and they will hear you. This communication feature adds an extra layer of security and comfort to the user, as you can ward intruders off. You may also leverage this feature on the best PTZ outdoor security camera to welcome friends and pets when they enter your home.
In terms of automatically adjusting the pan and tilt rotation when it detects a person, animal, or moving object, the BOAVISION HD22M102M is the best PTZ camera outdoor enthusiasts would love. It can rotate 360 degrees, ensuring that nothing goes unnoticed. When it senses intrusive motion, it captures the area and sends you a notification via mail or SMS.
PROS:
It is the best PTZ camera for outdoor use when it comes to producing clear images in different lighting conditions.
It is easy to install.
Its ability to connect to long-range WiFi networks ensures the camera rarely disconnects from your home network
CONS:
It puts the home network at risk because hackers can access the camera and tamper with it.
It has exposed wires, making it unsafe for external use.
The camera manufacturers don't offer enough instructions to guide users on installation.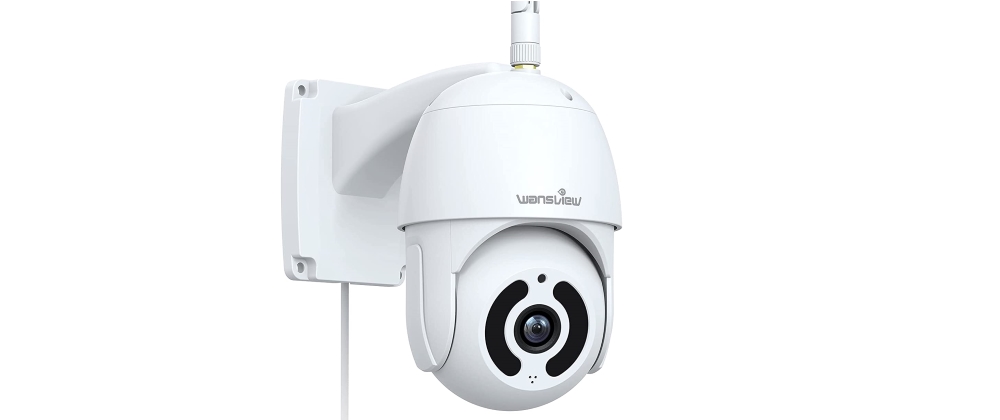 The Wansview W9 PTZ outdoor camera sports a reliable motion detector but has no siren. However, you can use the Amazon Echo smart speaker device to watch the footage as a primary sound system. The only drawback to this surveillance approach is that you have to constantly monitor the feedback from the camera to notice suspicious movements in real-time.
This device delivers full HD footage thanks to its powerful lenses. The vertical rotating mechanism also lets the camera rotate 360 degrees. I found the feature quite handy when capturing objects from anywhere between your doorstep and 50 feet into the horizon.
You can also send the footage to four people to watch simultaneously. This approach ensures that you have more people keeping an eye on your house, reducing the chances of incidents going unnoticed.
Wansview's W9 model has a 2-way audio system that lets you communicate with people approaching your home even when you are away from home. And with an IP65 seal, you can rest assured of the camera being resistant to damage from rain and showers. However, I wouldn't recommend submerging the device in a vat of water.
The camera is also easy to install because it comes with a detailed manufacturer's guide. The clear benefit is that you won't need to spend extra money on an installation technician's services.
This PTZ camera for outdoor surveillance lets you store your recordings online or on your memory card if you have a poor internet connection or limited data. The W9 has a secure cloud storage option and an SD card slot of 128 GB. Wansview's cloud storage gives you a 30-day free trial period when you activate the camera.
PROS:
Using this pan tilt zoom camera for outdoor surveillance is faster because of the voice control ability.
You can connect the camera to your home network through WiFi technology.
You can rest assured of excellent image quality even in dark places.
CONS:
It doesn't record all events of the day but only records when its motion sensor notices movement.
The camera's motion detector is overly sensitive, sending you notifications whenever it detects movement, even if the motion was not from a human.
Its pan, tilt, and zooming features have slow responses sometimes.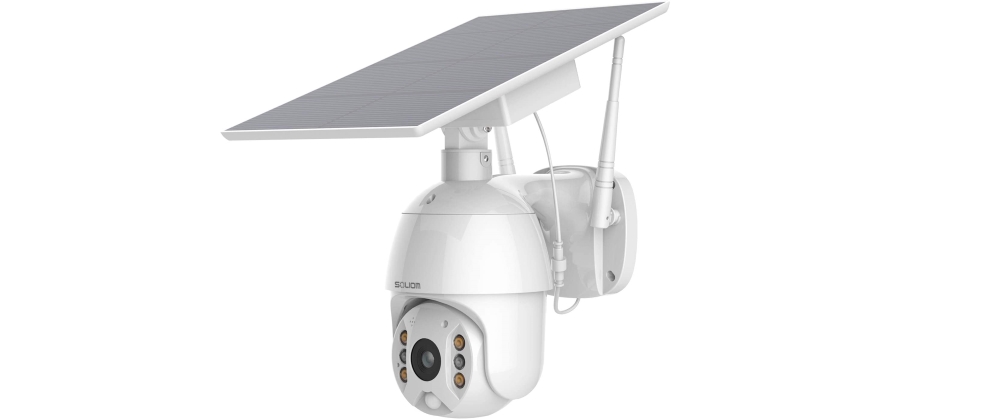 The Soliom S600 is dual-powered. These power options are different from most pan tilt and zoom cameras on the market and can have upsides and downsides, depending on the scenario. For instance, you don't have to worry about your camera going off if someone tampers with your house's electricity source or if there is a sudden power outage in the area.
You can power the camera with batteries or solar energy. The solar-powered option is exciting if you live in temperate zones or hot seasons. Its central head moves 320 degrees horizontally and 90 degrees vertically, with an inbuilt microphone for recording sounds. Its speaker and microphone allow for bidirectional audio.
This outdoor PTZ security camera has infrared LEDs or spotlights activated at night to provide crisp nighttime vision. Soliom's camera uses a PIR motion sensor to track people's and animals' movements during recording. Add that to the 1080p footage you get during playback, and you will understand why this camera is on this list.
You get an installation screw, USB cord, a user manual, and a template for installation out of the box. Also, it comes with a power switch and a charging port for the batteries.
The powerful lenses capture subjects as far as 32 feet away in poorly-lit environments. The camera's white LEDs are highly beneficial in frightening intruders approaching your property by illuminating the area. Finally, like many other Soliom pan tilt and zoom security cameras, the S600 is waterproof and won't be affected by rain.
PROS:
You can schedule a time for the camera to begin and end surveillance with the mobile app.
The device is easy to set up.
The battery life is exceptional.
CONS:
It does not have a rubber cap like most PTZ cameras for outdoor use.
It does not have Google or Alexa integration like most surveillance cameras.
Compared to other devices on this list, the S600 is not cheap.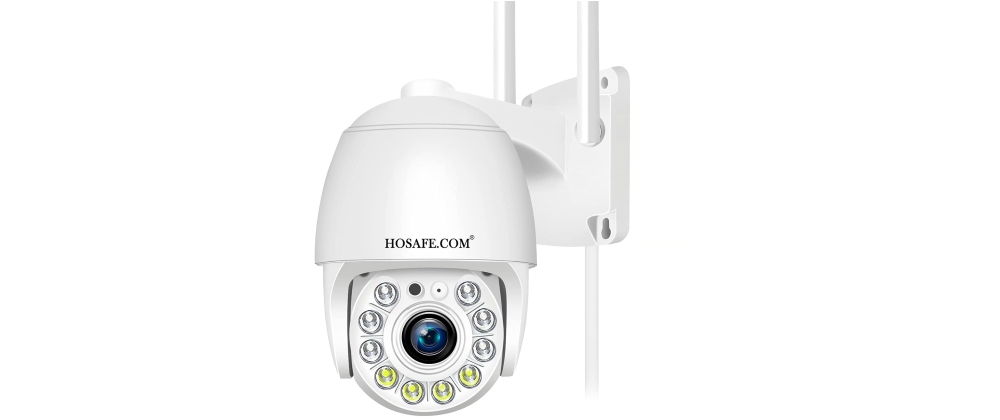 Hosafe is famous for producing some of the best outdoor PTZ security cameras, and the HX-2PT1 lives up to the expectation. HX-2PT1's sensors excel, standing head and shoulders above the competition. The device also delivers 1080p video and supports the Onvif protocol.
The camera's motion detection is superb, and its new AI system allows for human recognition. This finessed approach prevents false alerts, unlike most surveillance cameras. Though you can use a 128 GB memory card for storage, the device still helps you save space by letting new videos overwrite older ones.
The device does an excellent job of keeping the person in view. While panning 355 degrees and tilting 90 degrees, if the Hosafe HX-2PT1 detects motion, it will focus and track the moving subject. After the individual leaves the premises, the camera will return to its default position.
I was impressed by how quickly this device dissuades criminals, characteristic of only the best outdoor PTZ cameras. Once the spotlight or the camera's siren comes on, intruders flee. However, when you use IR LEDs at night, the video changes to black and white, though the color remains when the spotlight is on.
The device sends a push message to your phone when someone walks into your premises. After that, you may check on the visitor and speak with them with the 2-way audio system.
PROS:
The camera lets you zoom in 4x with your phone.
The camera is perfect for any weather, whether sunny, snowy, or rainy.
You can configure the camera to send notifications to your family.
CONS:
You can't access the camera's advanced functions without the Hosafe app.
The picture quality at no magnification is good. However, if you zoom in, the quality drops.
The instructions on setting up the product are hard to understand, making it difficult to set up the camera.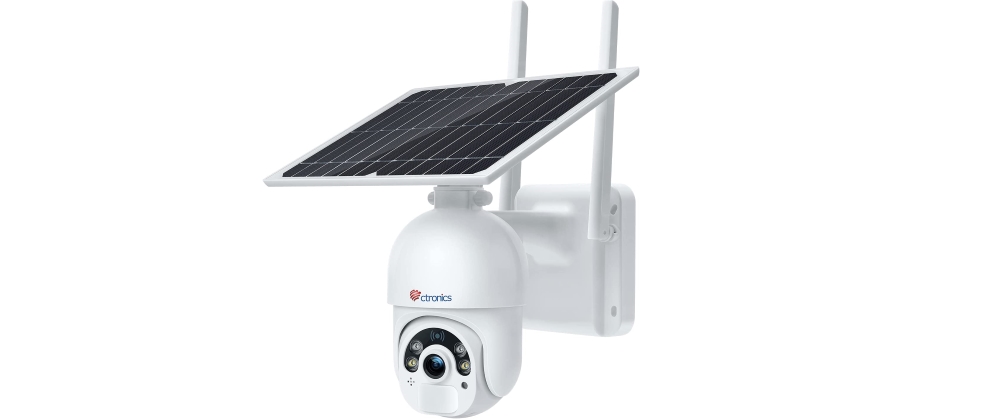 Users explicitly looking for the best PTZ outdoor camera with an alternative power source would enjoy the Ctronics S20. It is affordable and has a built-in 15000mAh battery supplying about five months of energy after a full charge. You can also power the device with solar energy.
The Ctronics S20 uses PIR and radar sensors to identify suspicious activity; by default, it picks up only human movement and ignores inanimate objects. Its notifications and alerts are among the fastest. As soon as the camera spots motion, its phone app will beep.
The Ctronics home security camera has a dual light source design — four floodlights and four infrared lights. The lights make it possible to see high-quality color photos even in darkness. Furthermore, the camera has a night vision range of up to 65 feet and provides clear and vivid images.
I particularly like the 1080p high-res photos of the Ctronics camera, ensuring that I don't miss a thing. Also, you can smoothly control Ctronic's outdoor PTZ security cameras with a 335 degrees pan and 95 degrees tilt.
You can connect to multiple cameras simultaneously, viewing four different surveillance areas on your screen.
PROS:
You don't have to worry about cords littering your house as the camera is wireless.
The camera lets you choose between two motion detection modes — humanoid movement and any movement.
Mounting it on any structure is easy.
CONS:
It's pretty tricky to set up due to insufficient instruction.
The motion detector isn't as efficient as I expected.
It's not a zoom camera.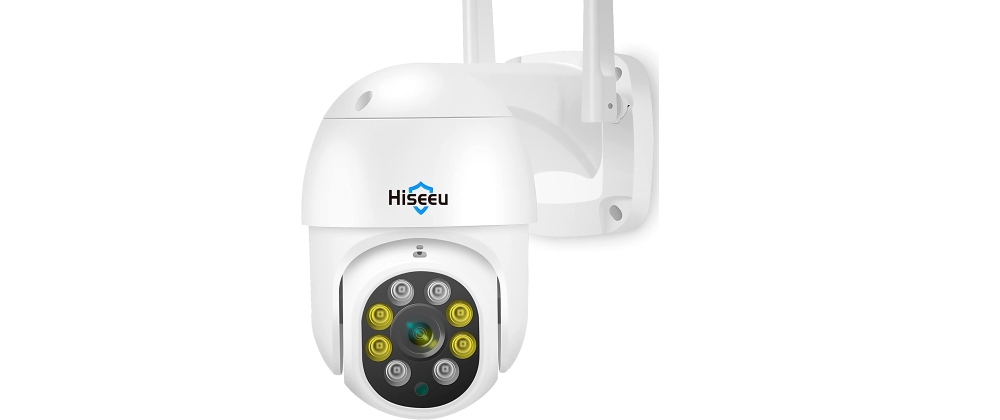 This Hiseeu cordless security camera boasts 320 degrees pan range and 90 degrees tilting. Its full HD playback, 5x digital zoom, and customizable surveillance areas feature to give you the ideal home security experience.
With the device's 3-megapixel shooter, you can expect to see subjects clearly in the daytime. Though the nighttime view isn't perfect, it's usable. The Hiseeu PTZ cameras' outdoor dual night vision modes help with the nighttime video quality.
You can talk to visitors and intruders and monitor their movements with audio feedback. The alarm system works, and my test showed a slight lag between when the alarm blasted at the intruder and when an alert reached my phone. Because the WHD303 has fewer wires, it is simpler to set up — you won't drill holes in your wall or ruin your home decoration.
Finally, you can save your videos on the cloud or a memory card. Having both options is handy for running out of offline storage space or having slow WiFi.
PROS:
It is waterproof, with an IP66 rating.
At 78 degrees, the wide-angle lens' range is impressive.
The system stores files by date, therefore creating an ordered catalog.
CONS:
The remote view is not reliable.
This model doesn't have optical zoom, which is evident in how blurry the images become when you quickly zoom in and out.
The company does not provide enough support in case of malfunction.
Buyer's Guide
How to Choose a PTZ Outdoor Security Camera
Start with the following features if you want to get a PTZ camera that suits your needs.
Video clarity
What is the best outdoor PTZ camera worth without clear footage? Not much. Your security camera should be sharp enough to identify subjects. Always opt for 1080p resolution cameras or higher.
Remote surveillance
Check for remote or multi-camera surveillance with any PTZ camera you're considering. This feature makes them cost-effective and keeps you in charge of your security.
Motion Tracking
Any PTZ camera you get should have built-in tracking. It should automatically pan, tilt, and zoom to follow subjects coming into your premises. You may need to configure some models to detect motion and track a person.
Night vision
Night vision is a critical function in all security cameras. Outdoor security cameras pan tilt zoom can capture pictures even in complete darkness with LEDs and infrared filters. An outdoor PTZ camera with 600 feet or more detection range will typically have a maximum night vision of 400 feet unless otherwise specified.
Weatherproof
Although most outdoor PTZs are built to endure any environment, it is good to double-check the specs to guarantee that they will last for a long time. PTZ cameras in outdoor areas like balcony tops provide excellent coverage. So, to enjoy your camera to the fullest, ensure they are, at least, IP65 waterproof.
Zoom
Depending on the model, I recommend getting an outdoor pan tilt zoom camera to capture subjects at least 150 feet away at 10x zoom. The better the zoom, the farther you can see a subject, giving you more time to prepare for imminent attacks. If you can get a PTZ security camera with digital and optical zoom, that would be great. But if not, digital zoom cameras should be enough.