Comparison of Reolink Cameras
Dimensions
2.99 x 2.76 x 4.21 inches
4.65 x 3.35 x 3.35 inches
7.91 x 8.58 x 8.58 inches
7.91 x 5.35 x 5.35 inches
Reolink makes impressive surveillance cameras to protect your property, home, and office. The Reolink camera system comes with features regularly upgraded to suit the present surveillance needs of individuals and businesses.
The features include night vision, motion detection, high resolution, etc. Most of the cameras on this list have these top-notch features, albeit with slightly different powers and implementation, which is the basis on which some are better. As for the devices themselves, the company makes them from premium materials to ensure aesthetic beauty, hardiness, and durability.
Even the Reolink camera with the fewest features on this list will impress you, thanks to overall great software. Each new version has slightly different features, which the comparison will show, and the usage on all these devices is even better. You will not have a problem setting up the camera because everything you need to make it work is included in its mobile and computer application. Also, you can choose from various storage options: the NVR, Cloud storage, NVR, and SD card.
In the Reolink camera reviews and comparison, I tested seven of the best cameras of the brand to help you make the best choice if you wish to purchase one. The cameras under review are Reolink Argus PT+sp, Reolink E1 Pro, Reolink Argus PT, Reolink E1, Reolink RLC-823A, Reolink RLC-523WA, and Reolink Go PT Plus. They are judged based on the five major criteria people look for when getting a surveillance camera.
Camera
Numerous features make the image-capturing capabilities of a camera incredible; chief among these features is the resolution. The RLC-823A beats the standard 1080p resolution in most surveillance cameras, packing an astonishing 8,294,400 pixels. This Reolink camera produces superb, zero-blur picture quality, which is unsurprising since it shoots at 4K.
The Reolink cameras on this list allow you to see clear images at night or in dimly lit environments. Since their night vision distance is high, you don't need subjects to come within striking range of your house or property before the camera captures a clear image of them. Devices like the Reolink Argus PT and E1 Pro have a night vision length of 30 and 40 feet, respectively. However, the 523WA Reolink security camera system is the most impressive for night vision — its night vision length — infrared and colored — is 190 feet, which is outstanding.
Although the night vision and image sharpness of the Reolink cameras being reviewed are among the best in their class, their zoom capabilities are less spectacular than some products from other brands like Amcrest. However, they are good enough to give you a vivid picture of a person or object far away.
The zoom of the Reolink RLC-823A and Reolink 523WA is better than the other cameras. They have 5X optical zoom features, ensuring you can zoom without affecting picture quality, as opposed to the devices using digitally-enhanced zoom. Picking the device with the best overall camera system using zoom features, resolution, and night vision as yardsticks, the RLC-523WA Reolink PTZ camera device comes out on top.
Our pick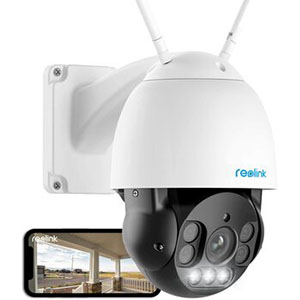 Best camera
360° pan and 90° tilt with 5x optical zoom
Supports 24/7 and scheduled recording
Excellent image quality
Color night vision
Person and vehicle detection
No subscription required
Plug-in design
Weatherproof & waterproof
Video & Audio
There are several reasons why cameras' audio and video qualities play a leading role in how users perceive the devices as a whole. Whether you are capturing an event, keeping eyes on your properties, or communicating with your loved ones via the camera, it is necessary to have a system that matches its video output with clear audio.
Reolink cameras have impressive video and audio qualities; therefore, picking the best was an uphill task. One thing you can expect from the Reolink cameras on this list is the advantage their new model video output technology brings. Unlike most budget PTZ surveillance cameras that use H.264, Reolink security systems using H.265 (HEVC) are far more advanced.
Products like the RLC-823A have H.265 coding, solving the issue of quality loss or breaks in video transmissions. This video coding feature improves on the shortcoming of H.264. It makes video frame processing easier since it uses CTUs. While H.264 uses a macro book to process the frames of your videos, the CTU format of H.265 whittles down the file size and bandwidth. The CTU format of H.265 can process block sizes of 64x64, while the macro book feature of H.264 coding format processes 4x4 to 16x16 blocks.
The audio feature of the Reolink-823A is decent. It allows seamless two-way communication between you and your family or visitors. The video and audio components of the cameras ensure that camera footage has a low file size allowing easy download, and the videos are audible and precise.
In this category of the Reolink cameras review, the RLC-823A edges the others. From the tests I conducted, the camera has the best video output features.
Our pick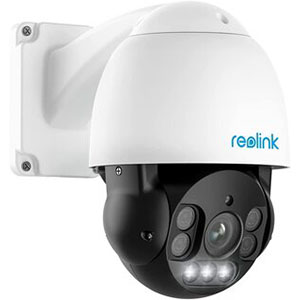 Best camera
4K ultra HD video resolution
360° pan and 90° tilt with 5x digital zoom
Built-in siren and spotlights
Color night vision
2-Way audio
24/7 recording
Person/vehicle detection
No charging required
Image Sensor
The image sensor plays a crucial role in the performance of cameras, particularly surveillance cameras. The sensor converts color and light spectrum into signals for the camera to translate into ones and zeros. The signal that the sensor detects and conveys forms the image we get from the camera.
There are two types of image sensors — CCD and CMOS. The latter is better since it is faster and permits a high frame rate. Most cameras use the CMOS sensor, and Reolink cameras are no exception. The sensors come in differing sizes, 1/2.8, 1/ 2.7, and 1/ 3. Bigger sensors capture more light, hence having clearer and better image quality. For instance, cameras with 1/3 CMOS sensors will have better image quality than 1/2.7.
Taking things a step above the standard 1/2.7 Sony CMOS sensor of surveillance cameras, the RLC-823A has a 1/2.8 sensor. This sensor on the RLC-823A Reolink camera system explains its incredible image quality and high resolution compared to other Reolink cameras. From my tests, I find the sensor better than the Reolink E1 Zoom, E1 Pro, and the Reolink 523WA.
The bigger image sensor of the RLC-823A is the reason for its high-quality and noise-free images. In this category of the Reolink camera review, the RLC-823A wins.
Our pick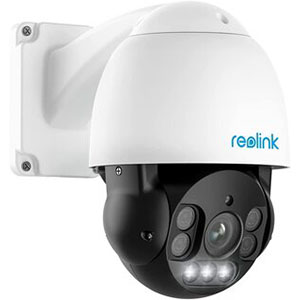 Best camera
4K ultra HD video resolution
360° pan and 90° tilt with 5x digital zoom
Built-in siren and spotlights
Color night vision
2-Way audio
24/7 recording
Person/vehicle detection
No charging required
Connection
One thing that makes Reolink cameras outstanding is their connection. The cameras feature a WiFi connection and HTTP protocol. The HTTP protocol in most Reolink cameras is essential because it prevents the intrusion of unauthorized persons or networks in private communication. Furthermore, this protocol is crucial since it protects camera users from hackers by encrypting data with the SSL Certificate. Without the protocol, hackers will quickly get access to your information.
Reolink security cameras like the Argus PT and the Reolink 523WA have incredible connection features. Unlike most budget surveillance cameras, they support 5G and 2G networks, which is outstanding. Also, the camera supports PoE; therefore, it requires less cable than most devices. With the same cable, you can power and provide data to the device. Reolink cameras are NVR systems; they use the Reolink NVR.
The Argus PT has similar features as the E1 Zoom. Hence, in this section of the Reolink review, my choice is the Argus PT. Aside from its numerous connection features, its setup is seamless because it is a PoE camera. My choice in this category is based on preference since all the cameras have similar connection features.
Our pick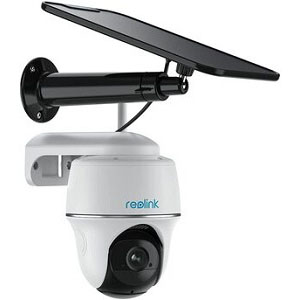 Best camera
Flexible viewing—355° pan and 140° tilt with 6x digital zoom
Includes SD-card slot for local storage
Smart motion detection
Free cloud-based storage for up to 7 days of video history
Control
For a system to be appreciated, it must be easy for people to use. In the case of cameras, for a surveillance camera to be rated as outstanding by its users, it must be easy to control and set up. Therefore, surveillance camera manufacturers are constantly fine-tuning and making their control options easier for customers to use.
Using a Reolink security system is less complex than most surveillance cameras. You can seamlessly manipulate and vary the camera's pan, tilt and zoom angles at will. From your bed or couch, you can make the camera pan at 355 degrees and tilt at 50 degrees, depending on the camera's capability.
It is easy to manage your Reolink devices like the Reolink E1 Outdoor and Go PT using the free Reolink app, which is available for Android, Apple iOS, macOS, and Windows. The Reolink app allows you to access and manage the camera remotely. The app makes it easier to monitor your home from anywhere.
The Reolink PTZ E1 Pro has incredible control features. It is compatible with voice assistance features like Google voice assistance and Alexa. Therefore, you may monitor any part of your home or property by speaking commands. Additionally, keeping an eye on your kids is easier with the camera. You only need a single command to see a live feed of your children's playground or bedroom.
While the Reolink Go PT Plus and E1 Outdoor support Alexa and Google Assistant, respectively, the E1 Pro supports the two voice control features. Therefore, my best in this category of Reolink security camera reviews is the E1 Pro. The camera's impressive control feature makes it ideal for watching kids.
Our pick
Best camera
Very good image and audio quality
Strong dual-band Wi-Fi
Very quiet and smooth Pan-Tilt motion
Full duplex 2-way audio
Pre-record and post-record so nothing is missed
Standalone operation with RTSP & ONVIF support
Siren alarm on motion
Conclusion: What is the Best PTZOptics Camera?
Selecting the best Reolink PTZ camera is difficult since the cameras have similar features. However, from the Reolink reviews I conducted on the seven cameras above, some performed better than others. In numerous features, the Reolink RLC-823A slightly superseded the others in terms of performance and features. Hence, it is the best Reolink camera among all the cameras under review.