BenQ vs Optoma — Which Projector is the Best?
Digital keystone correction
Main Features
Let's start the BenQ vs Optoma comparison by highlighting common features between the brands. Both of them provide a wide range of decent models for offices, home theaters, indoor and outdoor use. They also supply most of their projectors with a built-in speaker in order to make them universal and plug-and-play ready. An auto power-off feature is present in all of their projectors.
BenQ and Optoma don't issue "noisy" projectors. All of their models come equipped with a low-noise fan that emits no more than 20 – 30 dB of noise. Most projectors also can be mounted on a ceiling. Both brands provide many models with 3D compatibility that will work especially great for Blu-ray players and 3D games.
BenQ supplies its projectors with lots of features for improved performance. For example, the manufacturer endows the projectors with the Day and Night modes in order to provide better performance depending on the ambient light. It offers the SmartEco mode for energy conservation that allows prolonging the lamp life. The mode saves up to 70% of power consumption without influencing the projector's performance. Side projection is a unique feature that eliminates trapezoidal effects when the projector is placed at an oblique angle, allowing for any projector positioning.
BenQ projectors are known for being equipped with a number of modes designed for specific types of content:
BenQ provides a lot of options, designed for a superior gaming experience. They have the lowest input lag and special Game mode.
For cinema lovers, there are some modes that improve visuals.
Sport mode provides a perfectly sharp, blur-free image for sports fans.
For those searching for the best model for office/work, BenQ offers projectors with a number of specifically engineered modes. The Data Review, Presentation, and Infographic modes provide emphasized contrast and clarity.
The projectors from this brand usually come equipped with a 10W speaker and use special technologies to provide clearer vocals and surround sound with decent bass. Moreover, they also have some sound modes (Cinema, Game, Music, Sport, etc.). The combination of these modes provides a superior audiovisual experience.
In terms of physical features, some BenQ models are equipped with a special sensor that rejects dust accumulation. This provides an increased service life of the unit. Most models from BenQ have 1.3x zoom.
Optoma projectors are quite modest in terms of provided features. However, when it comes to gaming, Optoma models are more advanced. While gaming models from BenQ have a 16ms response time and 60Hz refresh rate, those from Optoma are twice better, having an 8.4 response time and a 120Hz refresh rate. Optoma projectors also have Game mode that provides smooth action.
Most Optoma models have a 1.1x zoom. The brand uses the Perfect Image Alignment technology developed by Texas Instruments that allows for quick and hassle-free alignment.
The Crestron RoomView technology allows you to manage up to 250 projectors remotely via network. Just like BenQ models, all the Optoma projectors have the Eco mode. Unfortunately, almost all Optoma models come with a plain 10W speaker without any sound improvement technologies.
As you can see, BenQ is a winner when it comes to features and versatility. The BenQ HT2050A, for example, has 3D compatibility, a built-in speaker with CinemaMaster Audio 2 and Immersive Sound modes, Game mode, Side Projection, 1.3x zoom, etc. The Optoma X600 has the Crestron RoomView feature, 1.15x zoom, simple 10W speaker, and 3D compatibility.
Both of them are quite expensive DLP models with 1080 resolution, but the BenQ HT2050A has more features, so it wins here.
Our pick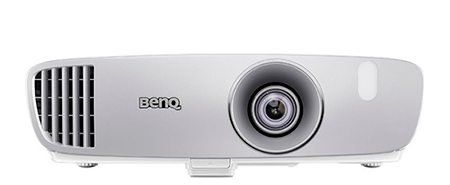 The best features
Brightness of 2,200 lumens
Projects up to 300 inches
Low input lag of 16ms
HDTV compatibility
1.3X zoom
1080p projector
15 x 11 x 5 inches and 8 pounds
Resolution
The brands offer a great range of models with Full HD and 4K resolution. However, if you need a projector solely for business purposes, there is no reason to spend a lot of money on a FHD or 4K projector. For this purpose, both manufacturers offer models with SVGA (800 x 600) and WXGA (1280 x 800) resolution.
However, in the Optoma vs BenQ resolution comparison, we are talking about models with the best resolution. Optoma usually provides Full HD models with 4K input (the Optoma HD39HDR, for example) while BenQ provides true 4K models (the BenQ TK800M, for example). The first one only accepts the 4K signal and then down-converts the resolution to 1080p while the second one can show true 4K quality content and even improve poor-quality videos.
So, the BenQ TK800M will be a much better option for those seeking a model with the greatest resolution.
Our pick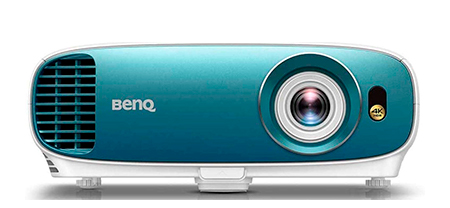 Best resolution
Packed with 3000 lumens of brightness
DLP technology
Auto Keystone
Gaming mode
1.1X zoom
4K projection technology
8.3 million distinct pixels
Color Reproduction
Models from both brands come with decently factory-calibrated colors. Most of them are also Rec.709 certified. This means that they use the same color palette as Hollywood studios do.
High-end BenQ models use Colorific technology that improves color reproduction. More precisely, it provides more radiant colors by combining 6 different colors instead of 3, as traditional projectors do. Some models also have the Cinematic Color technology that ensures the most natural colors.
In order to show accurate colors, many Optoma projectors are equipped with BrilliantColor technology that offers advanced color processing, showing sharp graphics and crystal clear text.
Despite the fact that both models are quite similar and almost equally decent in terms of color reproduction, BenQ does a better job here. We can clearly see it if we compare the BenQ HT2050A and the Optoma HD39HDR.
The BenQ HT2050A provides a more natural image, so it's a better choice in terms of color reproduction.
Our pick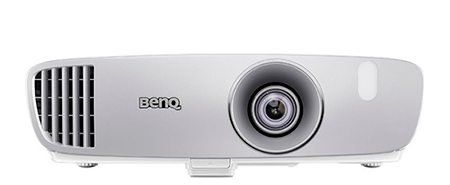 Best color reproductions
Brightness of 2,200 lumens
Projects up to 300 inches
Low input lag of 16ms
HDTV compatibility
1.3X zoom
1080p projector
15 x 11 x 5 inches and 8 pounds
Image Quality
Most 4K models from both brands support HDR10 and HLG that enhance the video quality and expand the contrast range.
In its DLP models, BenQ uses the DarkChip3 technology that contributes to a more pronounced contrast. Thanks to that, the projector shows deeper blacks and more luminous whites which works especially well when reading text. The HDR Pro Tone Mapping technology ensures that all the 4K content will be as detailed as possible to provide a cinematic picture.
Optoma projectors are known for being equipped with the Dynamic Black technology that smoothes the lamp output to provide the image with more depth and higher contrast level.
BenQ is older than Optoma, so it's not surprising that this manufacturer provides a more high-quality image reproduction. Let's compare two similarly priced models from the brands: the BenQ MW632ST and the Optoma H184X. The first model has an incredible contrast and clear image, outperforming the Optoma H184X that has some issues with sharpness.
That is why the BenQ MW632ST is our choice in this category.
Our pick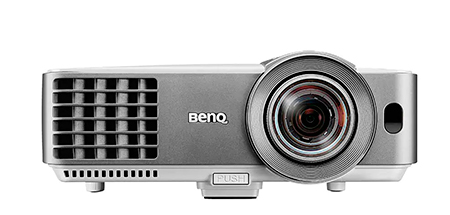 Best image quality
Short throw lens
Anti-dust sensor
WXGA resolution
2 HDMI ports
3, 200 lumens
10, 000 hour lamp life
11.3 x 9.2 x 4.5 inches and 5.7 pounds
Lamp
All of BenQ modern models use lamps with high-quality all-glass lenses that minimize chromatic aberration. Even cheap models from BenQ are quite modest in terms of brightness level while Optoma projectors always have lamps with a greater brightness level. For example, the Optoma HD26 has 6000 lumens of brightness and 6500 hours lamp life while the BenQ HT2150ST has a lamp with only 2200 lumens and 3500 lamp life.
Obviously, the Optoma HD26 has brighter lamps with bigger service term.
Our pick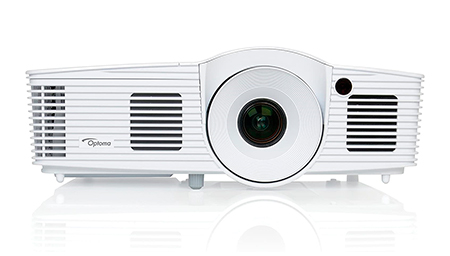 Best lamp
Brightness — 3200 ANSI lumens
Contrast Ratio — 25,000:1
Integrated 10W speaker
Keystone сorrection
Dynamic black
Full HD 1080P
6500-hour lamp life
Throw Ratio
BenQ models usually feature a shorter throw ratio meaning that they have a more tightly focused optical system. For example, the Optoma HD39HDR has a 1.12 to 1.47:1 throw ratio while the BenQ HT2150ST has 0.69 to 0.83:1.
This way, the BenQ HT2150ST is a better model in terms of throw ratio.
Our pick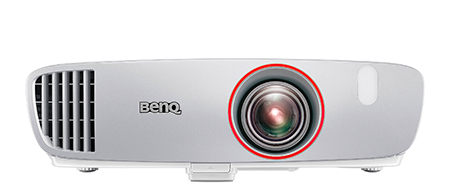 Best lamp
Project up to 300 inches
DLP technology
Low input lag
Game modes
2200 ANSI lumens
1080p Full HD image quality
4.8 x 15 x 10.9 inches and 7.9 pounds
Connectivity
Both brands offer models with flexible connectivity options. You can connect their projectors to media players, gaming consoles, PCs, Macs, mobile devices, etc. Many of their models also can offer an advanced HDMI-CEC technology that allows you to control all the HDMI-connected devices using one remote.
However, even cheaper models from BenQ have more extensive connectivity options. For example, the BenQ HT2050A can offer:
PC (D-Sub) connector
composite and component video inputs
2 HDMIs
2 USB (Type A and Type mini B)
3.5mm mini-jack
audio L/R input
RS232
The Optoma X600 has:
2 D-Sub connectors
2 HDMIs
3.5mm mini-jack
composite input
DisplayPo
USB
As you can see, the BenQ HT2050A provides more connectors for the price.
Our pick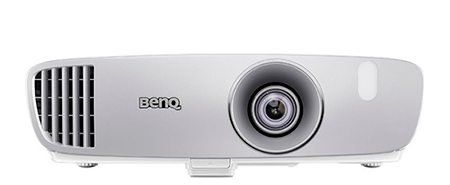 Best connectivity
Brightness of 2,200 lumens
Projects up to 300 inches
Low input lag of 16ms
HDTV compatibility
1.3X zoom
1080p projector
15 x 11 x 5 inches and 8 pounds
Price
The BenQ vs Optoma projector price comparison is where the brands have the biggest difference. Optoma models are much cheaper than projectors from BenQ. The difference is about $200. For example, the BenQ W1070 is pricier than the Optoma X600 despite the fact that both projectors are 1080p models with similar features.
Therefore, the Optoma X600 is a more beneficial choice.
Our pick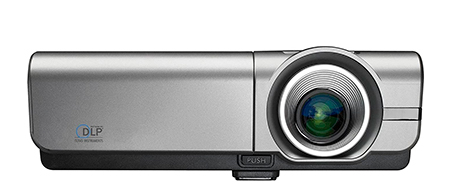 Best price
Network control with Crestron room view
Extensive connectivity options
Vertical keystone correction
XGA resolution
10-watt built-in speaker
6, 000 lumens of brightness
12.8 x 10.2 x 4.3 inches and 8.5 pounds
Benq vs Optoma: Conclusion
From this BenQ vs Optoma projectors battle, you can clearly see that BenQ wins more points. It has more features, better image quality and throw ratio, as well as better connectivity opportunities. In case you need a budget-friendly projector with more than 3000 lumens of brightness, Optoma is more satisfying in this regard.
However, considering the fact that BenQ outperforms Optoma in most categories, it's fair to say that BenQ is a better brand for most needs.