Indoor/Outdoor Usage
Home security indoor/outdoor
Special Feature
Night Vision, Motion Sensor
Night Vision, Motion Sensor
2 Way Audio, Built In Light, Night Vision, HD Resolution, Motion Sensor, PTZ Technology
Night Vision, Motion Sensor
Dimensions
8.53 x 6.25 x 7.78 inches
3.94 x 2.36 x 1.97 inches
6.69 x 4.72 x 10.24 inches
9.69 x 7.24 x 6.02 inches
Protecting your home and office environment is easy with the best outdoor wireless security camera with pan tilt zoom. These PTZs handle surveillance perfectly, especially in gardens, parking spaces, backyards, etc. They come with motion detection for spotting intruders, two-way audio for communication, and a mobile alarm.
Typical outdoor PTZ surveillance devices are either wired or wireless. In contrast to the wireless outdoor PTZ camera systems, wired ones require Ethernet cables, power cords, and other connections. Many wireless ones still have a power cable and WiFi, but some run on batteries, making them 100% cordless.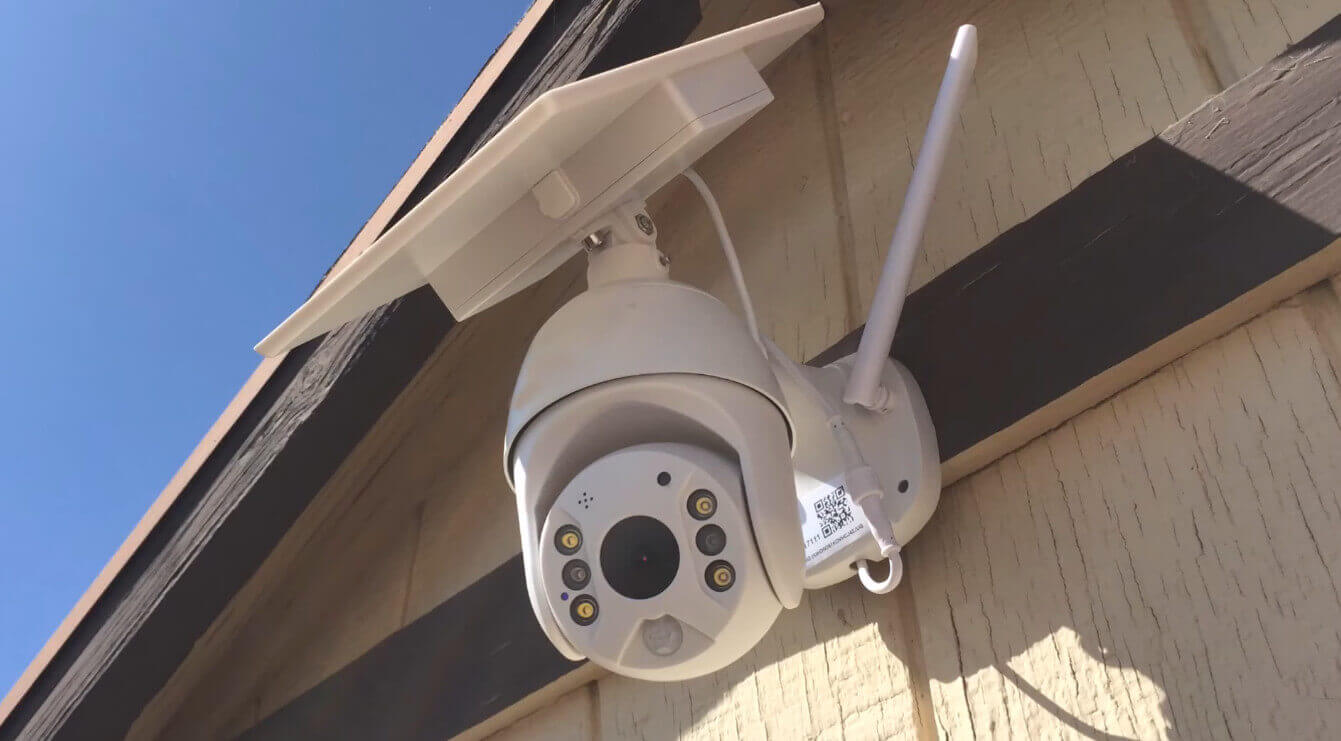 Looking for these cameras online can be tricky since countless varieties are on the market. Having studied the top ones and analyzing their features, we've created this article to ease your search and guarantee you make the right choice.
Buyer's Guide
What to Look For When Purchasing a Wireless PTZ Outdoor Camera
Getting a camera with high resolution will improve your video quality, giving your footage more details. Contrary to the belief that the best wireless PTZ outdoor camera should shoot videos in 2K and 4K, most people's regular surveillance needs don't require the sharpest resolution.
The most popular resolution among outdoor pan, tilt and zoom cameras is 1080p (Full HD) because of its ideal cost-to-value ratio. This resolution produces videos that aren't too large for your storage — a common drawback of the 2K and 4K cameras. So, when you get an outdoor wireless camera, go for 1080p shooters.
Security cameras typically sport fixed lenses, implying they only allow digital magnification. Using devices with these lenses requires a matching high resolution; the combination helps you see more details when zooming digitally.
Since it is impossible to move a fixed lens camera, optical zoom is out of the question. Similar to how binoculars magnify distant objects without compromising quality, you can magnify live video feeds without losing quality with a varifocal lens.
To get the best outdoor wireless PTZ security camera, you must decide if you want a device with a varifocal or fixed lens. If you decide to take the fixed lens camera, ensure it has a high resolution.
Night vision capabilities determine the area it can view in the dark. PTZ security cameras are primarily made to identify people, but the best ones can view farther at night. In the dark, for example, 2K surveillance cameras with an 80-degree field of view can recognize a person's face up to 35 feet away, and they routinely have night vision of up to 100 feet.
Choose a security camera with the proper range for your needs, as infrared night vision is available in varying levels. But remember that a closer face recognition distance may not always correspond to a longer night vision distance.
Reviews of Outdoor Wireless PTZ Security
Boavision HD22M102M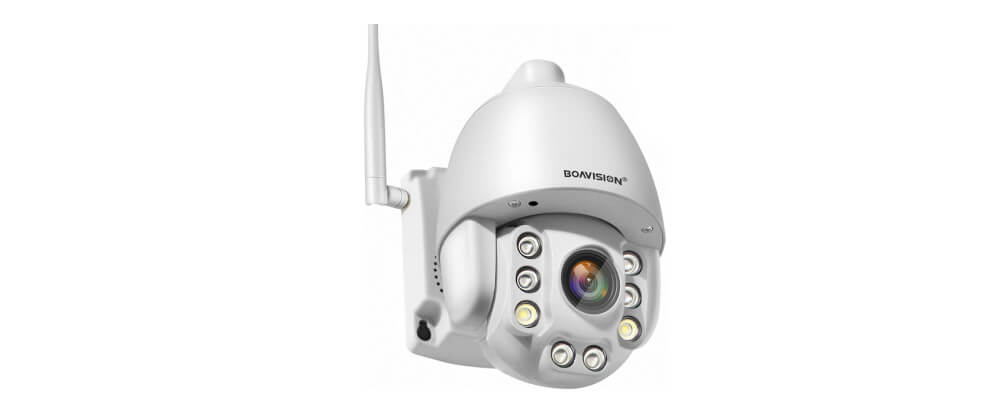 The Boavison 360 outdoor wireless security camera is a full HD 1080p camera known for its high-quality image quality. I tested this device in the car park in my workplace to monitor the activities and movements from my office. The 350-degree pan and 120-degree tilt let me spot movements from different ends of the car park and see the people's faces.
There are many things to love about the Boavision camera — the viewing range, particularly at night, is one. But that's unsurprising since it enhances the field of view in low light, producing a 100-feet night range. I recommend using this 360 degree outdoor wireless security camera in open areas like garages, backyards, and parking spaces due to its wide-angle view.
It is not enough to monitor activities in your surroundings without being able to do anything when there is a situation. Since the device has a built-in mic and speaker that works perfectly with phones, you can sit in your room or office and shoo the person at the door away.
The Boavision HD22M102M security camera connects with any 2.4Ghz WiFi router wirelessly. This connection type will excite people who need their installation area to be clutter-free. It also ensures that the device can do a complete 360 rotation without an Ethernet cord obstructing its movement.
PROS:
You can control the infrared light and floodlight with your mobile device. You can choose between multiple night vision modes.
The camera is designed to distinguish human movements from animals or things, limiting unnecessary alarms.
You can live stream with 64 other users simultaneously.
CONS:
Customer support leaves plenty to be desired.
The camera sometimes loses power after some period of use.
The motion tracking and audio features are faulty.
REOLINK Argus PT+sp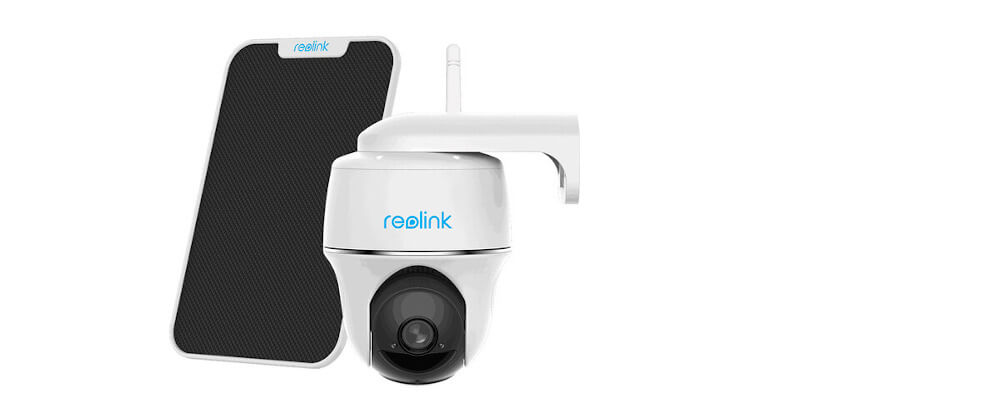 Reolink built one of the best 360 degree outdoor wireless security camera systems in their Argus PT +SP by Reolink. This device runs on a 2.4Ghz and 5Ghz WiFi network and has a built-in rechargeable battery to ensure no cords are lying around and to record in a blackout. Using the camera's solar battery panel, you can record 24/7 without the battery running down.
The Reolink Argus PT camera has a 1080p FHD resolution and shoots at 15 frames per second. Although 15FPS isn't the fastest frame rate available, the resolution makes up for it with high-quality images. You have a device worth considering when you add a motion-triggered recording, a 355-degree pan, a 140-degree tilt, and a 4MP lens.
If you're interested in nighttime surveillance, you should be aware that the camera's low-light image quality is bang average. To achieve the best night video quality, you need a support light. You can get a video with a clarity comparable to daylight if the camera has enough artificial light support.
You may use the camera to shoot videos in Fluent Mode and Full HD 1080p (Clear Mode). Fluent mode footage has less jitter, but the resolution is lower than full HD, so choose Clear Mode if you prioritize image clarity.
A downside of the Reolink Argus outdoor wireless security camera with pan tilt zoom is its lack of motion tracking and auto-rotation capability. Also, due to its plastic design and battery weight, the mount bracket is flimsy— which is not ideal.
PROS:
The camera is portable with a beautiful design.
It has a simple setup process; simply install the Reolink App, power it, and scan the camera.
The application is easy to navigate due to its simple interface.
CONS:
There is usually a lag and delay when controlling the camera in full HD.
It has no preset or bookmark feature like other Reolink models.
The camera picks up unnecessary noise.
HOSAFE HX-2PT1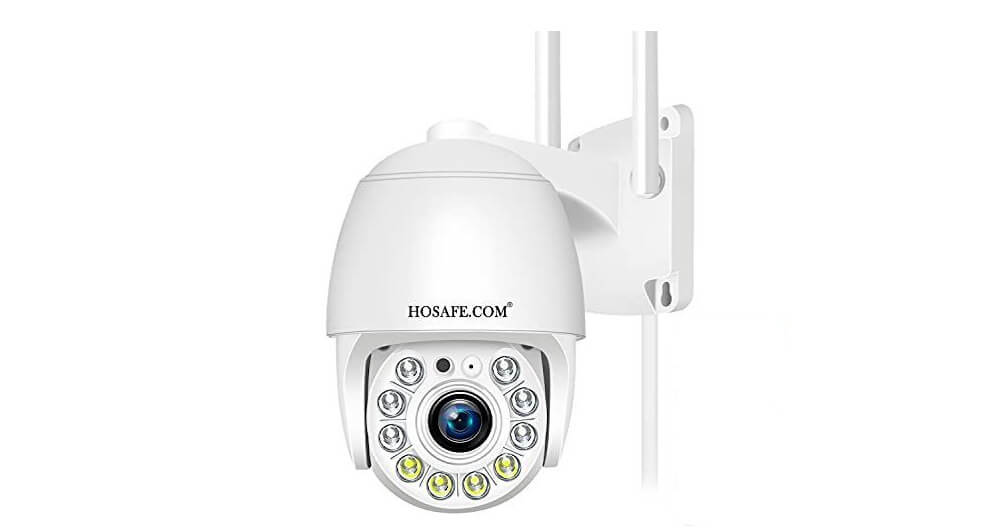 The Hosafe HX-2PT1 is a strong contender for the best outdoor wireless security camera with pan tilt zoom. You can expect crisp photographs even in low light while using this 1080p full HD camera. However, because many PTZ cameras are 1080p shooters, that characteristic does not distinguish this product.
The additional characteristics are what set it apart. The camera has auto tracking, motion detection, two-way communication, push notification to mobile devices, and SD card playback and download.
You may control the Hosafe HX-2PT1 via the camera's app. The function allows you to swiftly pan, tilt, and zoom the camera up to 355°, 90°, and 4X. These PTZ capabilities ensure that you have digital eyes in every room of your home.
This gadget performs admirably in terms of connection. You get an upgraded network (WiFi) module running at 2.4Ghz that connects to your home network farther away. Add the 9-foot-long power cord, and you have a device perfect for outdoor installation.
This WiFi PTZ outdoor camera does more than capture and notify; it deters intruders from committing crimes and allows you to communicate with visitors. When an intruder or a visitor enters your space, you will get a notification on your phone, then a bright spotlight and sirens will deter them.
PROS:
You can share the camera with others, allowing them to get alerts and check the it.
Buying the camera has little risk since it has good customer support and a one-year return window.
It is suitable for all weather due to its IP66-waterproof feature.
CONS:
The camera is not compatible with Blue Iris and iSpy.
The device has a visible power cord, making it easy for anyone to unplug.
The motion detection feature of the camera is faulty. Sometimes, when it tracks movement, it does not return to its normal position.
Soliom S600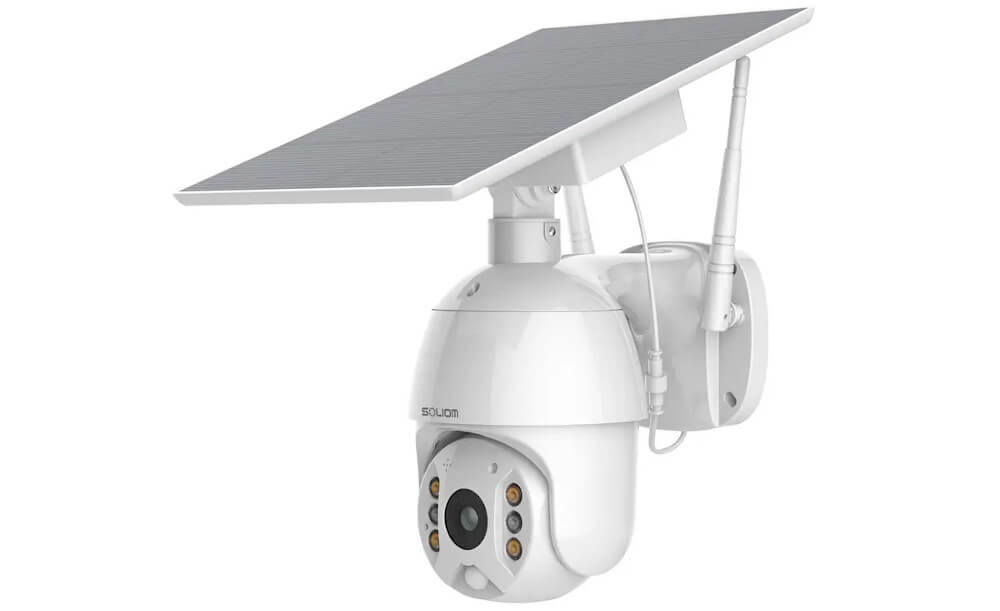 The Soliom S600 wireless PTZ IP camera with outdoor motion detection, spotlight, and color night vision is an excellent choice. The four LEDs work in tandem with the 1080p resolution to ensure high-quality images. Surprisingly, this camera can see up to 32 feet under low-light circumstances.
The Soliom camera's smooth movement makes it easy to see all regions of your home. You may use your device to operate the pan, tilt, and zoom. The software can operate the camera to zoom 3x digitally and scan horizontally at 320° and vertically at 90°. In addition to pan and tilt control, you can live-watch your house or property, download or playback collected film from anywhere, and activate the siren to scare intruders.
You can connect your WiFi to your Argus camera if it is not on a 5G network. The camera allows up to ten people to stream live simultaneously. Its 802.11 b/g/n WiFi connection at 2.4GHz speeds is enough for most daily tasks.
This device includes a rechargeable solar-powered battery because it is an outdoor wireless pan tilt zoom camera. Although the battery is solar-powered, it does not provide continuous recording like the Reolink Argus.
PROS:
The camera supports motion detection recording.
It is durable due to its metal body and zinc bracket.
You get a two-year warranty after purchase, which is excellent.
CONS:
It does not have a motion tracking function, so it can't follow a subject's movement.
It does not work with NVR systems, computers, Blue Iris, and other third-party software.
You cannot set up a recording schedule or time to monitor.
Ctronics S20
The Ctronics is a completely detached security camera. This wireless pan tilt zoom outdoor camera has a 10,000 mAh battery and a 7.8W solar panel. Since this gadget has no cable, thanks to running on a rechargeable battery, you can place the camera in your backyard or garden without thinking about which AC outlet to connect it to.
The Ctronics S20 includes a smooth pan and tilt controlled by a remote. Also, you get the standard 2.4GHz WiFi connectivity with this device. However, if your home network is based on 5G, it will not connect to the camera.
It revolves 355 degrees horizontally and 95 degrees vertically and has a 3x zoom capability, allowing you to view what's happening in your home. From the free Ctronics application, you can download, record, playback, and live view videos.
Nothing beats watching your house in crystal clear video quality, which is what the Ctronics S20 surveillance camera provides. The Ctronics camera has FHD 1080p resolutionand colored night vision, and with two white and infrared LEDs, the camera takes smooth, crisp images. Clear video footage is guaranteed on this device in the late afternoons and early evenings.
This Ctronics device's extraordinary night vision enables it to see up to 40 feet in complete darkness. Also, if you have a guest at the door, you don't have to walk out to greet them; your camera has two-way audio that allows you to listen and respond.
PROS:
The camera uses a modem infrared technology that offers excellent reliability and incredible night vision.
You can mount the camera anywhere. It fits nicely on trees, walls, etc.
The app is easy to navigate.
CONS:
The camera does not support RSTP, computers, or NVR systems.
It does not have optical zoom capability.
Its motion detection picks up unnecessary noise from wind, etc.
Wansview W9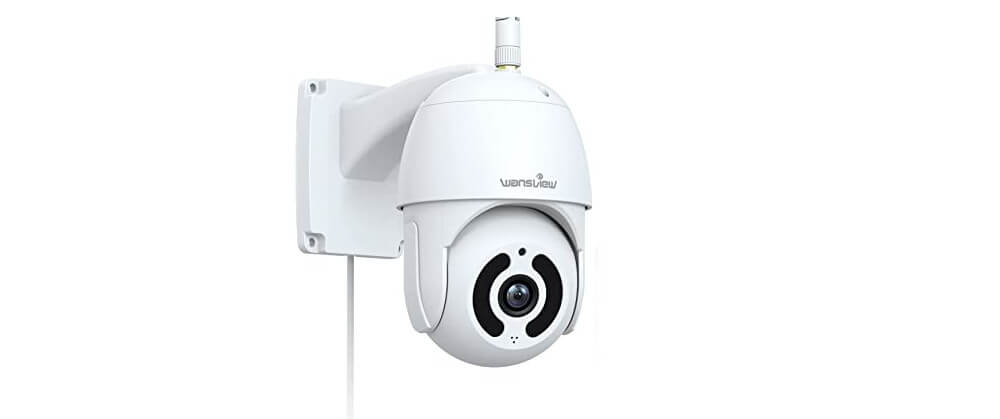 The Wansview W9 is a superb wireless camera that offers all you need to keep an eye on your properties. This 1080p camera gives you a clear picture of your property and is suitable for parking spaces, gardens, etc.
With this 360 degree security camera, wireless connectivity takes about 3 minutes. You need the app, as you can't make a direct IP connection. The device only connects to networks on the 2.4Ghz WiFi band. This setup means your internet controls your camera, and when one goes off, the other does too.
You can feel secure in this camera's ability to cover every area of your home. Its PTZ functions are simple to control using the Wansview Cloud application. The device pans vertically up to 350°, recording all surroundings and leaving no blind spots. You can use the app to operate the pan, tilt, and zoom and link it to Alexa Echo Show to watch live footage.
When the camera detects motion, it sends an alert along with a ten-second video to let you know what's going on. The video may be downloaded or viewed via the camera's application.
I was also delighted with this camera's alert feature, night vision, and two-way audio after testing it. The Wansview outdoor wireless PTZ camera has superb night vision powered by twelve infrared LEDs to guarantee nighttime surveillance. The two-way audio with an in-built mic and speaker is also practical for communication and scare tactics.
PROS:
The night vision mode can enhance footage clarity and help you see 50 feet in the dark.
It is waterproof with an IP65 rating.
Due to its shape and design, there are many ways you can mount the device.
CONS:
It is powered by a USB cable rather than battery-powered. USB cable-powered cameras are more prone to damage
The camera's connection is faulty; sometimes, it disconnects from the home network.
Its motion alert picks up unnecessary sounds.