Soliom Cameras: Comparing Five of The Best PTZ Models for Surveillance
Special Feature
Night Vision, Motion Sensor
HD Resolution, Night Vision, PTZ Technology, Motion Sensor
Night Vision, PTZ Technology, Motion Sensor
Night vision, Motion Sensor
Night Vision, Motion Sensor
Product Dimensions
6.69 x 4.72 x 10.24 inches
6.69 x 7.09 x 4.33 inches
Getting a reliable unit with updated features that will last long is essential if you plan to install a security system at your business or residential building.
With an effective surveillance camera, you can rest assured of the safety of your loved ones and valuables. And that is where Soliom solar cameras come into play. In terms of quality, functionality, and design, Soliom camera systems are among the best.
To decide on the best Soliom camera, I tested five models — The Soliom S40, S800C-4G, S800, SL800-4G, and S600. The tests show these cameras have top features like motion detection, two-way audio, smooth pan tilt, and zoom control. However, the advancements in the technology behind these features differ, which is the basis of this test's results.
Our Soliom camera reviews and comparisons examine various features indicating the top camera.
Comparison of Soliom Cameras
Camera
To determine the most suitable Soliom camera, looking up its camera features is critical. Before buying a camera, you must consider its resolution, which determines the image's sharpness when you view it on a computer or smartphone screen.
The Soliom cameras on this list are impressive, capturing images in full HD 1080p resolution. Therefore, you can rest assured that you will get excellent photos of your environment irrespective of the device you pick.
The Soliom cameras all guarantee clear daylight images. In addition, they can handle shots in different lighting conditions because they have motion-activated spotlight and motion color night vision with four-piece LEDs. These lights illuminate their field of view at night and in dimly lit conditions.
One noticeable difference between the Soliom cameras in this review category is the length at which they capture at night. The Soliom S600 and SL800-4G have excellent night vision lengths of 32 feet. This distance eclipses the Soliom S40's 23 feet, the Soliom S800C-4G's 25 feet, and the Soliom S800's 26 feet.
Soliom cameras feature wide-angle lenses, perfect for covering open areas. With these lenses, the devices will pick up movements from more acute angles, thus eliminating blind spots. Wide-angle FOVs, with a typical range of 60 to 110 degrees, reduce coverage in exchange for increased clarity. With that in mind, these surveillance cameras are ideal. Even the S600, with a 90° field of view — the lowest of the Soliom cameras under review — still offers outstanding clarity and perspective. If you want something with more lateral coverage, opt for the SL800-4G, S800, and S800C-4G. They have a better 105° FOV, suitable for covering more expansive spaces.
This category of the Soliom cameras review is tight since they differ in certain aspects. For example, the SL800-4G, S800C-4G, and S800 have better viewing angles than the others; the S600 and SL800-4G have excellent night vision ranges, which is essential for the security of my properties. Therefore, the Soliom SL800-4G is the clear winner in this review category.
Our pick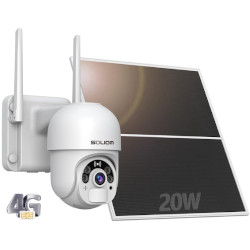 Best camera
24/7 Recording
20W Solar Panel
14400mAh Battery
FOV 105°
355°horizontally and 95° vertically
Clear Image of 1080P
Night vision up to 23ft/7m
3X Digital Zoom
2-Way Talk and Live View
IP66 Weather-Resistant
Video & Audio
The audio and video quality of cameras is crucial to their overall reception by users. Therefore, it is essential to have a system that can match the video output with good audio when recording an event, monitoring your property, or talking to loved ones through the camera.
You can count on Soliom to adopt a suitable video and audio output technology for their cameras. However, with so many excellent Soliom cameras, narrowing down to the most appropriate is complex as they all have superb audio and video capabilities.
Soliom solar camera systems like the S600 and S800 use RTMPS streaming encryption. To prevent interception and file theft by malicious third parties, RTMPS uses additional layers of encryption to the RTMP protocol. The extra security layer in the RTMPS is either SSL or TSL encryption.
If the broadcasting tools you use support RTMPS, you may use it instead of RTMP. Public radio and television stations also use the protocol. Broadcasters often favor RTMPS over other encryption protocols because of its extra protection.
Streaming via RTMPS is one way to ensure that your films stay private. For instance, you may find yourself in a situation where you must keep an eye on what is happening around your home in real-time; doing so with public WiFi will leave you vulnerable to attacks.
Another impressive feature of Soliom cameras is their two-way audio features. You can count on any of the Soliom cameras under review to allow you to communicate seamlessly with visitors, intruders, and your family. The feature will enable you to maintain communication in the office, at home, or far from home.
Soliom cameras have similar audio and video capabilities, which are, without doubt, fitting for surveillance. However, in this section, I pick the S800 due to its streaming-encryption protocols.
Our pick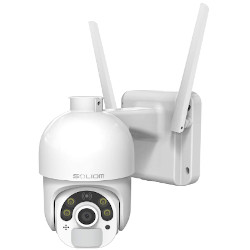 Best camera
Night Vision, PTZ Technology, Motion Sensor
Full 1080P HD & Night Vision:
355°horizontally and 90°vertically with a built-in 105°wide angle lens
PIR sensor with angel 130°and range more than 26ft
14400mah battery & separate solar panel
Two Way Talk
Connection
The connection features of Soliom cameras are impressive and contribute to why they are user-friendly. They are easy to set up and use since they offer rich connection capabilities.
The Soliom cameras require a simple pair-and-use. First, register your account after downloading the app. Next, set up the camera by turning it on and pointing its lens at the QR code. After this setup, you can rotate the camera. But their WiFi connectivity isn't all good news across the board.
For instance, the S600 supports WiFi connectivity but on the 2G network. However, most users may find its connectivity unpleasant since it does not allow a 5G network connection. So the S600 requires a 2 Mbps minimum speed to perform optimally.
In testing these Soliom cameras, I find the SL800-4G, S40, and S800C-4G connection features most pleasing. These cameras use 4G LTE, which allows data transmission over a fast 3G/4G network. Besides, the 4G LTE Soliom cameras work independently; therefore, you won't have to bother about the power going off.
In this regard, the SL800-4G supersedes the other Soliom cameras since it assures 24/7 coverage.
These Soliom security camera outdoor wireless units allow users to add an SD card for storage to which the recorded videos automatically save. The difference between the cameras is the capacity of the SD card they allow. The S600 supports up to 64 GB, S800, S800C-4G, and S40 allow up to 128 GB, while SL800-4G has space for 256 GB SD cards.
In this category of Soliom comparison, the SL800-4G Soliom wireless outdoor solar battery security camera is the clear winner. Its higher SD storage space, 24/7 recording, and 4G LTE connection feature put it ahead of the other Soliom models.
Our pick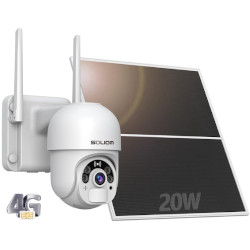 Best camera
24/7 Recording
20W Solar Panel
14400mAh Battery
FOV 105°
355°horizontally and 95° vertically
Clear Image of 1080P
Night vision up to 23ft/7m
3X Digital Zoom
2-Way Talk and Live View
IP66 Weather-Resistant
Control
A system's value increases if its use is simple. For example, surveillance cameras are considered exceptional when they are simple and set up. With that in mind, Soliom simplifies the use of its cameras by making its control seamless.
Unlike conventional surveillance cameras, the Soliom system's user interface is intuitive and simple. The camera's position, orientation, and field of view are all fully under your control. Depending on your unit's capabilities, you can pan, tilt and zoom without getting out of bed or leaving the sofa.
These Soliom cameras in this review allow you to control their features from the app. You can get the best angles with the 320° horizontal movement and 90° tilt of the S600 and S800C-4G. If you want even more pan angle, the superior 355° pan and 95° tilt of the SL800-4G should do. Once you've linked your cameras, you can remotely control these via the camera's app.
My pick in this category of Soliom security camera review is the SL800-4G. While it has similar control features to others, I can control the camera to rotate a bit further and record for 24 consecutive hours.
Our pick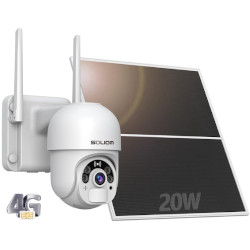 Best camera
24/7 Recording
20W Solar Panel
14400mAh Battery
FOV 105°
355°horizontally and 95° vertically
Clear Image of 1080P
Night vision up to 23ft/7m
3X Digital Zoom
2-Way Talk and Live View
IP66 Weather-Resistant
Conclusion: What is the Best Soliom Camera?
Picking the best Soliom camera from this list is difficult due to their similarities and the fact that the units have the features you need from a standard outdoor pan and tilt camera.
After numerous tests on the S600, S40, S800C-4G, S800, and SL800-4G, I prefer the SL800-4G. The camera is ahead of others regarding features and offers much more. However, you should try your hands on it to have a first-hand experience guaranteed to meet your outdoor security needs.