Wacom Intuos vs Huion — Battle of Brands
Main Features
In terms of similar features between Huion vs Wacom tablets, all the models from both brands come with a feature that allows setting up the tablet for both left-handed and right-handed use. They also come with a range of assignable buttons (from 3 to 15) and other controls such as a touchpad or scrolling wheel.
Some Wacom graphic tablets have a Palm Rejection feature which means that the surface reacts only to the pen. This lets you rest your hands on the drawing area (just like you do it when drawing on paper). Many Wacom tablets are equipped with foldable or adjustable legs that allow for maximum drawing convenience.
The most expensive models from Wacom come with a remote control that contains programmable shortcut buttons. Such tablets don't have onboard controls, so they are more space-efficient and have a larger drawing area.
Huion tablets usually come with a locking switch/key for control buttons that prevent accidental pressing while drawing. They also rarely come equipped with adjustable or foldable legs/stand. Instead, their rear surface includes rubber pads that stick to the surface to prevent slipping and dropping.
Some Huion models include a multifunctional touch ring that allows for convenient zooming, brush adjustment, and page scrolling. Only Huion can offer tablets that have multimedia keys (volume adjustment, play/pause, etc.). Such tablets are a great decision for video editors. Huion tablets are also known for being game-compatible. Many models allow you to play OSU and other similar games.
It's hard to choose a winner in the Huion vs Wacom Intuos features comparison since both of them try to provide as many features for the price as possible. However, Huion tablets usually have slightly more features to offer. For example, the Wacom CTL4100 Intuos has 4 customizable express keys and a Palm Rejection feature. The Huion H640P can offer 6 assignable buttons, compatibility with games, and a locking key.
As you can see, the Huion H640P is a more feature-packed model.
Our pick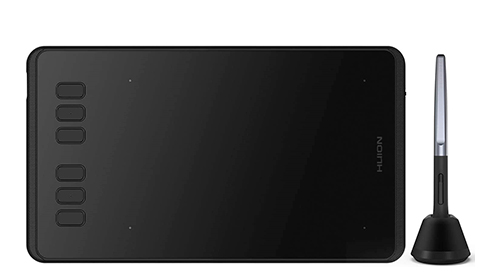 The best features
Level of pressure sensitivity — 8192
Support: Mac, Windows, Android
Pen resolution — 5080LPI
Battery-free digital pen
8 pen nibs
6 customized press keys
10.2 x 5.8 x 0.3 inches and 9.5 ounces
Drawing Area
The products from both manufacturers have a slim design and come in a variety of display sizes: from pocket-sized, to medium and large models. They both also don't use displays with a non-papery surface anymore. All the models from both brands have a drawing area that simulates paper surface, even the cheapest ones. So, asking "Wacom Intuos vs Huion which is more natural", you won't find the answer quickly.
In order to replicate a precise paper feel, the drawing surface of Wacom tablets has an anti-glare coating with minimal parallax. Displays of more advanced models have increased durability and are resistant to scratches. Wacom also tends to offer the same model in a few different display sizes, providing great convenience for customers.
Graphics tablets from Huion have an anti-glare, full-laminated drawing surface that contributes to better pen precision and reduces parallax to the lowest level.
Most graphics tablets from both brands have 1920 x 1080 resolution, can show more than 16 million colors, and have great brightness level (no less than 200 nits). However, only Wacom provides models with 4K resolution.
Since both brands provide tablets with high-quality displays, it's not an easy deal to choose the winner in this category of Wacom vs Huion comparison. However, given the fact that Wacom can offer drawing tablets with 4K resolution, it's fair to say that this brand is more advanced when it comes to display technologies. In addition, in side by side comparison, the drawing surface of Wacom models has a more natural feel.
This way, the Wacom DTK2420K0 with 4K resolution outperforms the Huion Kamvas Pro 16 with Full HD resolution.
Our Pick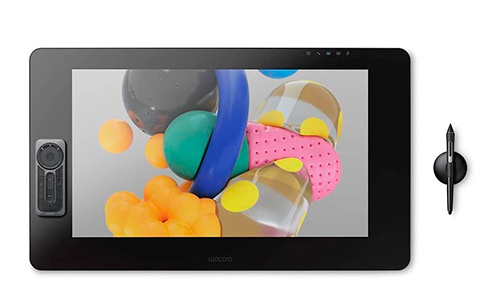 Best drawing area
Color Gamut — 72% NTSC (CIE1931)
Level of pressure sensitivity — 8192
The etched glass screen
Comes with built-in legs
4K resolution
17 programmable buttons
26.7 x 15.5 x 1.9 inches and 15.9 pounds
Resolution
Since both Wacom and Huion are reputable brands, they don't issue tablets with less than 2540 LPI resolution, so all of their models are decent in this regard. Nevertheless, it's almost impossible to find the Huion tablet with 2540 LPI. Almost all models from this manufacturer have 5080 LPI. At the same time, Wacom actively uses 2540 LPI resolution even in its quite expensive models. So, if you need a drawing tablet with max display resolution, you are free to choose any of the Huion models.
So, the Huion H640P with 5080 LPI beats the Wacom CTL4100 with 2540 LPI in the Wacom or Huion display battle.
Our pick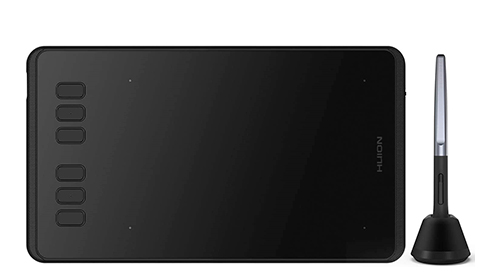 Best resolution
Level of pressure sensitivity — 8192
Support: Mac, Windows, Android
Pen resolution — 5080LPI
Battery-free digital pen
8 pen nibs
6 customized press keys
10.2 x 5.8 x 0.3 inches and 9.5 ounces
Pressure Sensitivity
Most models from Wacom come with 200 RPS. However, despite the fact that it's quite a high level of display pressure sensitivity, Huion models usually slightly exceed this level (233 – 266 RPS).
Let's compare two 15.6-inch models with Full HD resolution from both manufacturers. The Wacom DTK1660K0A has 200 RPS and the Huion Kamvas Pro 16 has 266 RPS, so, obviously, the last model wins in thу Huion tablet vs Wacom pressure sensitivity comparison.
Our pick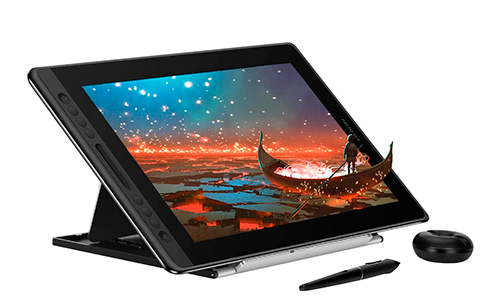 Best pressure sensitivity
Tilt function battery-free stylus
Full-laminated anti-glare glass
Contrast Rate: 1000:1
HDMI connection
6 press keys
±60 Levels Tilt Recognition
17.3 x 9.8 x 0.4 inches and 3 pounds
Pen
It's not an easy task to compare Huion vs Wacom pens as they are very similar. Almost all the pens that come with Wacom and Huion tablets are battery-free. They use electromagnetic resonance technology and have ±60° tilt recognition. Pens from both brands have a similar design, with 2 assignable buttons and a rubber grip. Both cheap and expensive tablets ship with pens that have 8192 levels of pressure sensitivity which means that they can recognize even the lightest strokes. So, in the Huion or Wacom pen battle, the brands are almost identical. However, Wacom pens are more advanced and have a lower activation force which means that they are a bit more responsive than those from Huion.
Thus, the Wacom DTK1660K0A that comes with Pro Pen 2 is a more advantageous model than the Huion Kamvas Pro 16 that comes with the less advanced PW507 pen.
Our pick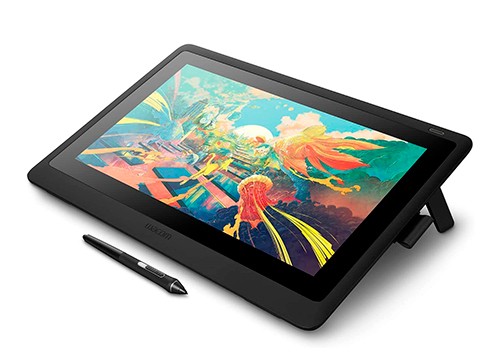 Best pen
The scratch resistant
HDMI connection cable
Brightness — 250 CD/m2
Active Area — 13.6 x 7.6 inches
Color Gamut — 72% NTSC (CIE1931) typical
8192 pressure levels and tilt recognition
16.6 x 11.2 x 0.4 inches and 4.2 pounds
Software
Except for drivers, Wacom and Huion models can work with many programs for drawing, editing, and digital note-taking. It allows you to expand the use of your tablet by downloading new software when you need to.
While Huion just provides wide compatibility with different programs, Wacom issues tablets with a free license to some useful programs. The Wacom DTC133W0A, for example, comes with a 3-month license for Clip Studio Paint Pro, a 2-month license for Adobe Photoshop & Lightroom, and a 6-month license for Adobe Fresco. The identical model from Huion, the Kamvas Pro 16, comes without any free license to some software.
So the Wacom DTC133W0A is more beneficial at this point.
Our pick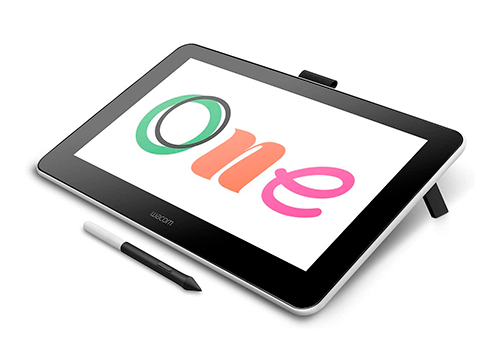 Best software
Compatible with: Mac, PC, Android
Included creative software
Support for teachers
Good for beginners
Award winner
13.3-inch graphics display
8.9 x 14.1 x 0.6 inches and 4.6 pounds
Connectivity
Models from both brands allow for connectivity with both Mac and PC. They also can be connected to Android devices (smartphone, tablet, etc.) with an OTG connector that is rather included in the kit or must be bought separately. More advanced drawing tablets come with an HDMI connector instead of USB. Unfortunately, both brands rarely come with Bluetooth support.
Nevertheless, only Huion can offer a Type-C USB connector that can carry significantly more power than usual USB. It's also reversible, meaning that it can be inserted in both ways which is very convenient. Plus, not all of the Wacom models are Android compatible. For example, the Huion H1161 can be connected to Mac, PC, and Android devices, and offers a Type-C connector. The Wacom PTH451 can work only with Mac and PC.
Hence, the Huion H1161is a more versatile model in terms of connectivity.
Our pick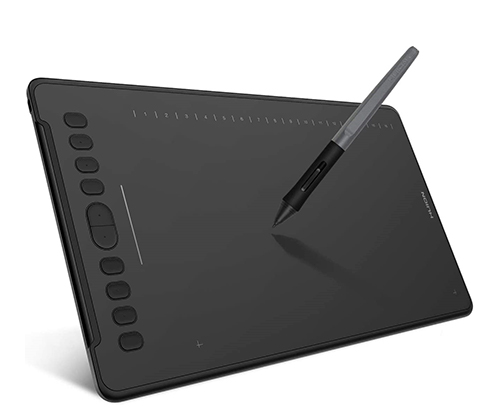 Best connectivity
Working Area — 279.4 x 174.6 mm
Android & PC supported
Type C interface
Battery free pen
Touch strip
10 press keys
16 soft keys
Price
Wacom models are inaccessible for many artists as they are quite expensive. Huion, in its turn, mainly focuses on affordable, entry-level drawing tablets that are suitable for beginners. The cheapest tablet from this brand costs around $20 while the minimal price tag for the Wacom tablet is $50. The Wacom CTL4100, for instance, provides fewer features than the Huion H640P but costs more.
This way, it's fair to say that the Huion H640P offers excellent value for the price.
Our pick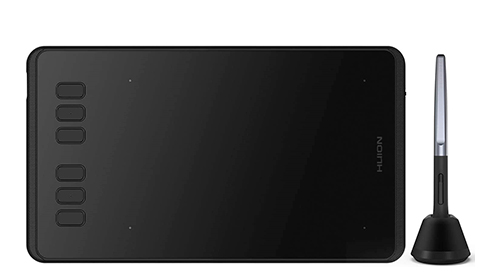 Best price
Level of pressure sensitivity — 8192
Support: Mac, Windows, Android
Pen resolution — 5080LPI
Battery-free digital pen
8 pen nibs
6 customized press keys
10.2 x 5.8 x 0.3 inches and 9.5 ounces
Wacom vs Huion: Conclusion
So, concluding this Wacom tablet vs Huion review, I would recommend buying a Wacom tablet if you are not restricted in your budget. This brand can offer 4K models, comes with more advanced pens, has a more natural drawing surface, and offers a license to some useful programs as a bonus to your purchase. Huion, in its turn, is able to provide a lot for a low price. Models from this brand have better resolution, better pressure sensitivity, wider compatibility, and come with a Type-C USB connector. Even when it comes to the cheapest models from the brands, Huion offers more buttons and more features than Wacom. So, in general, Huion tablets are more beneficial.