Best 4k PTZ Security Camera
Storage
Micro SD card slot (Max. 256GB)
SD card up to 128GB (SD card not included)
Support 128GB SD Card (not included)
Special Feature
2 Way Audio, Night Vision, Built In Light, PTZ Technology, Frame Rate
Color Night Vision, Human /Vehicle Detection, Multi-User Sharing, Auto Tracking
Night Vision, Motion Sensor
Dimensions
7.91 x 8.58 x 8.58 inches
16.61 x 8.54 x 5.67 inches
5.19 x 7.09 x 9.06 inches
Storage
Micro SD card slot (Max. 256GB)
Special Feature
2 Way Audio, Night Vision, Built In Light, PTZ Technology, Frame Rate
Dimensions
7.91 x 8.58 x 8.58 inches
Storage
SD card up to 128GB (SD card not included)
Special Feature
Color Night Vision, Human /Vehicle Detection, Multi-User Sharing, Auto Tracking
Dimensions
16.61 x 8.54 x 5.67 inches
Storage
Support 128GB SD Card (not included)
Special Feature
Night Vision, Motion Sensor
Dimensions
5.19 x 7.09 x 9.06 inches
Keeping your building safe requires an effective security unit. This guide contains the best 4k PTZ security camera systems to help you make the best decision.
When it comes to keeping an eye on your workplace, parking lot, or house, PTZ surveillance cameras are indispensable. With the best 4k PTZ security camera, you can capture in ultra-high quality 4K resolution and boast impressive optical zoom lenses and a wide focal range.
The recording quality of the PTZ systems on this list is four times crisper than those made by 1080p PTZ cameras. The cameras are ideal for surveillance in busy residential or commercial areas. Because of their zoom types and megapixel count, they will display license plates and facial features even at a distance.
If you're seeking the best 4k PTZ outdoor camera, you've found it. This review will look at three top-notch options that provide broad coverage and smooth zoom. Ultimately, you'll be able to decide on the most suitable security camera to purchase.
Reviews of 4K PTZ Security Cameras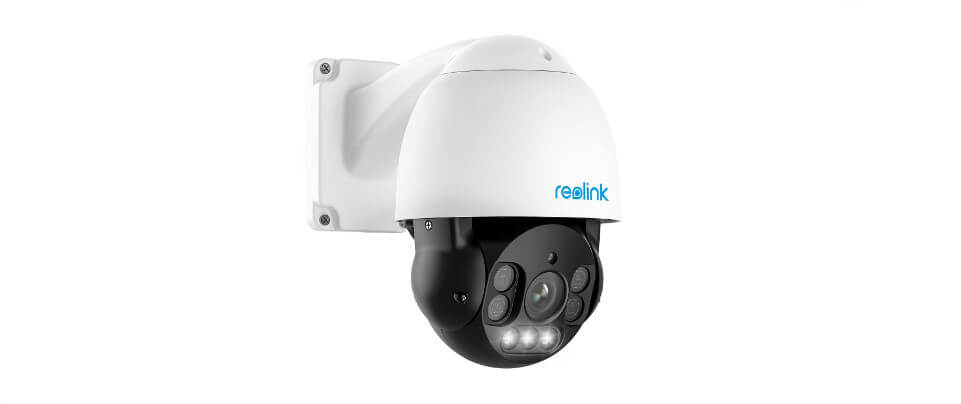 The Reolink RLC-823A 8-megapixel 4K Ultra HD resolution produces crystal clear photos. In my tests, the camera's functionality and efficiency were impressive. After installing the RLC-823A, setting it up and controlling it with the Reolink app takes just a few minutes.
The Reolink RLC-823A PTZ, regarded as potentially the best 4k PTZ security camera, gives you constant surveillance of your house or place of work. The camera also has a 5x optical zoom and autofocus in addition to its resolution of 3840 x 2160. Therefore, the result is among the best in its class.
If you use the Reolink camera, the problem of false alarms will be a distant memory, thanks to its Artificial Intelligence features. The camera also has powerful LED floodlights that allow for color night vision. When the camera detects a movement within your space, it turns on its LED floodlights; in this case, you may decide to activate the built-in siren.
It is crucial for the best 4k PTZ outdoor security camera to have a built-in microphone and speaker. They allow you to talk and listen to guests regardless of where you are. After connecting to the internet, you will get live video and watch recorded clips on your smartphone or PC.
The thing I find undesirable about the Reolink RLC-823A is that it is not wireless. Connecting to the internet requires a wired connection.
PROS:
The camera offers 24 hours coverage without requiring charging.
If you encounter a problem using the camera, you can count on the Reolink support team to be responsive.
The multi-control feature is impressive; you can turn on the camera's floodlight and IR LED from the app.
CONS:
Installing the camera can take a lot of work.
The camera does not support cloud storage.
The camera sometimes gets lost tracking a particular entity and does not return to focus on the surroundings even after the object is far gone.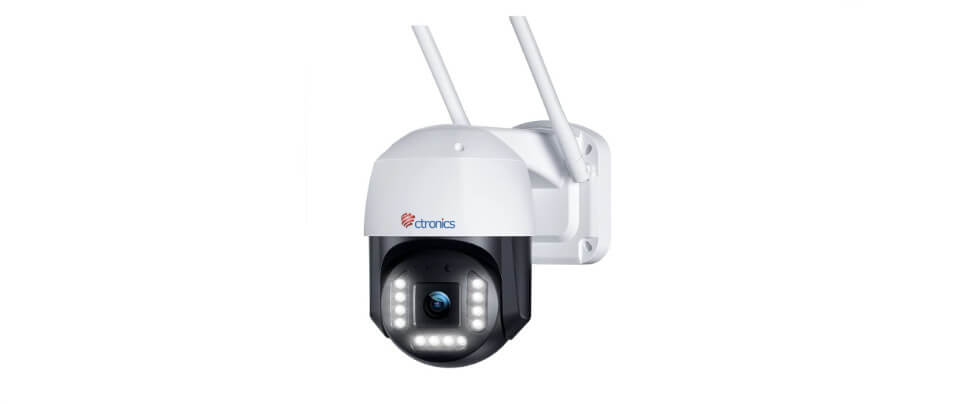 The P2-20X-8MPAT Ctronics 4k PTZ security camera system is a superb choice. This unit features a sleek design that will complement your building.
The camera has enhanced color and clarity, which is unsurprising considering it shoots at Ultra 4K HD resolution. You will find the camera's 20x optical zoom and H.265 video compression highly beneficial to zoom in on far distant objects without compromising the video quality. Also, this 4k PTZ outdoor security camera has cutting-edge 3D adaptive noise reduction capability.
In the darkness, the IR-CUT will automatically switch the camera to night mode, where it will continue to send out real-time, accurate, intelligent motion alerts in black and white.
With features like Human identification and motion detection, this 4K auto-tracking camera can help you keep an eye on your property efficiently. When it detects motion around your property, you will get an alert on your phone. You will also get images of your area on your FTP server and delivered to your inbox, so you don't miss a thing when motion is detected.
One fascinating thing about the Ctronics 4k PTZ security camera is its easy setup and user-friendly interface. The camera supports Internet Explorer, and Chrome Ctronics is also compatible with iSpy, Milestone, VLC, and Blue Iris.
You can communicate smoothly with your family and visitors thanks to the G.711A codec noise cancellation feature. No matter where you are in the world, speaking with loved ones is accessible through the mic and speaker of the camera, thanks to the two-way communication feature.
PROS:
You may provide access to visuals for your family members with CamHipro.
JideTech, the camera producer, provides rapid responses to guide users facing challenges with the camera.
The zoom quality is exceptional; you can view the plate number of vehicles far away.
CONS:
The night vision and autofocus leave much to be desired.
The lens gets bad too quickly; sometimes, it takes two months.
The camera can be accessed with "HANKVISION_2016" as the password and username, which is a security threat.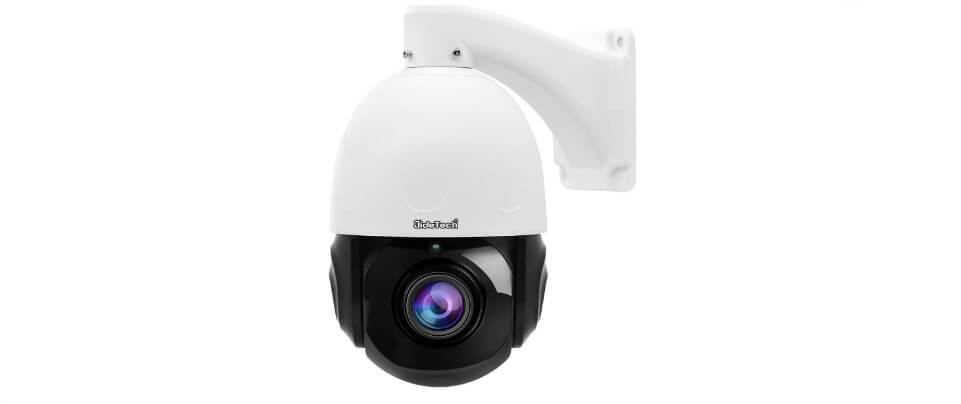 If you need a pan tilt and zoom camera that supports PoE, the Jidetech P2-20 X-8 MPAT camera provides a great option. You will enjoy the camera's smooth 360 degrees horizontal and 90 degrees vertical rotations. Since the camera has an accurate, intelligent motion detection feature, you will get a photo and link to the scene when something noteworthy happens and no false alarms.
You will undoubtedly find the Jidetech P2-20X-8MPAT black and white color selections and sleek design appealing; this design will fit perfectly in your home. Its near-360-degree pan ensures complete coverage of your surroundings. In addition, the camera keeps an eye out for unusual movements within your space and instantly alerts you through email or mobile apps.
The visual quality of this PTZ 4k security camera leaves little to be desired. The camera's 20X motorized zoom lens allows you to see objects up to 98 feet away. You can see in the dark with the device's infrared night vision.
One impressive thing about the Jidetech P2-20X-8MPAT camera is its nearly cableless design. Since it is a PoE camera, there is no need for an extra cable. You also get remote and real-time streaming through a smartphone or computer like other cutting-edge 4k 360 security camera systems.
PROS:
Setting up the camera is relatively easy.
The zoom capability of this camera and its night vision is impressive.
The camera's picture quality is tremendous.
CONS:
The camera has smooth autofocus, but it does not have manual focus.
The camera's zoom may restrict you from seeing particular objects and movements. It sometimes zooms past the target or area you want to view.
There is usually a break in the camera's connection.