Amcrest vs. Reolink — Comparison of PTZ Cameras
Title
Reolink Pan Tilt Solar Battery
Amcrest vs. Reolink
As long as you have a property, home or workplace, you need an excellent security camera to supplement other safety measures. Having a PTZ surveillance camera is a perfect way of managing your valuables. Looking at the top security camera brands on the market today, getting a suitable surveillance camera will likely lead you to choose between Amcrest vs Reolink.
Both Amcrest and Reolink PTZ surveillance cameras offer features and technologies that put them ahead in terms of their ease of control, simplicity of interfaces, camera hardware, etc. These brands are the go-to option due to their clear video coverage and unique features, placing them among the top surveillance cameras today.
This Reolink vs Amcrest comparison illustrates the numerous features of products from both brands and captures where they differ. We reviewed various models of the brands to give you a detailed analysis of the most outstanding of the two.
Camera
The Amcrest and Reolink PTZ surveillance cameras have much in common regarding camera capability. In certain areas, the Amcrest model trumps the Reolink, while the reverse is the case in others. One thing I find particularly impressive about the Reolink models is their resolutions.
The Reolink E1 zoom, Argus PT Solar Battery Camera, RLC 423, and RLC-823A all come with at least 4MP shooters. The Reolink RLC-823A has a whooping 4K Ultra HD and the capacity to produce 8MP shots even in pitch darkness. The pictures are 1.6x times clearer than the 5MP resolution of Amcrest models and smash their 1080P resolution cap.
In terms of resolution, the Reolink camera beats the Amcrest model due to its higher ultra resolutions. However, the Amcrest cameras pulled one back in the camera hardware department. Most Reolink models shoot at 20 frames per second, whereas the Amcrest models can do 30 frames per second.
The optical zoom of most Amcrest and Reolink cameras are similar. The highest Reolink optical zoom range is 5x. While most Amcrest PTZs have 3X optical zoom, the company made a breakthrough with the motorized 32X optical zoom capability of the Amcrest IP4M-1083EW-AI. This excellent zoom capability allows it to spot and bring a subject from a far distance closer without affecting the quality of the image.
Though impressive, the Reolink camera's zoom capabilities do not come close to the Amcrest camera. Although most Reolink cameras have a better zoom capability than other Amcrest models, the IP4M-1083EW-AI Amcrest model's 32X optical zoom capability trumps other Reolink models.
The night vision is an exciting aspect of the Amcrest vs Reolink camera comparison. While devices like the Reolink RLC-823A offer sharper night vision shots due to their high resolution, Amcrest cameras deliver wider fields of view. Reolink RLC-423's 190ft is impressive, but it does not come close to Amcrest IP4M-1083EW-AI's 492ft night vision.
The Amcrest surveillance camera is the winner, mainly due to its superior Amcrest IP4M-1083EW-AI model. While the Reolink beats the Amcrest surveillance camera in resolution, it does not come close in other areas.
Our pick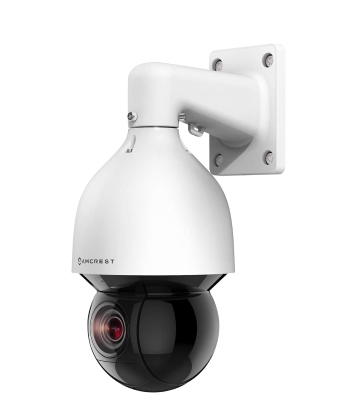 Best camera
Video capture resolution 4MP
MicroSD Card (Up to 256GB)
Ultra high definition video
Smart motion detection
Amcrest view app
360° Pan, 90° Tilt; 61.6° FO
6KV lightning protection
Image Sensor
The image sensor acts as the eye of the surveillance camera. In this category, there is not much difference between the Reolink vs Amcrest CCTVs.
Reolink uses the 1/2.8" Sony CMOS sensor for its RLC-823A model, which is similar to the Amcrest IP2M-841's sensor. However, Reolink narrowly loses the battle because the Amcrest model has 1/2.7" wide sensor. On paper, it lets more light in, though in reality, you'd barely notice any difference.
However, the bigger complementary metal oxide semiconductor (CMOS) of the Reolink camera allows for greater photosites, resulting in more megapixels and higher resolutions.
The Amcrest IP2M-841W uses the Exmor IMX323 image sensor and ambarella S2LM chipset, which differs from the Starvis CMOS sensor of IP4M-1083EW-AI and IP2M-863EW-AI. The Starvis sensors have a similar design as the Exmor. However, the latter produces a better image quality, especially in low-light environments.
Compared to the Reolink camera, Amcrest offers better image quality with reduced noise due to its image sensor. Whether night or daytime, you can rest assured of high-quality image quality. In that case, the Amcrest camera beats the Reolink camera.
If you want a camera that produces quality footage with minimal noise, consider the Amcrest IP4M-1083EW-AI and IP2M-863EW-AI.
Our pick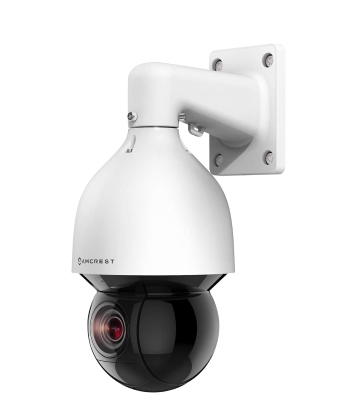 Best image sensor
Video capture resolution 4MP
MicroSD Card (Up to 256GB)
Ultra high definition video
Smart motion detection
Amcrest view app
360° Pan, 90° Tilt; 61.6° FO
6KV lightning protection
Lens
There is not much similarity between Amcrest vs Reolink security cameras. Amcrest models like the IP2M-841W have a fixed lens of 4.00mm and a broad angle view of 90°. Depending on your choice, this may not be a problem. However, the varifocal lens of the Reolink camera offers better flexibility since it allows you to adjust the lens until you get an appropriate field of view.
Amcrest cameras come with wider lenses than what you get with Reolinks. The IP4M-1083EW-AI has a 4.9mm to 156mm lens, while most Reolink surveillance cameras have a 2.7 to 12mm lens. Note that this does not guarantee an easy victory for the Amcrest models.
For camera lenses, small size does not equate to an unsuitable lens. For instance, while Reolink RLC-423's 2.7mm – 12mm lens produces over 90° field of view, the Amcrest IP2M-863EW-AI's 4.8mm – 120mm lens stays between 2.6° and 62.8° field of view.
Despite the capability of the small Reolink lens, I pick Amcrest as the winner here. The bigger lens of devices like the Amcrest IP2M-863EW-AI will allow more light to enter, producing brighter footage than what you will get in Reolink models. Also, the brand is versatile as different Amcrest models use different high-quality lenses.
Our pick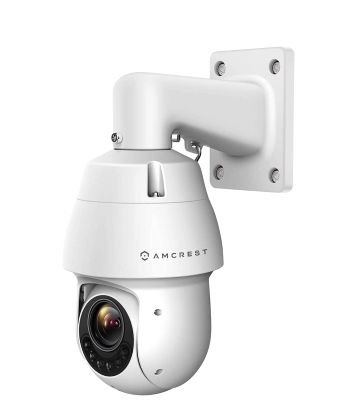 Best lens
Focal length 4.8mm~120mm
Connection type PoE 802.3af
Resolution 2MP (1920x1080)
Viewing angle 2.6°~62.8°
Night vision 328ft
Weatherproof
H.265 / H.264 high efficiency video compression
Video Output
This video output category of Amcrest vs Reolink comparison is tight due to their similarity. You may have found yourself in a situation where the quality of the video you are watching drops suddenly. It is not very pleasant, which is why this comparison is critical.
Amcrest and Reolink cameras use the latest video formatting technology to produce crystal clear videos. They use the H.265 high-efficiency video coding technology, which offers the solution to many video quality problems, improving on the shortcoming of the H.264.
Amcrest models, like the Amcrest IP2M-841, use a dual compression technology of H.264 and H.265. However, other models like the IP4M-1083EW-AI and IP2M-841W only use the H.265 standard. The same applies to Reolink cameras like the RLC-823A, which only uses H.265.
The H.265 reduces the file size and required bandwidths while retaining the overall video quality. For instance, for a 480p resolution video, the H.265 will only require a bandwidth 0.75Mbps, while an H.264 will require 1.5Mbps.
Despite the quality of the H.265, it has downsides. This video compression standard requires complex hardware to code and decode files, limiting its efficiency.
In this category, it's hard to choose between Amcrest or Reolink cameras. However, Amcrest wins due to the dual compression Amcrest cameras like the IP4M-1083EW-AI offer.
Our pick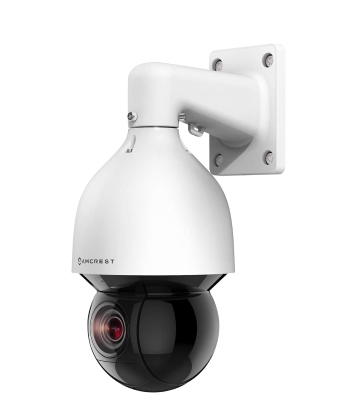 Best video output
Video capture resolution 4MP
MicroSD card (Up to 256GB)
Ultra high definition video
Smart motion detection
Amcrest view app
360° Pan, 90° tilt; 61.6° FO
6KV lightning protection
Power
Based on the temperature, usage level, and settings, the Reolink battery is expected to last for one to four weeks. To stop battery and power issues and ensure continuous power, you can get solar panel models like the Reolink Pan Tilt Solar Battery Camera.
This Reolink camera comes with a long-lasting, built-in rechargeable battery. The battery is self-powered, functions without cable, and is effective in blackout situations.
When you use this camera system, you can say goodbye to the days of plugging power cords to run your surveillance camera. With your solar panel, you can rest assured of a stable-working and effective camera unit.
Generally, Reolink cameras have easy installation and setup, which is a plus for users. Reolink models like the RLC-423 operate with the 48V PoE or DC 12V, which is common among surveillance cameras. The 12V adapters are effective in maintaining stable power for surveillance cameras.
Amcrest camera models also guarantee easy installation — you don't need to be a professional to set up the cameras. You can power them using the OEM USB power adapter or an Ethernet cable.
Amcrest cameras like the IP4M-1083EW-AI require Power over Ethernet Plus (802.3at standard), which has advantages and disadvantages. And devices using PoE+ often have screens with more accurate color reproduction. However, the cost of powering PoE+ devices is a significant disadvantage.
Therefore, in this battery and power category, the Amcrest models only lose out to Reolink models because of the solar power capacity of the Reolink Pan Tilt Solar Battery Camera.
Our pick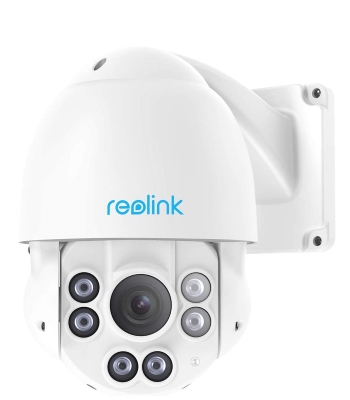 Best power
Operating power: DC 12V or 48V PoE
Image sensor: 1/2.9" CMOS
Night vision: 60 meters (190ft)
POE+ standard: IEEE 802.3at
Power consumption: <20W
Video quality: 2560x1920
Frame rate: up to 30fps
Control
These camera brands continue to improve on the existing abilities of PTZs. Thanks to camera models like Amcrest and Reolink, controlling your pan, tilt, and zoom camera is now a ride in the park. Devices like the Reolink RLC-423 and the Reolink RLC-523WA offer 360° pan and 90° tilt, which you can control using the Reolink App available on Android, IOS, Mac, and Windows PC.
With the Reolink App, you can rest assured of your safety since you can direct the camera to scan every corner of your house.
Also, you can control the Reolink camera using Google Assistant voice command. You can control the camera to live stream to your video output system with your voice. This control feature is available in the RLC-423.
Similar to the Reolink camera, Amcrest cameras can be controlled using mobile devices running on Android and IOS or Windows PCs and Macs. You only need to download the Amcrest application to control your camera's pan, tilt, and zoom.
You can control Amcrest cameras with voice commands like the Reolink ones. However, the brands use different systems. In the case of Amcrest, it uses Alexa through Amcrest Cloud, which pans, tilts, and zooms seamlessly through command.
In this category, Amcrest edges the Reolink model slightly, thanks to how well-suited the Alexa voice command of the IP2M-841EW is for home integration compared to Reolink's Google Assistant. But considering how tight this category is, the winner is down to my preference.
Our pick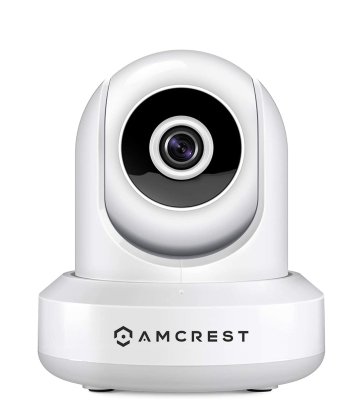 Best control
Full HD 1080P at 30FPS
Connection type POE
Night vision up to 32ft
Field of view wide 90°
Motion alerts
4 Hours of free cloud storage
1-year domestic warranty plus lifetime support
Interfaces
The interface of the Reolink and Amcrest model is similar. The Reolink camera model comes with DC 12.0V and ethernet cable ports and allows for a 2.4G WiFi router connection. The Solar Battery Reolink camera lets you view live footage or playback older clips over your WiFi connection.
The Reolink cameras can be powered with a single Ethernet cable and come with an RCA male port for an external mic and PoE Switch. The camera's simple interface makes installation and video capturing smooth, and the Reolink cloud service is a reliable backup for your files.
The Amcrest camera interface also makes live streaming and video playback easy. And its integration with the Amcrest Cloud ensures you don't lose footage to sudden setbacks. Amcrest models like the IP4M-1041W have secure SSL/HTTPS connection and AES/WPA2 wireless encryption.
Reolink camera models have distinct interfaces; however, they have one thing in common — they make operating the cameras easy. So, even though both brands guarantee similar experiences with their interfaces, I think Reolink devices, particularly the Reolink E1, take this win based on the simplicity of the interface.
Our pick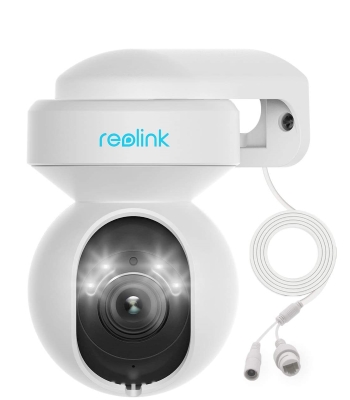 Best interfaces
Resolution 5MP(2560x1920)
Night vision 40ft full color
Network 2.4/5GHz WIFI
Two-Way talk
Waterproof
355° Pan, 50° Tilt
3X optical zoom
NVR System
NVR is a common feature of new model IP security cameras. The NVR allows Reolink and Amcrest camera users to gain visibility of operations and boost efficiency and security. Using the cameras, the connection via an Ethernet cable transfers power and data to the NVR.
The Reolink NVR system supports 16 cameras and all Reolink Power over Ethernet (PoE) surveillance systems. However, not all Reolink models support NVR — the Solar Battery Camera being one such device. But if you get models like the RLC-423, you can enjoy round-the-clock recording with NVR.
The Amcrest NVR, like Reolink's, allows for data recording. Also, since the Amcrest NVR is connected to Amcrest Cloud, it allows for playback and storage of your data, ensuring you do not lose your files.
Though comparing the Amcrest vs Reolink NVR is complex, Reolink devices, like the RLC-423, are superior based on their flexibility and support for multiple cameras.
Our pick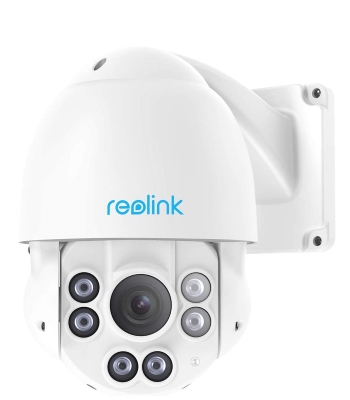 Best NVR system
Operating power: DC 12V or 48V PoE
Image sensor: 1/2.9" CMOS
Night vision: 60 meters (190ft)
POE+ standard: IEEE 802.3at
Power consumption: <20W
Video quality: 2560x1920
Frame rate: up to 30fps
Reolink vs Amcrest: Conclusion
The Amcrest and Reolink PTZs have all the features of leading camera brands. They are among the best surveillance cameras and provide top-notch security for users. Comparing these cameras is difficult considering their similarity and quality.
For the sake of this review, I pick Amcrest as the better of the two PTZ camera brands. Its devices are better in some areas like the lens, video output, and image sensor, while Reolink takes the win in sections like NVR, interfaces, and Power. The ball is in your court; if you want to decide on the brand to purchase, check the winners in the most vital features for your use case.