6 Best PTZ Camera Controllers
Baud rate
2400bps, 4800bps, 9600bps, 19200bps
Connections
RS-232, RS-485, RS-422, RJ-45
RS-232, RS-485, RS-422, RJ-45
Guide to the Top PTZ Camera Controllers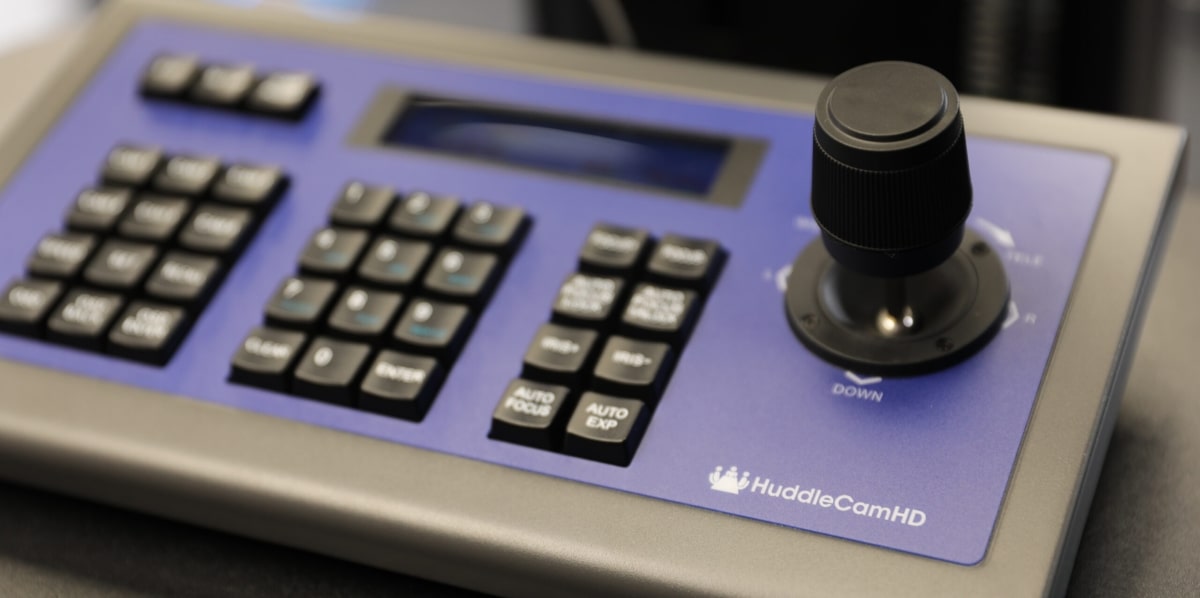 Remote controllers determine the efficiency and convenience of using PTZ cameras. That is why you need the best PTZ camera controller to get the most out of your camera model.
The control device can be a PTZ IP controller, joystick, software control, or IR remote. Many cameras let you alternate between using two or more of those PTZ control options. And this article will help you choose the most suitable one for your video production.
I have carefully analyzed different products on the market and narrowed the most feature-packed camera controllers to half a dozen. They let you choose the camera movement, adjust video quality, switch between cameras, etc.
People shooting or directing live video production will benefit from these cameras due to:
Cost-saving ability. If you can't afford extra hands on your project, these controllers will allow you to operate multiple cameras, saving the cost of employing others for it.
Faster operations. Thanks to the preset function, you can also get them if you want a quick way to execute repetitive operations like returning cameras to predetermined positions.
Convenience. The controllers on this list ease operations for live producers, using directional keys and d-pads to control camera panning, zooming, and tilting.
I will outline the controllers' interesting features, what you will love about them, and a few areas they can improve.
PTZ Controller Reviews

The HuddleCam Serial Controller Joystick is a quick control PTZ joystick controller from PTZOptics, one of the leading names in PTZ camera production. This controller weighs just 5.3 pounds, meaning you won't get muscle fatigue from holding it for a while. You get a power supply out of the box, removing the cost of buying one.
The design of this 3rd generation of the HuddleCam controller improved on the previous generation with more intuitive controls. There are six quick selection buttons and an on-screen display for menus. The device also uses PELCO-D and Sony VISCA as its control protocols, making it compatible with any camera that runs on them
I believe the zero latency is the most valuable feature of this keyboard controller with a joystick. When paired with your cameras, any movement you make on the joystick will instantly affect the cameras' motion. You won't encounter lags that could make you miss any shots in fast-paced events.
The keys on the keyboard feel well-placed, with no wobbles or signs of poor craftsmanship. The joystick control works as precisely as I expected; every twist produces a commensurate pan and tilt, depending on your configuration.
Speaking of configuration, I had no issues with programming the presets. However, the 6-feet cord linking the joystick to the camera isn't long enough, meaning you can't stay as far away from the camera as you may want.
PROS:
The metal housing and overall build quality on this device are impressive, suggesting that it should last long.
The backlight aids visibility when using the PTZ camera joystick in dimly-lit environments.
You can connect the keyboard to multiple cameras using Cascade camera control cables available on the HuddleCam website.
CONS:
Controlling the zoom functionality was tricky because it zooms too fast, even if you twist the joystick slowly.
The instructions in the manual aren't straightforward.
The camera image jumps when you pan at full zoom, making it difficult to follow moving subjects.

If you are looking for a PTZ camera controller to control PTZ cameras with RS-422, RS-485, and RS-232 interfaces snappily, this FoMaKo PTZ controller deserves your consideration. You can connect it to 255 cameras and control their panning, tilting, and zooming. It also supports PELCO-D, VISCA, and PELCO-P protocols, which are ideal for professional video conferencing and broadcast.
At 4.97 pounds, the FoMaKo conference camera controller is lightweight but don't assume it makes the product flimsy. On the contrary, the metal housing of this controller keeps it from breaking if it accidentally falls from your hands. The backlit keyboard design mimics a computer keyboard with adequate button travel, which is pleasant to touch.
The controller lets you adjust the lens's aperture and focus, ensuring the video is more illuminated, devoid of digital graining, and not blurry. It comes with a 9-feet-10-inch-long RS-232 cable, and you can connect it to your camera via SDI, HDMI, and USB. But you can get a 50-foot cord if you are far from your camera unit.
I noticed that the default pan and tilt speed is too fast, causing me to overshoot my mark when panning to follow a subject, like a preacher on the stage. After some snooping, I entered the device's settings with 8888 as the default password to access and reduce the speed settings.
PROS:
You can turn the controller off with a power button when not using it.
You can power it using a provided power brick or PoE connection.
The FoMaKo customer support is excellent, with quick responses and clear directions for using the conference camera.
CONS:
The online PDF manual is poorly written and almost impossible to decipher.
Setting the device up is difficult
For such a well-made PTZ camera controller with a joystick, it's disappointing that the speed knob won't control your camera's zoom operation.

The SuperJoy Joystick from PTZOptics is a reliable substitute for web controls for IP cameras. This IP PTZ controller lets you simultaneously control compatible cameras through NDIv4, IP, and a serial connection. Supporting serial and network-based cameras means the device is like a universal remote; it works with cameras from different brands and generations.
This PTZOptics joystick looks sleek with a black keyboard and backlit neon lettering. The LCD screen for seeing the menu options and controller status also makes using the device enjoyable. It is light, weighing 5.04 pounds, and connecting it to my PoE switch was easy.
You can assign 255 preset functions for controlling cameras without many keypresses on this NDI PTZ controller. Set the presets by holding a numbered button for some seconds; after, you can use the four super presets to send commands on the programmable network.
I like the autofocus lock feature, which makes your camera lock unto subjects, preventing blur whenever the subject moves.
PROS:
The controls are easy to learn.
Setting the controller up with your camera is straightforward.
You can group camera controls.
CONS:
Switching between cameras you are controlling isn't instantaneous.
Panning cameras using the preset buttons is too fast, resulting in sweeping motions in your video.
You can't customize the focus and zoom dials to control any other feature.

The LEFTEK device is the best PTZ camera controller for anyone who doesn't want to compromise on IP camera functionality. It prioritizes speed and simplicity, ensuring you get the most functions out of your PTZ camera in the shortest time. Its controls are also accurate, and I experienced no failed button taps.
This device is black with a keyboard with white silicone knob keys, which feel durable. On the right of the keys is a 4D joystick that lets you move the camera at various speeds. You also get a 5-inch LCD screen, which for comparison, is bigger than that of an iPhone 8. And the device's surface is made from scratch-resistant aluminum alloy, which aids longevity.
The controller can control cameras with independent IP addresses on your network and enjoy top-quality H.264 and H.265 decoding. This feature will come in handy for people working with multiple PTZ cameras at events. I used the knob to adjust my camera's speed and zoom, which worked flawlessly. Though you can use a power brick, the LEFTEK video conference PTZ controller also uses a PoE switcher for people looking to reduce the number of wires running through it.
I also recommend this controller because of its compatibility with countless IP PTZ cameras. AB scanning and setting camera movements on the preset buttons are smooth. You can connect it to 999 devices, though most people won't ever need to.
PROS:
The display is clear.
There is minimal latency between the on-screen image and real-time events.
The unit will find your network cameras quickly.
CONS:
You can't turn the screen off when the device is not in use.
Setting the controller up for the first time is tricky because its menu is in the Chinese language. You will need some help switching to English.
The keyboard layout isn't intuitive. First-time users will need some time to get used to it.

PTZOptics makes some of the best PTZ camera joystick controllers available, and the PTJOY G4 is no exception. Weighing 6.18 pounds, it isn't the lightest controller you can buy. However, this controller makes up for it with many handy features.
Firstly, the setup management is superb, thanks to a refreshed web UI that lets you set up the device with multiple cameras in minutes. You can import and export settings to make your setup faster. You get the basic, matrix, and normal modes that affect how much control a single operator would have over the cameras. The control system lets you adjust camera positions, set white balance, shutter speed, etc.
It uses an Ethernet connection to link your cameras and a PoE switch for the power supply. For compatibility, this PTZ Optics controller leaves you with no complaints as it connects to PTZ cameras running IP or serial protocol connections while boasting a protocol switch button. So, it will likely fit right in with the rest of the equipment in your production lineup.
PROS:
The hotkeys on this PTZOptics camera controller are comfortable to touch.
You can manually control zoom speed.
When using the joystick, you won't experience any stiffness, which retains fluidity in the camera's movement.
CONS:
The power button is disabled when you use PoE.
I think the overall design looks old-fashioned.
The joystick lacks variable speed control, meaning the camera would only pan at the same speed in all situations.

The AViPAs AV-3104IP joystick for PTZ camera operations is notable for its sleek, modern design with a black metal body and white keys. It is relatively smaller than many other PTZ controllers in its class, but that doesn't mean you lose out on necessary functions.
The 4D joystick is soft and moves smoothly, and you get advanced controls for adjusting the red, blue, and green gain. This controller guarantees precise controls when panning, tilting, or zooming with your camera. You can even use the focus feature to keep your camera centered on a specific subject and reduce blurring or a situation where the background is in focus while the foreground isn't.
If you need a PTZ joystick that supports VISCA and VISCA-over-IP, you should put this unit in your budget. You can choose between its serial (RS-232 and RS-422) and IP control (IP VISCA and ONVIF) modes. The hotkeys work well, and you can define the functions they control.
PROS:
It supports simultaneous focus and PTZ control.
It works perfectly as an OBS PTZ controller while supporting other video recording software.
The device retains your customized settings after turning it off.
CONS:
It doesn't support NDI cameras.
The LED screen is too small.
The unit lacks a dedicated button for turning it on and off.
Buyer's Guide
What is a PTZ Camera Controller?
A PTZ camera remote controller is a portable device used to operate a PTZ or IP camera. It often includes a keyboard and joystick or several dials, with preset buttons for assigning specific functions. These PTZ camera controllers can control multiple cameras and relay images in real-time, ensuring that your live event coverage is hitch-free.
PTZ Controller Setup
You can operate your PTZ camera with a connected controller joystick to transmit commands. The controller will require an RS-232 or RS-485 cord, a coaxial cable, or use a wireless link through desktop software or mobile applications.
Ensure the controller is on the same network as your camera and system.
Use the joystick on the controller to navigate to the static IP in the device's setup menu.
You can switch it to DHCP for simplicity, but if you want to know the exact address, select "static" and "enter" a unique IP address for the controller.
Designate it with a host ID.
Input the subnet mask and gateway and click "enter."
After the controller reboots, go to "setup," navigate to the IP VISCA option and choose it.
Go to IP and type in the camera's IP address that you have currently networked.
When the controller requests for the UDP port, type 1259.
Choose the camera name (for instance, CAM 1) and click "enter."
After, you can click the CAM 1 key on the controller and use the joystick to control the camera's panning, tilting, and zooming.
Press the IP key on the keyboard and input the second camera's IP address and host ID to add an extra camera. Input the same UDP port number and select CAM 2 as your camera name. You can repeat this process every time you want to add a new camera.
PTZ controller wiring diagram
For a PTZ camera controller setup to connect to many PTZ cameras using the RS-232 protocol, you will need as many 8-pin RS-232 cords as the cameras you plan to use.
Supply power to the PTZ cameras and the remote PTZ controller.
Link the controller to the first camera's RS-232 using the RS-232 connector.
Run the RS-232 extension cord from the first camera's RS-232 OUT to the second camera's RS-232 IN port.
Knowing how to connect a PTZ camera to a controller using wired protocols, repeat step 3 as many times as the number of cameras you want to control remotely.