Best Projectors Under $1000 — Top Rated Brands
Digital keystone correction

Why take the best projector under $1000? There are several reasons. The modern projectors in this price range feature versatile connectivity including wireless, vary in throw type, lamp output, contrast ability. They usually have integrated speakers. Some can work out from built-in batteries making a one-device setup for an office presentation or a family movie watching. Check what other options you can find in these projectors, and get the coolest one today!
Projectors under $1000 Reviews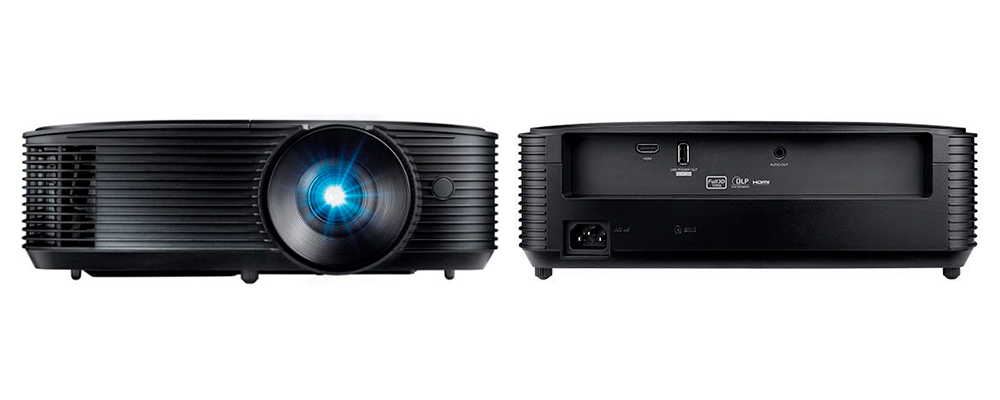 Looking for the best 1080p projector under 1000 dollars? If you don't mind the wire, the HD 146X model from Optoma might well be it. It features a native 1080p resolution (can be extended to WUXGA), good brightness, and features multiple options for gamers. It has a medium throw and can project from 3.2ft. The small 3W speaker, though not shattering the glass, lets you have audio as well and makes the projector a plug-n-play unit.
While the default aspect ratio is 16:9, the projector looks good in 4:3 and 16:10 formats. The 40-degree vertical adjustment and 1.1 zoom let you use the projector in different environments. It has a high contrast ratio of 25,000:1 and 3,600 lumens of brightness keeping the image vivid and distinct in the medium-lit room. The contrast can be boosted up to 500,000:1 with the Gaming Enhancer technology while the colors look a bit washed out when it's applied. However, the color gamut, in general, is wide thanks to the RYGCWB wheel making this model one of the best projectors under 1000 dollars.
The projector features a single HDMI port (version 1.4a) with Link (CEC) functionality, an Audio Output, and a USB jack of 1.5A that can also be used for downloading the firmware updates. It consumes on average 240W, and the lamp life can be extended up to 15,000 hours.
PROS:
Image size varies from 28 to 300 inches preserving the sharpness and color of the display.
Almost silent in the Eco mode (26 dB working noise).
Displays a precise picture in 3D thanks to a high horizontal refresh rate of 120Hz.
CONS:
The backlight on the remote is very bright and distracting.
No horizontal correction means the unit should be placed in the center only.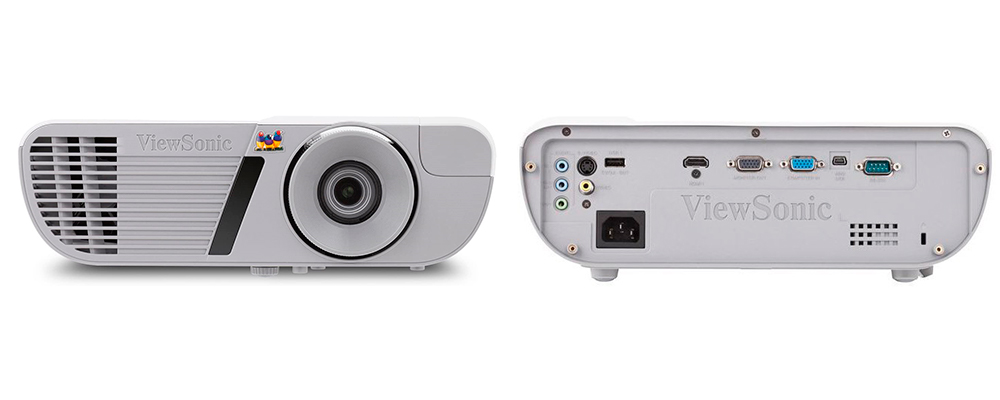 If you plan on installing a Full HD projector in a small room, search for the best short throw projector under 1000 dollars. The current model can display a solid image 100 inches wide from 4.2ft already. Besides, it supports various installation positions (mounted to a ceiling, placed in front or rear position on the table). And it has a high-quality optical zoom, letting you enlarge the picture fragment to 1.3. The vertical keystone regulation is digital, providing the 40-degree regulation of the image positioning.
The solid 3D projection makes this unit stand out among the top projectors under 1000 dollars. It has a horizontal refresh rate up to 100Hz, and the vertical one up to 120Hz. The image is colorful and contrast thanks to the SuperColor technology widening the spectrum and making the slight hues visible. The projector can get bright up to 3,200 lumens and can be used in different light conditions except for the bright daylight.
Another feature making this model possibly the best home theater projector under 1000 dollars is its wide compatibility and various connections. It has an RGB port to connect to a PC for input and a VGA to send the picture onto the monitor. There are standard RCA AV connections, 2 HDMI ports (version 1.4, one with MHL), a 2.0 USB for media playback, and USB type B for power (2A). It also has a mic input. With 10W speakers, the sound has good volume and is enough for TV watching.
PROS:
A 30-bit color depth makes the picture natural and vivid.
Can playback 3D Blu-ray disks directly via HDMI.
Compatible with streaming dongles for movie playback.
CONS:
Slight rainbow effect is present.
No settings for adjusting a 3D image.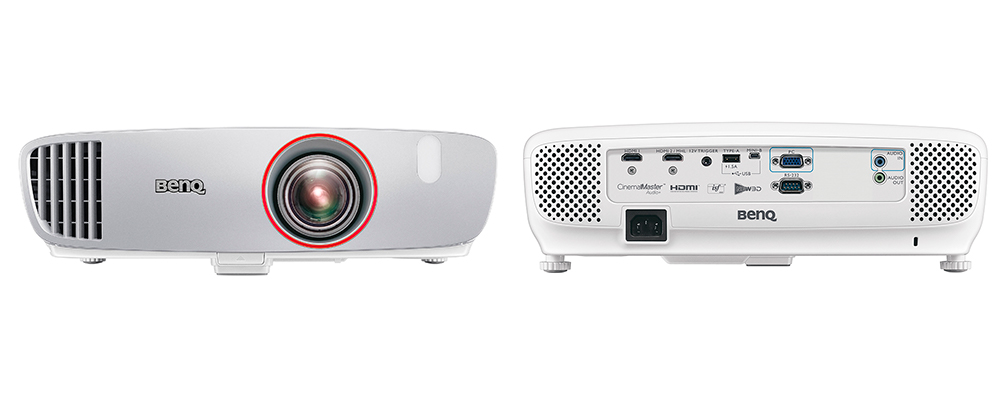 For playing games in Full HD on a big screen, this model is probably the best projector under 1000 dollars. It features several technologies boosting the color and making it deep and diverse. A 6-component RGBRGB wheel, the CinematicColor tech, 96%-compliance with Rec. 709, and the Bright Game mode bring in the image with lots of detail and accurate contours. The original contrast ratio of this projector makes 15,000:1, and it offers uniform grays and whites. Blacks look deep and textured. The projector supports a 16ms lag and responds immediately fitting for dynamic action games. A pair of built-in 10W stereo speakers let you hear the dialog and effects clearly, while the Audio out mini-jack lets you connect headphones as well.
For a lifelike 3D picture, this unit can also be listed as the best 3D projector under 1000 dollars. Still, the 3D playback is possible through HDMI only. The projector offers a wide range of horizontal (from 5 to 102Hz) and vertical (from 23 to 120Hz) refresh rate and produces a clear 3D image with unchanged colors. While this projector has a medium brightness of 2,200 lumens, it looks well in a dark environment.
As with many other 1080p home theater projectors under $1000, the HT2150ST can be placed on the table or under a ceiling, but the options for adjusting the display are narrowed to 20-degree vertical regulation. The zoom makes 1:2:1, and the projection distance starts with 3ft for a 100-inch screen.
PROS:
9 picture modes let vary the picture settings for the optimal picture.
Features a D-Sub for PC, an Audio in and out, 2 HDMI ports (1.4), a service USB, RS232, 2 IR ports, a DC 12V trigger.
Supports files starting from 480p resolution.
CONS:
Runs hot when working for a while.
No optical audio port.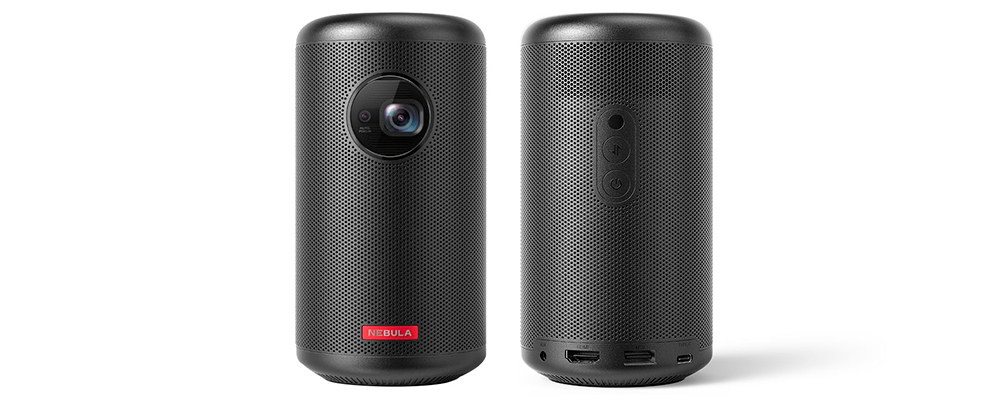 If you value portability and cord-cutting solutions, this small projector might be the best HD projector under 1000 dollars for camping, backyard, or just home movie watching. It's small, hardly exceeding the size of a beer can. However, it offers many connection types and protocols, runs on an integrated battery, and features an audio driver. The battery is charged via USB (type C) and can last up to 2.5 hours of continuous video playback, and over 25 hours for audio-only content.
The projector features a DLP lense, and produces a detailed image at 720p resolution, with 16:9 aspect. It can be placed 2ft close to the screen to form a 20-inch picture while the maximum image size is 100 inches. The barrel casing is quite stable, letting you put it on a table, tripod, or another even surface. Still, there's no keystone correction meaning the projector should be put in the center to produce a sharp and smooth image with correct proportions. The automatic focus, however, brings high contrast and diverse colors by default, making another reason for this unit to be the best projector under $1000.
The connection ways for this unit comprise HDMI and USB for media playback, the AUX out for headphones. The projector supports Wi-Fi, Bluetooth, has over 3,600 streaming apps with the built-in Chromecast. The OS is Android TV 9.0 working quickly and without lag. Such versatility makes the Capsule II worth the name of the best projector for under 1000 dollars.
PROS:
Can be managed via the mobile app (Nebula Connect app, Nebula Manager app).
Touch-sensitive controls on the top are quickly accessible and responsive.
The 8W speaker sounds loud and clear.
CONS:
The brightness of 200 lumens limits the use to dark environments only.
Connection ports are located too low so that some of the connectors might elevate a projector a bit.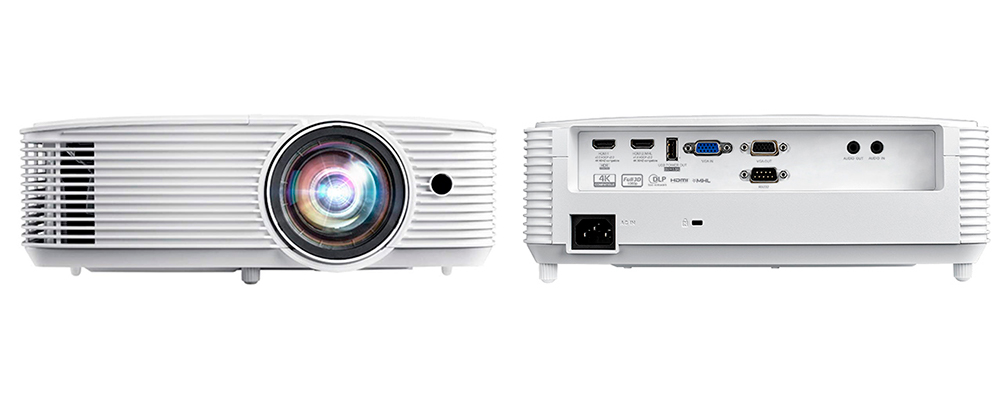 With this projector, you'll get one of the best projectors under $1000 for Full HD gaming and 4K / HDR playback. High brightness of 3,800 lumens makes the colors pop, and the peaks get very bright rendering a detailed and textured picture. The Gaming mode supports an 8.4ms lag making the input immediate. The refresh rate at 1080p playback is 120Hz, picturing the motion clearly, with no trail or muddy shades. It's also high for 3D gaming making 144Hz and making a picture solid and non-flickering.
The color wheel has 6 RYGCWB elements. The colors are mapped accurately, with high correspondence with sRGB and Rec. 709 formats. The projector produces a high contrast ratio of 50,000:1. The HDR10 format makes a visible difference to SDR both for UHD and Full HD content making another reason to mark this model as the best 4K projector under 1000 dollars. However, the competitive price is balanced with the limited adjustment options. The image can be regulated vertically only (for 40 degrees both ways), and the zoom is digital, from 0.9 to 2.0x.
One more feature to the best video projector under 1000 dollars is a very short throw of this unit. It can display a 36-inch picture at 1.3ft. It's compatible with the PC for input and can output to a monitor via the VGA ports. There's an RS232 port as well. USB type A and 2 HDMI ports (1.4a and 2.0 versions) let you hook up a Blu-ray player, a gaming console. While audio inputs and outputs let use a built-in 10W speaker or send the audio to an external set.
PROS:
It preserves uniformity and brightness even on a large 307-inch display.
Simple menu and setup, high-quality picture out-of-the-box.
The remote is sensitive and doesn't require it to be pointed directly to the projector.
CONS:
No wireless options.
Doesn't support surround sound for audio output.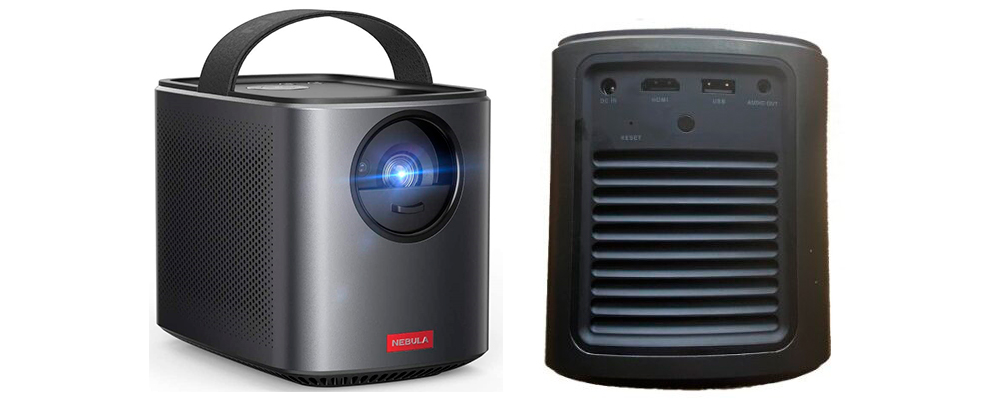 Like other Nebula projectors, the Mars II Pro is well portable, is based on DLP technology, and features wireless connectivity. This projector under 1000 dollars supports 1280x720 resolution and can get bright as 500 lumens. This makes it a good fit for outdoor night watching or home-bound entertainment. While it's not a gaming projector, it offers high-quality movie and TV watching, file sharing on a large screen, as well as listening to music. Though being small, the projector is equipped with two 10W speakers producing a loud output and distinct dialogs in movies and TV shows. The unit can also serve as a Bluetooth speaker featuring an A2DP protocol and a 4.0 version of BT technology.
Wi-Fi support is solid, with support of both 2.4 GHz and 5 GHz bands. The projector has the Quad-core A7 chipset, and 1GB of RAM memory. It operates on Android 7.1 OS and features many integrated apps for video streaming. The projector is fully controlled via the Nebula Connect app, and it's easy to browse and load the movies from streaming apps. The motion handling might feature some blur in dynamic periods; overall, the picture is balanced and has enough color diversity. The presence of HDMI 1.4 and USB 2.0 ports enables connection to MP3 and DVD, Blu-ray players, flash drives, etc. Save for lack of options for image position adjustment, it could be called the best LED projector under 1000 dollars.
PROS:
Screen Mirroring works fast for Android and iPhones displaying pictures, videos, and playing music.
The 12,5A battery lets you watch your AV content at any place for up to 3 hours.
It can be carried along with the handy built-in handle.
CONS:
No Chromecast support.
No picture settings adjustment available.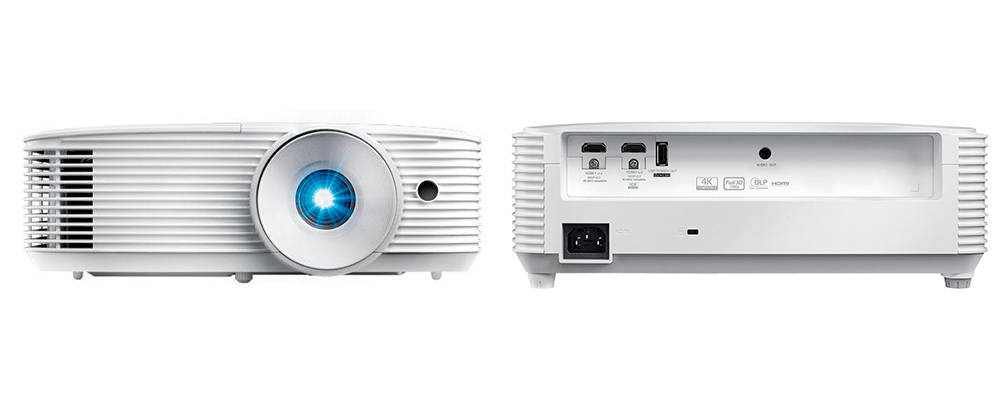 Producing a clean and colorful Full HD image, this projector is compatible with 4K as well, claiming its position on our best home projector under 1000 dollars list. Connected via the HDMI 2.0 input (HDCP 2.2 protected), it can playback the UHD movies with HDR with high detail and distinct peaks. The contrast reaches 50,000:1 ratio, and the brightness is high at 3,600 lumens. However, the absence of the horizontal image adjustment and no wireless connectivity might become the deal-breaker issues for some users.
The high image contrast and clarity are present in action scenes as well. The refresh rate of 120Hz (available in the Enhanced Gaming mode) makes each small movement sharp, and the overall motion smooth and entirely visible. That works great for 1080p gaming. The projector is very responsive, the 8.4ms of lag makes the input immediate. The static and moving picture look equally consistent on the small projected screen (the minimum size is 28 inches) and the largest one (301 inches). The built-in speakers have a low output of 3W; however, they produce enough volume in a small room. The fan works quietly, and its noise output (26 dB) is quite low.
Both dual HDMI (one is 2.0, another is 1.4a version) ports support 4K, though at different refresh rates (60Hz for 2.0 version, 30Hz for 1.4a). Other connections of this solid 4K projector under 1000 dollars comprise the service USB port and the 3.5 mm Audio Out.
PROS:
HDMI Link for a single-remote control over connected devices.
The Dynamic Black tech boosts the contrast and does not wash out the colors.
Supports 3D direct playback, streaming, and gaming.
CONS:
The switching between inputs isn't fast.
It isn't equipped with a dust filter (might lead to the dust piling on the lens).