Cintiq 13HD: 13-Inch Full HD Drawing Tablet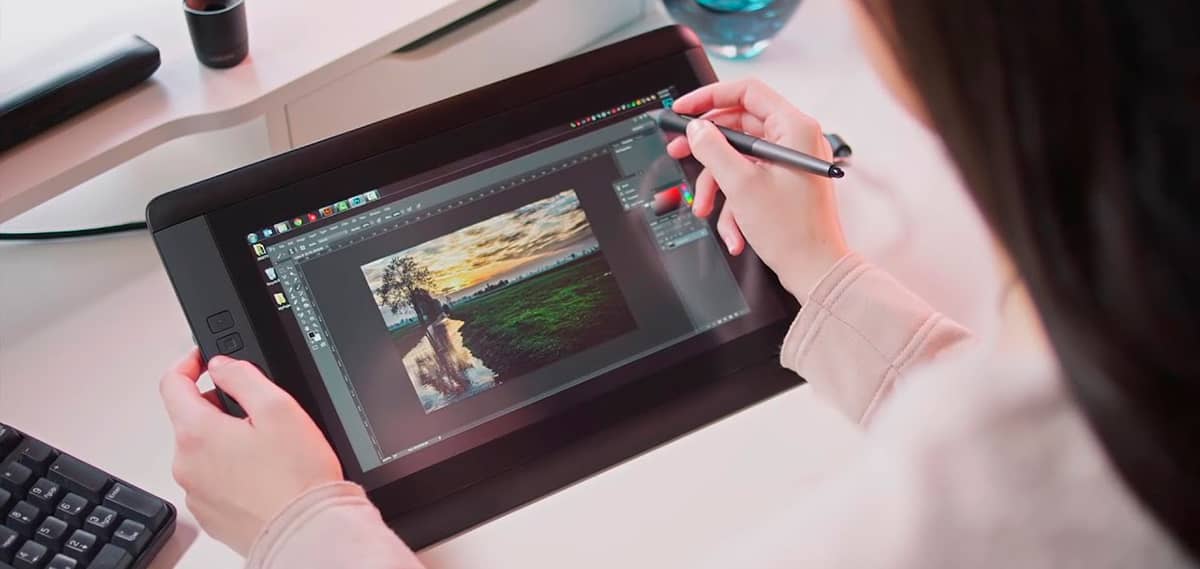 A clear and vivid IPS display with Full HD (1920 x 1080) resolution and wide viewing angles is what makes the Cintiq 13HD stand out from other drawing tablets. This advanced model is intended to be used by professional designers, photographers, artists, etc.
Setup
The first thing you need to do is turn off your PC. Connect the tablet to your computer via USB or HDMI and then connect the adapter plug of the 3-in-1 cable to the power adapter and the tablet. Plug this adapter into an AC outlet and turn on both the PC and the tablet. And, finally, install the provided CD with a driver. To connect the tablet to a Macbook, you should have an HDMI to Mini DisplayPort adapter.
Features
The tablet's screen is probably the main thing that should be described in this Wacom Cintiq 13HD review as it's very similar to regular paper. Thus, it feels like you are drawing in the sketchbook when you work with this tablet. It has a matte top layer which also reduces glare. The active drawing surface takes 6.75 x 11.75 inches. Thanks to the Full HD screen, you can see the details of your drawing without zooming.
The screen measures 13 inches and has an aspect ratio of 16:9. It shows up to 16.7 million colors and its maximum brightness level is rated at 250 nits. Despite this, it doesn't strain the eyes during long hours of work. The contrast of 700:1 provides a clear separation between color shades which is very important for color-critical work. However, it's a little dim for outdoor use and there is no way to boost up the brightness. You can mirror your laptop or PC screen to the Cintiq 13HD as it can act as both a display and a drawing tablet.
The pen is tilt-sensitive and features 2048 levels of pressure sensitivity. It has a natural response and feels pretty much like an average pencil, so it's very convenient to work with. This pen is very sensitive and offers precise control, enabling you to create the tiniest brushstrokes. It's equipped with a soft-touch rubber grip, an eraser, and side buttons. The tip feel, tilt sensitivity, and pressure are adjustable.
This model doesn't have an internal battery and must be constantly plugged into your computer or laptop. Obviously, it does bring some inconvenience, but it's not critical. The Wacom Cintiq 13HD uses a tri-cable that consists of 3 wires — HDMI, USB, and power.
Design
The Cintiq 13HD interactive pen display comes with a 3-position (20°, 30°, and 50°) stand to set the tablet in the most convenient position. The rear part of the unit is made of aluminum providing the feeling of high-quality construction. The bezels are wide. There are only 4 customizable express keys and a rocker ring, so the tablet looks minimalistic. It's also equipped with a status LED. This drawing device features a compact and lightweight design. The dimensions are 14.75 x 0.53 x 9.76 inches and the weight is 2.64 lbs.
Conclusion
Considering all the features implemented in this unit, I can sum up that the Wacom Cintiq 13HD interactive pen display DTK1300 is an advanced piece of equipment for professionals who will appreciate its portability. It has similar to a real paper drawing surface and comes with a pen that performs like a traditional pencil. A Full HD display gives you the opportunity to see your work in high quality without losing important details.