Epson Home Cinema 1060 vs Optoma HD142X – any differences?

Epson Home Cinema 1060 – an awesome projector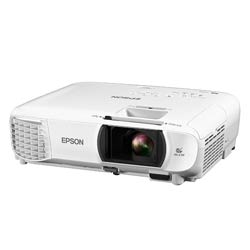 I was really pleased with the brightness and resolution of the tested Epson Home Cinema 1060. I've got great sharp images despite my projector was standing on a coffee table about 24 inches off the floor. The automatic Keystone correction was really helpful, it corrected the picture and find the perfect projected square.
The menu system of the Epson Home Cinema 1060 is easy to use. I can access it from the remote control and adjust some settings like contrast, dynamic mode, cinema mode or eco mode, etc. Besides, the instructions include pictures that are easy to follow.
Epson Home Cinema 1060 PROS:
I like the feature of independent four-corner correction.
Epson Home Cinema 1060 has two HDMI ports and MHL for an easy connection to my mobile device.
Epson Home Cinema 1060 CONS:
The Focus Ring located on the top of the projector didn't work as I tried to turn it.
I have found no way to connect sound to my receiver or speakers. The sound is produced only through the small speaker of the projector.
Optoma HD142X – a gorgeous image with good contrast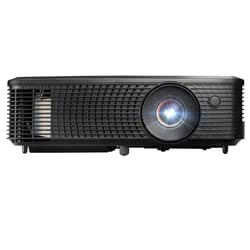 The video image projected by Optoma HD142X is clear and sharp from edge to edge. I find the black level excellent during the dark scenes. Optoma HD142X allows five picture modes such as vivid, game, cinema, bright, and reference. The lamp is able to run for 5000 hours and more in eco mode. It is small enough so I can take projector anywhere.
Optoma HD142X PROS:
I tested Optoma HD142X with PlayStation – no issues with it!
I find that the projector is pretty simple to use and to set up.
Optoma HD142X CONS:
I have noticed the rainbow effect while sitting not so far from the projected image.
The built-in speaker doesn't work properly and can't be adjusted.
Optoma HD142X vs Epson 1060 – a solid home theatre projector
Both tested projectors deliver great quality of picture and are lightweight.
Epson Home Cinema 1060 has 3100 lumens brightness while Optoma HD142X has 3000 lumens.
However, Epson Home Cinema 1060 doesn't support 3D versus Optoma HD142X.
Optoma HD142X offers IFS settings in the picture mode menu. If we compare it with Epson Home Cinema 1060 this feature is absent.
Optoma HD142X provides a warranty only 1 year while Epson Home Cinema provides 2 years warranty.
Choosing Optoma HD142X or 1060 it is worth to make a personal comparison chart of such features as product weight, remote control, presence of the USB, better color reproduction and so on.