Trying to decide between Optoma HD142X vs Optoma GT1080Darbee?

Optoma HD142X – a user-friendly and convenient home cinema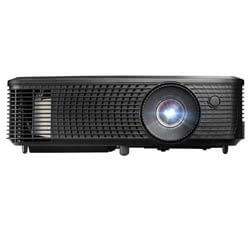 I had the chance to test Optoma HD142X vs GT1080Darbee and I'd like to share my thoughts so that you could pick the perfect device for yourself.
Optoma HD142X is extremely easy to assemble, I began using it as soon as it arrived. This product is full HD 1080p and works great when watching Blu-ray movies. I haven't noticed any compression, which is quite common for similar projector models. The image quality is truly amazing, this device perfectly reproduces the color spectrum, the visuals are vibrant and vivid.
I have used the device in bright mode and in the eco mode and the quality didn't decrease. Moreover, the 3D viewing works well too, I didn't notice any flickering of the images.
Optoma HD142x Pros:
Includes HDMI and MHL inputs. I managed to connect my phone and my PlayStation to the device.
No irritating sounds. In comparison with other devices, the cooling system here seems to be the quietest.
Convenient keystone correction, I could easily adjust the picture in different rooms.
Optoma HD142X Cons:
Slightly noticeable rainbow effect, although it didn't seem too irritating.
No lens shift available.
Now I would like to compare Optoma GT1080 vs HD142X.
Optoma GT1080Darbee a perfect projector for gaming and 3D films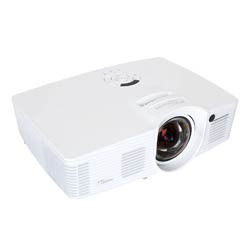 Gt1080 has a little smaller contrast ratio versus HD142x, yet the Darbee Vision technology still reproduces visuals of perfect quality and detail. I have limited space at home, but it worked great because of the set throw ratio, the device has reproduced great visuals from less than 4 feet away.
Most importantly, GT1080 has a specific gaming mode installed. I have rarely seen such rapid response in other projectors. Furthermore, this projector supports all HDMI 3D formats and the 3D content can be viewed from any source.
Optoma GT1080Darbee Pros:
Good image quality when using outside. I didn't notice any blurred images.
Easy to set up. I could find the optimal spot with the help of a size chart included in the manual.
Built-in speakers deliver powerful sound, there's no need to purchase external speakers.
Optoma GT1080Darbee Cons:
No zoom. I had to physically move the projector to adjust the image.
Noticeable fan noise, although it seemed rather quiet when I switched into the Eco mode.
Are you still trying to decide which projector is better for you – HD142X or GT1080?
Both projectors have great picture quality, but the visuals in HD142X are a little more detailed because of higher contrast ratio. HD142X has a more efficient cooling system which is quieter than the one in GT 1080, while the latter has no noticeable rainbow effect and includes modes designed specifically for gaming.
If you prefer better image quality and want to watch 3D Blu-ray movies outside or in the living room, then it's better to pick HD142X. If you want to set a projector in your room to play games on your Xbox or PlayStation with a very rapid response, then it's better to choose Optoma GT1080Darbee.