Test mid-price segment projectors — Optoma HD142X vs Optoma HD29Darbee?

Optoma HD142X - an affordable home projector
By testing testing Optoma HD142X vs Optoma HD29Darbee, I want to make the comparison of two projectors of a mid-price segment.
I would like to start with Optoma HD142X. It is the cool projector for gaming and watching movies. I had the opportunity to test it at home and at the my work during the Optoma HD142X vs HD29Darbee review. At home, I used this projector for a gaming. I was impressed by the image of Optoma HD142X. Brightness is enough for comfort watching or playing video games in a well-lit room. The sound from the built-in speaker is good and clear. Optoma HD142X can display true 3D and in a combination with an audio system, it seemed to me that I am in a real cinema. In the office, during the presentation of the my project, an image stays sharp and bright even on the 100" screen the smallest text is displayed clearly.
Optoma HD142X PROS:
Full HD resolution and high brightness in 3000 lumens. Movies have high resolution (up to 4K) and I want to watch them without downscaling or compression.
2 HDMI inputs allows me to connect two supported devices at the same time. In addition, one of inputs supports technology MHL.
Optoma HD142X CONS:
The projector overheats. After 3-4 hours of operation, the cooling system starts making noises. It seems to me that it does not cope with the load.
After closing the lens cap, the focus is lost. When I close the lens cap, it touches the focus adjuster and then I need to adjust the image again.
Optoma HD29Darbee — cheap projector with advanced technology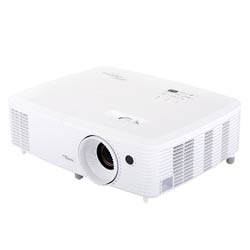 I was wondered testing Optoma HD29Darbee during the Optoma HD29Darbee vs HD142X review. It has the compact housing with great design. This projector will not catch your eye in the room or in office. Also, I tested it with games and movies. The image is very crisp and sharp with brilliant contrast. A Full HD resolution and a high brightness allow getting a good picture in any conditions even in well-lit, white conference hall.
Optoma HD29Darbee PROS:
Darbee Vision Technology. I like this feature because with aid of the technology Darbee display turns out maximally detailed supplying at the same time excellent color depth.
The HD29Darbee's 12-Volt trigger is compatible with power screens. As for me this function of turning on the screen with the projector was useful.
Optoma HD29Darbee CONS:
Built-in Gaming mode. This mode does not work with custom settings for the screen. I set up the projector for my screen, but in gaming mode, all settings were lost.
A motion blur. I do not like this feature in scenes with action. The image becomes blurry.
So what projector is best - Optoma HD142X or Optoma HD29Darbee?
When you buying a projector, you should pay attention to the resolution of the image, the brightness of the projector, the contrast and the lamp time. These characteristics affect the image quality in different conditions.
It should be noted that Optoma HD29Darbee has a greater brightness if compared to Optoma HD142X and this allows you to comfortably watch movies even outdoor.
Another factor is the design. Both projectors has compact housing, but Optoma HD142X is available in black only versus Optoma HD29Darbee which is available in white only.