A quandary between BenQ W1070 vs Epson Home Cinema 3500

BenQ W1070 – the project with a clear image but shallow darkness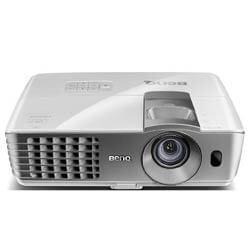 During a recent Epson Home Cinema 3500 vs BenQ W1070 testing I've discovered that BenQ W1070 is one out of a limited number of projectors that doesn't distort a skin tone adding pinkish or yellow hue to it or substitute black with blue. The first feature that deserves the biggest attention is Smart Eco Mode that not only saves energy up to 70% without lowering the picture quality, but also prolongs the lamp life. It's done automatically after 3 minutes of action absence. Hovewer, video projection is a bit noisy, Eco mode definitely makes it lower, but being behind us on a sofa back it's still noticeable.
BenQ W1070 PROS:
IIt has a quite short throwing distance for both 2D and 3D without losing a quality − a 100-inch picture from 2.5 m.
The picture parameters adjustments don't distort its shape; it's done via a little screw on a back panel behind the zoom manually only.
BenQ W1070 CONS:
Color quality goes without saying, but shadows are not sufficient, their minimum amount weakens natural colors in darker areas making them more grayish.
If you're prone to noticing a rainbow effect, you will be probably aware of its presence.
It's impossible to block the light from the front exhaust port completely, it leaks onto a wall.
Epson Home Cinema 3500 – an ideal projector, isn't it?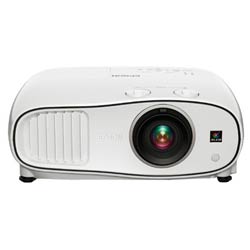 When I've tested BenQ W1070 vs Epson Home Cinema 3500 I noticed that it has a big time lag – 106 ms. I've tried to fix it and faced a faster image processing option that made 45.9 ms, but the image quality was visibly reduced. It should be noted that it has amazingly cool contrast ratio 70000:1 that works to a full extent; it's especially noticeable while presentations when you can make the difference between the black text and the light background more drastic that the audience in the back row will see it better. Also, a picture-in-Picture blows my mind away because I use two HDMI sources simultaneously for watching a Blu-ray movie on the main screen and football on the subscreen.
Epson Home Cinema 3500 PROS:
I suppose that exactly thanks to super resolution everything looks detailed, it even helps standard-definition videos look sharp.
In addition to Normal and ECO power, it also has Medium mode.
Despite significant ambient light in the room, it has enough brightness to light up a 100" diagonal screen, the picture doesn't seem washed out or dull.
Epson Home Cinema 3500 CONS:
Picture-in-Picture has some limits − I can't watch 3D movies and use the "Fast" Image Processing feature.
Eco mode doesn't do its job well, light output doesn't drop below 1500 lumens.
It has only four image modes, but still they add quite a bit of light.
Are you still craving for more details of BenQ W1070 vs Epson Home Cinema 3500?
Epson Home Cinema 3500 has better projection system (3LCD versus DLP). BenQ W1070 has two Composite video (RCA), but BenQ W1070 is less bright - only 2000 lumens. Epson Home Cinema 3500 is slightly louder in Normal mode with 35 dBA.
Prior your final conclusion from BenQ W1070 vs Epson 3500 comparison, devote your attention to BenQ W1070 disposition for light leakage from the frontal surface and Epson's Home Cinema 3500 goes with 3D glasses – a rarity among all projectors, so additional expenses are avoided.
If you're searching for more details, click on my following reviews and check up a chart.