A question of current importance BenQ W1070 vs Optoma HD25-LV

BenQ W1070 – contrast is on the top, motion is at the bottom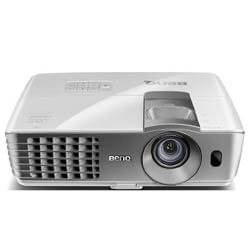 I've tested a bunch of projectors yet but I've never faced such a smart option as the BenQ's W1070 Eco Blank Mode that is capable of lamp life and power saving for 70%. Also, it shows a message on a screen "Save up to 70% of your lamp power. Time to do your part in saving the planet." So, from BenQ W1070 vs Optoma HD25-LV comparison, due to this option, BenQ W1070 is my favorite.
BenQ W1070 PROS:
I'm utterly pleased that I don't need to move the DVD player and set-top box whenever I move around my flat due to BenQ's W1070 additional wireless Full HD Kit that works in uncompressed 1080p 2D or 3D without any delays. Connection works even through walls throughout 30 m.
It has keystone correction buttons on the side-panel that adjust an image straight in a minute.
Thanks to front and back adjustments I am not bothered by perfect table level where I place the projector because its height can be fixed in a minute.
BenQ W1070 CONS:
The picture noise as well as saturation increases if I switch on the Brilliant Color mode, they should become deeper and more glossy but it's not so on practice.
Vertical image shift is manual only, so I have to screw it under a top cover.
Black color is not deep, it's clearly grey and lifeless; in dark scenes shadow detailing is absent.
Optoma HD25-LV – an utterly bright projector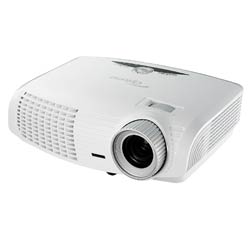 Genuinely, I've been impressed by Optoma's HD25-LV brightness; it's more powerful and expensive version of its predecessor, Optoma HD25. Actually, it's roughly 800 lumens brighter than more expensive, high-end projectors.
Optoma HD25-LV PROS:
Its 16W stereo system produces a sufficient volume level without any sound distortion making it useful in cases when I get it to work and don't need to take a subwoofer.
In Bright mode it has 2420 lumens max, thus an 80" diagonal screen looks well-saturated and with high contrast despite the bright light. In the evening when I feel that it has too much brightness, I switch on Eco mode that cuts down light output by 25%.
Such brightness is a key point for 3D, it has 1124 lumens, which is near twice bigger amount than its counterparts have.
Optoma HD25-LV CONS:
It's complicated to mount this model on the ceiling because it has a manual 1.2:1 zoom lens without lens shift and a fixed upward throw offset of 15%.
The User modes can be customized, so when I change the settings on any of the preset modes I am switched over to the User profile automatically, which is very annoying when I want to keep the User mode for a specific function.
I would say that the black level is its bigger disadvantage; it's a poor consequence of utter brightness.
Have you missed something in BenQ W1070 vs Optoma HD25-LV comparison?
Look firstly at Optoma HD25-LV from Optoma HD25-LV vs BenQ W1070 comparison, it's massively brighter (3500 versus 2000 lumens), while BenQ W1070 has shorter throw ratio range: 1.15 - 1.5 versus 1.5 - 1.8. In contrast, Optoma HD25-LV doesn't have RS232 (DB-9pin). BenQ W1070 has shorter lamp life in Eco mode (5000 vs 6000).
Prior your final decision, pay attention to BenQ's W1070 sounding system, its mono sound, so be ready to pay more for proper speakers; and Optoma's HD25-LV cutting-the age brightness.
Don't miss my reviews with even more details that are given in a chart.