BenQ W1070 vs Epson Home Cinema 2040 an unequal opposition

BenQ W1070 – the projector with front and back adjustments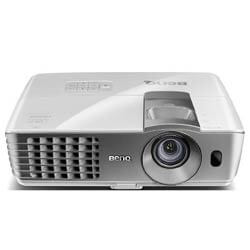 During the recent BenQ W1070 vs Epson Home Cinema 2040 test, I've been pleased to discover that BenQ W1070 has both front and back adjustments, which is a rarity among projectors. It helps in its physical adjustment to compensate an inappropriately mounted projector.
BenQ W1070 PROS:
Blu-ray content in native 24 frames per second is replayed without any judder.
The images height adjustment that I make with a screw doesn't distort their parameters.
It has a smart automatic switch to Eco Blank Mode after 3 minutes without a display source. It prolongs lamp life and saves up to 70% of lamp power.
BenQ W1070 CONS:
The black levels are good, but not deep enough to be easily perceptible to the eye.
As in most cases even in the most brand-new and pricey projects, the remote control isn't backlighted, so in the darkness, I miss the buttons.
The vertical lens shift that I've mentioned above is made by a tiny screw under a flimsy slide-down cover that annoys me because it's sensitive and difficult to get it right.
Epson Home Cinema 2040 – an outstanding representative of its range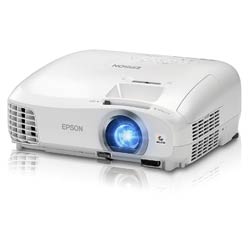 It looks like in this comparison BenQ W1070 vs Epson 2040, Epson Home Cinema 2040 is an unquestionable winner with unique features, among which is an extremely short time lag − just 25 ms, which makes it one of the fastest projectors I've tested.
Epson Home Cinema 2040 PROS:
Its Noise and MPEG Noise Reduction don't reduce sharpness along with noise elimination, while most projectors in this price range don't have such function at all.
Eco mode reduces light output by about 34% and doubles the lamp life, which is more effective than most projectors show.
I've been surprised by frame interpolation in the devices at such a cost; it works over incoming video and smoothes out blur from fast motion. So, it overcomes its opponent in Epson Home Cinema 2040 vs BenQ W1070 comparison.
Epson Home Cinema 2040 CONS:
I assume that High Altitude mode is noisier than the standard fan.
It has a slight negative throw offset when it's placed flat on the surface, the image bottom edge is about 5% of the image height below the center of the lens; so, a ceiling mount needs an extension tube.
Bright Cinema has subtle bluish and greenish tints.
When the picture goes from light to dark or vice versa, the automatic iris opens and closes several times trying to find the correct opening for the image. Frankly speaking, it bothered me, so I've turned the iris off completely.
Black level isn't its strongest feature; it includes an automatic iris for watching at night, but it isn't an ideal solution because it's sometimes audible and visible at other times.
Results in figures of BenQ W1070 vs Epson Home Cinema 2040 contraposition
Between Epson Home Cinema 2040 vs BenQ W1070, BenQ W1070 has RS232 (DB-9pin) and 2 RSA versus Epson Home Cinema 2040 that has 3LCD - a better projection system. Whereas Epson Home Cinema 2040 has 200 W lamp type that is in 40 W less powerful than BenQ's W1070 one that in addition, is lower in brightness in 200 lumens.
So, prior coming up with a final thought, notice that BenQ W1070 doesn't block light leakage, but Epson Home Cinema 2040 has bluish and greenish hues in the image.
In case you need more info about these and more other projectors, overlook more of my reviews.