How to choose Epson Home Cinema 2040 vs Optoma HD141X
Epson Home Cinema 2040 – the latest in Epson's home video projector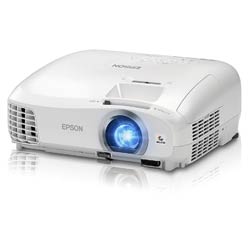 Even before I came up with the idea to compare Optoma HD141X vs Epson Home Cinema 2040, I was aware of outstanding features of Epson Home Cinema 2040; in addition to a beautifully detailed picture it has frame interpolation that makes its quality even better and more precise, smoothing fast motion, Noise Reduction and MPEG Noise Reduction, and 2D to 3D conversion – a rare feature in home entertainment projectors.
Epson Home Cinema 2040 PROS:
The most important feature, except for excellent picture quality, is CFI for sports and this projector, fortunately, has it. This option makes the fast motion picture smooth.
I would like to point out frame interpolation that analyzes incoming video and adds interstitial frames between the existing ones, smoothing out blur from fast motion and camera pans. Epson Home Cinema 2040 is one of the only projectors in this price range that has it, so it outstrips its counterpart in Epson Home Cinema 2040 vs Optoma HD141X opposition.
The projector also includes 3D to 2D conversion, which isn't found in many of Epson's Home Cinema 2040 direct competitors, so it can remove the extra 3D frames.
Epson Home Cinema 2040 CONS:
Pity to admit, but the black levels aren't as good as the color. They are washed out in a bright daylight.
The drawback of frame interpolation – it adds time lag, so it makes this projector inappropriate for serious games.
In Dynamic mode, I've noticed a greenish tint but overall the image was balanced.
Optoma HD141X – a distinct image, the high brightness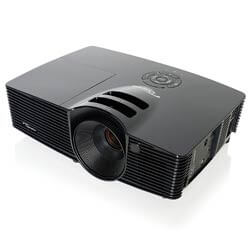 I've been pleasantly surprised that while testing I didn't need to readjust the lightning during a day in the room, where I was playing and watching videos, with all the lights on and off there wasn't a huge difference, pictures were sharp no matter what the lighting was.
Optoma HD141X PROS:
It can be connected to any source of 3D and set-top boxes, so I chose to watch DVD movies via my laptop but not only Blu-ray.
I didn't notice any distracting noise while watching HDTV.
It has an HDMI port that supports MHL that I used for Roku sticks connection for streaming from the Internet.
Optoma HD141X CONS:
It becomes warm already in an hour, so it's inconvenient to place it near people, it requires to be mounted on the ceiling.
The built-in speaker isn't powerful enough, so I had to add an external one, but, unfortunately, the internal speaker didn't work when I plugged in an external one.
I assume it lacks a color saturation control, with HDMI sources. When I switched from Vivid (for the brightness) to Cinema mode, I saw that the picture was oversaturated.
You must be already sure about your choice Epson Home Cinema 2040 vs Optoma HD141X
Epson Home Cinema 2040 has better projection system – 3LCD in comparison to Optoma's HD141X DLP in this Epson 2040 vs Optoma HD141X opposition. Optoma HD141X is brighter (3000 versus 2200 lumens). However, Optoma HD141X has lower contrast ratio (20000:1 versus 35000:1) than its counterpart in Optoma HD141X vs Epson 2040 comparison. Epson Home Cinema 2040 has weaker speakers (5 vs 10W).
Firstly, pay attention to the following factors and then buy Epson's Home Cinema 2040 CFI that guarantee smooth motion in the fast pace videos. Optoma HD141X has built-in Jack for headphones or other speakers connection.
If you're still in need of details, check out my similar reviews and a chart.