Wacom Intuos3 versus Huion H610 Pro comparison chart — choose the best one

Wacom Intuos 3 – a small reliable device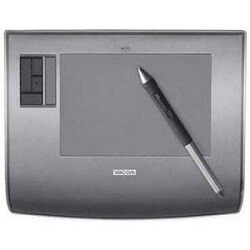 This is a small tablet with a thick and durable overall. This tablet has 8 customizable keys, so you can assign the functions you need. Moreover, it has touch strips that are used for zooming and scrolling. The stylus is very accurate in terms of catching your movement. Plus, the pen is ergonomic. The device also registers pen tilt. The device has a great resolution – 5080 lpi. The device comes with a 5-button wireless mouse. The buttons can be reprogrammed. The mouse can be used both by left- and right-handed users. The tablets are quite old and you may have troubles with compatibility. Due to this when you awake a PC, a pen acts like a mouse without pen functions.
Pros of Wacom Intuos 3:
The tip of the pen is "springy" and very responsive.
The model comes in different sizes and small ones are easy to transport.
A surface feels like drawing on paper.
The driver has many useful functions.
A small version of the device is highly-mobile.
Cons of Wacom Intuos 3:
The pen has a button on the side and you may press it occasionally and open a menu.
Touch strips are not super precise.
The mouse is a bit unresponsive.
Huion H610 Pro – a tablet for pros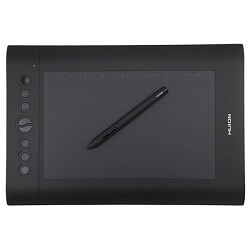 This model has a large active area that has a special lightly grained layer, which creates a feeling of drawing on a sheet of paper. This kind of coating also excludes any unintended pen sliding, which makes the process of drawing more accurate. The pen has a rechargeable battery inside, nevertheless, it is not heavy. Good pressure sensitivity, resolution and read speed. The device registers all movements and even the slightest changing of pressure. It is also free of any lags. The device is light, but it will not slide on a surface since it has rubber feet.
Pros of Huion H610 Pro:
The pen is ergonomic and you can hold it tight with your fingers.
The pen has a rubberized grip.
It supports the wireless mode.
It is compatible with software used by artists.
Cons of Huion H610 Pro:
The pressure sensitivity may go up quickly.
The driver for Windows does not have some functions and it may crash sometimes.
The quick keys may have lag.
Pressing the pen buttons may stop the mouse cursor.
The multitouch gestures are not configurable.
Wacom Intuos3 vs Huion H610 Pro comparison chart of two great tablets
It may seem that Wacom is the indisputable leader, but some companies can also provide you with a great solution and deciding between Wacom Intuos3 or Huion H610 Pro is not that easy. One of the features to mention – pressure sensitivity – compare 2048 levels Huion H610 Pro vs Wacom Intuos3 that has only 1024 levels.
The advantage of Intuos3 is its reliability. It is super reliable, plus it is quite small, so you can take it wherever you go. The disadvantage is the small active area.
The advantage of H610 Pro is its active area. Plus, it has great resolution and read speed which makes the drawing process responsible. The disadvantage is its bugged software.
If you need to decide between Huion H610 Pro or Wacom Intuos3 and you need a small, reliable device, then go for Wacom Intuos3, but if you need something bigger and modern then Huion will be a perfect option.