Tough choices - Wacom Intuos Photo vs Wacom Intuos3?

Wacom Intuos Photo – a perfect balance between functionality and portability?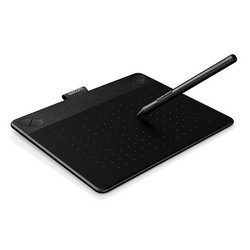 Thinking about the perfect tablet I could buy for a good price that will be light and thin to carry and work faultlessly, I realized I need a so-called comparison chart of two devices to understand better my needs. My personal opinion on Wacom Intuos Photo vs Intuos3 will definitely help you avoid the agony of choosing.
Firstly I would like to stress the design of the Wacom Intuos Photo that has been thought through carefully. There is also a pressure sensitive pen as well as a software bundle. Using a quick-start guide and the installation CD you need just 7-10 minutes to perform the installation. Four customizable buttons on the corners of the device could be simply configured per program. The multi-touch function allows fast navigation and enables touch control.
Wacom Intuos Photo PROS:
The weight of Wacom Intuos Photo is only 0.8 pounds.
An easily removable plate on the back side of the device with spare pen nibs and an incredible little pinhole to wedge a nib into. When have you examined the back side of your device last time?
I used Wacom desktop center to manage the tabling settings and was agreeably surprised with simplicity and quickness.
Wacom Intuos Photo CONS:
There is no pen holder integrated. I usually forget my things everywhere that's why this point caught my eye at once.
Going to prove my skills I realized that provided resolution of 2540 lpi is not enough.
I have looked for a cleaning kit but failed.
Wacom Intuos3: a high-resolution is a vital importance?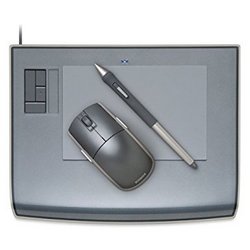 In order to continue my comparison Wacom Intuos3 vs Wacom Intuos Photo the next device is worth noticing too.
Testing Wacom Intuos3 to compare its criterions with my needs I would like to stress the well-made design and simplicity to use with any setup. I'm fully impressed with a pen. It is battery-free, has interchangeable pen tips and an eraser. Great! This can definitely enhance my abilities. I find cool the user-customizable "Express-Keys".
Wacom Intuos 3 PROS:
I haven't expected such a nice five-button mouse. It helps work with multiple displays.
Do you remember I have told you about my lost things? Finally, Wacom Intuos3 has a pen holder.
The resolution of the device is 5080 lpi that's fantastic!
Wacom Intuos3 CONS:
The mouse helps in working process, but still, the movement over two displays is a little bit difficult and slow.
I haven't found the USB cable for the device.
The weight is 3.09 pounds, I don't like sizeable devices.
Wacom Intuos3 vs Intuos Photo – which one is the winner?
A tough call of one device versus another depends on your personal goals and preferences. If the biggest improvement for you is simplicity in use and portability, opt for Wacom Intuos Photo that weight is only 0.8 pounds. Another tablet Wacom Intuos3 is 3.09 pounds. What makes me nervous is the absence of the pen holder in Wacom Intuos Photo, but you can find it in Wacom Intuos3.
If you are fond of better resolutions, be sure to choose Wacom Intuos3 as it has 5080 lpi, when Wacom Intuos Photo provides only 2540 lpi. The greatest fault for me is the absence of the USB cable in Wacom Intuos3, which is present by Wacom Intuos Photo.
Your choice may depend on some extra options that could be useful for you. Look my review once more and make a weighted decision.