Intuos photo vs draw tablet comparison —for artists of different skills
A tablet is an inseparable tool for every artist. It helps to create stunning images. There are many different tablets available to a digital artist and it is difficult to find the right one, especially if you know nothing about modern models. They have proved their reliability.
Wacom tablets are one of the most widely used both by amateurs and by professionals. If you just start your way as a digital artist, then you may want to know which model will win Intuos draw vs photo battle.
The tablets have enough features even for a skilled artist. However, there still some differences between the models and it is necessary to know them for choosing the best one for you. Let us help you out and find the right option for you.
Wacom Intuos Draw — achieve your creative dream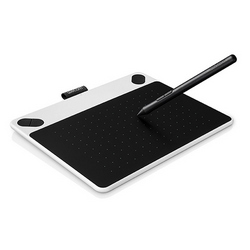 It is a modern tablet with a very attractive and ergonomic design. It looks nice and it can be a perfect special touch to your artist's place. Modern style and sharp lines make the tablet look very attractive.
Pros
6.0 x 3.7 inches active area. You can use all the area to create stunning images without scaling the canvas.
Right- and left-handed use. Right- and left-handed artist can use it.
Pressure sensitivity 2048 levels. The device emulates pressure and the process feels like drawing with a pencil.
LPI resolution is 2540. It helps to catch your movements precise.
PPS, read speed is 133, which means you will not experience lag.
Works with Windows 7,8 or 10 or Mac OS 10.8.5 or later. You can use it without any problems with any modern operating system.
4 buttons and programmable ExpressKeys. Therefore you can bind all functions you need.
Can be connected via USB or RF. The device is easy to connect to your PC and start using it right away.
Li-Ion battery (up to 15 hours). 15 hours is more than enough for artists.
Multiple colors available and you can choose the color you like the most
Lightweight, 0.8 pounds. You can move the tablet and put it wherever you want. At the same time, it does not slide along a surface.
Cons
No multitouch. The device gets information from one input device only.
The stylus hasn't a power source, so you need batteries.
No built-in screen which may provide you with useful information.
Create your first masterpiece with Wacom Intuos Photo
The great solution from Wacom. It may be a good option for every person who wants to start creating digital art. Just like Intuos Draw, this model has an attractive design and good price. Strict lines make the tablet look modern.
Pros
The active area is 6.0 x 3.8 inches helps to unleash your creativity.
Right- and left-handed use. No limits for right or left-handed users.
2048 levels of pressure. The tablet provides a good level of sensitivity so you can get the result you want.
LPI resolution is 2540. The device catches even the slightest move.
Multitouch support. It makes the device multifunctional and facilitates the process of drawing.
The stylus is with power, you do not need any batteries.
PPS, read speed is 133. The device is lag-free
Works with Windows 7,8 or 10 or Mac OS 10.8.5 or later. It works perfectly with any modern OS.
4 buttons and programmable ExpressKeys. It is enough to bind all functions you may need
Can be connected via USB. Just connect the device and start using it.
Lightweight, 0.8 pounds. The tablet is mobile and you can take it with you.
Cons
No built-in screen with information which some artists may find useful.
Has no battery, so the device is connected by a cable that has limited length.
Black color only.
The cons are not very important but omitting them would be wrong.
Prices comparison of Wacom Intuos Draw and Wacom Intuos Photo
The models are for those who want to start doing digital art and start developing their skills. Therefore, the tablets are a perfect first step for every digital artist. Of course, the Intuos draw and photo do not have the features that professional tablets have, but nevertheless, the models are more than enough to start with. The models are not expensive.
The price difference is about $20-25 (Intuos Photo is more expensive). The features are alike and it is possible to say that Intuos Photo (due to its features) may be considered as a bit more advanced tablet than Intuos Draw.
So, which one is better
Intuos draw is a great option for a different kind of a digital artist. It is a great starting point and it is a good tool even if you are an experienced artist. It has the essential features and functions. Of course, it does not include some functions of expensive professional level tablets, but the price of Intuos draw makes it very attractive. The Intuos photo vs draw challenge is not over.
Intuos Photo has some functions that the draw model does not. However, both devices have the features that any artist expects from a good tablet, even if it is for beginners.
As an amateur, you may think what is better, and here comes the classic comparison Wacom Intuos Photo vs Draw. The tablets will help you create stunning images and unleash your creativity. Wacom is the company that has proved their reliability. The company offers tablets from simple ones to complex stations that are used in the world by leading companies. All artists will probably agree that Wacom provides the best devices for a digital artist.