Compare and purchase – Wacom Intuos Draw vs Huion H610 Pro

Wacom Intuos Draw – tight and simple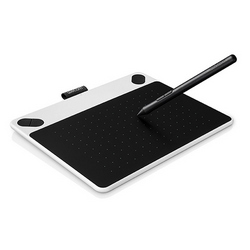 Testing Wacom Intuos Draw I realized that it works for all the art programs like Paint Tool Sai, Photoshop, Manga Studio and others. It connects to PC (Windows 7 and later) and Mac (10.8.5 and above) via the USB cable. This device allows painting and editing in the active surface provided through the dots on the screen, it makes quite easy if you don't want to move the hand a lot. A resolution of Wacom Intuos Draw is 2540 lpi is comfortable for those who don't need larger working areas. I find that four buttons (two on the right top corner and two on the left) are quite sufficient for all options.
Wacom Intuos Draw PROS:
The pen works extremely well. A needful loop on the device as well as two press-buttons on it are everything I need.
The nibs for the pen are stored at the back of the device – special for those like me who lose spare parts.
Wacom Intuos Draw CONS:
I haven't found a wireless kit.
The eraser tip is absent but seems to be needful.
No multi-touch function.
Huion H610 Pro – huge and smart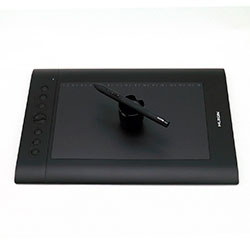 Huion H610 Pro has a good build quality and nice design in comparison to foregoing models. I like the buttons from the left side of the panel as they get a firm feedback when pressed. The nibs produced of firm stuff works great on the matte surface. 2048 levels of pressure response allow fully controlling of line configuration from thin to thick. Huion H610 Pro is compatible with Mac OS X 10.8.0 and later versions as well as with Autodesk Sketchbook, Adobe Photoshop, Corel Painter, Illustrator and other programs allowing more possibilities to the artists.
Huion H610 Pro PROS:
A large surface never limits the space.
Hotkeys and express keys along the surface could be easily mapped to the personal preferences of the user.
Both right and left users can use the device.
Huion H610 Pro CONS:
There is no eraser end on the pen that is very useful.
Some programs need a little bit more time to be compatible with Huion H610 Pro.
The battery pen needs to be loaded.
Huion H610 Pro vs Wacom Intuos Draw – what is better?
Having tested both devices I have understood they are worth noticing. Still, to compare one device versus another you need to pay attention to some important issues. To understand better the needs I've created a personal comparison chart to stress the right options of Wacom Intuos Draw or Huion H610 Pro.
One of the greatest powerful advantages of the Wacom Intuos Draw is its weight. Only 0.8 pounds makes the device portable in contrast to Huion H610 Pro that is 1.3 pound. The absence of multi-touch function in comparison to Huion H610 Pro is a big fault.
If you don't like to limit your working area – Huion H610 Pro possess the active area of 10 x 6.25, Wacom Intuos Draw has only 6.0 x 3.7. As for the disadvantages of the device - I find 8 programmable buttons needless, 4 buttons as in Wacom Intuos Draw are quite enough.
My final advice while making a choice among Huion H610 Pro or Wacom Intuos Draw - pay attention to the options that are of a high importance for you.