Wacom Intuos Draw vs Wacom Intuos5 – two opponents

Wacom Intuos Draw – absolutely perfect?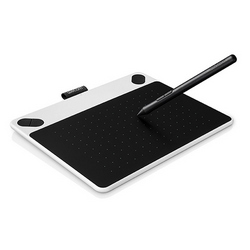 When I first opened the box, I thought the active area of Wacom Intuos Draw was going to be uncomfortably small. However, after testing the tablet a couple of times I realized that it's the perfect and comfortable size for my work. Wacom Intuos Draw connects to Mac (10.8.5 or later) and Windows 7 and above, wireless or via USB cable. I have found in the box a special 8 x 10 metal photo print and ArtRage Lite sketching software. All the spare nibs that are stored at the special hidden box in the device were tested by me and I find them reliable.
Wacom Intuos Draw PROS:
The USB is long enough to work comfortably about 5 feet away from my laptop. It offers me much flexibility.
I practiced working with 2D lash Animations. I set it up quickly and easily. It works great!
Wacom Intuos Draw CONS:
I realized that the surface can wear down quickly and is easy to scratch up. I need a special protective plastic cover.
Testing the ArtRage Lite it was crashed suddenly during the drawing. I had to load it again every time when I wanted to open it or to save the paintings.
Wacom Intuos5 – is worth noticing?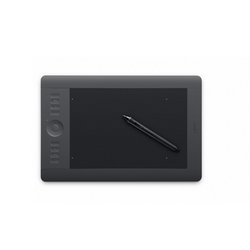 The next object of my tests was Wacom Intuos5 with amazing finger-sensitive touch ring that allows me to scroll and change the brush size and other features. The buttons on the left side leave more places to draw with the pen. So, the drawing area is decently proportioned. were I customized the time-saving Express Keys for application-specific shortcuts. The pen doesn't require a battery.
Wacom Intuos5 PROS:
I tested Wacom Intuos5 with 3D applications like Mudbox and ZBrush and they worked without any problems.
I reached the customer support in seconds. All my questions were answered at once.
Wacom Intuos5 CONS:
While using the nibs, I noticed that they wore down too quickly and scratched the surface.
When I tested the cable and set up the tablet for a left-hand user, the angled plug pointed at me so I had to curve the cable around the device. I didn't like this design.
Wacom Intuos Draw vs Intuos5 – which one is the best?
Having performed this short comparison chart in order to choose the best device Wacom Intuos5 vs Wacom Intuos Draw I would like to stress once more the most essential points for me. Compare Wacom Intuos5 vs Intuos Draw the last one is only 0.8 pounds in comparison to Intuos5 that is 2.18 pounds. The resolution of Intuos Draw is lower – 2540 lpi, Intuos 5 has 5080 lpi.
Intuos 5 has a multi-touch function – a needful feature for many digital artists that is absent by Wacom Intuos Draw. However, the installation of some applications for Intuos5 took more time versus the same applications for Wacom Intuos Draw.
Choosing between too amazing graphics tablets, separate the most useful features for your personal needs: the presence of the wireless kit, pressure sensitivity, quick applications' installation, customer support and other.