Wacom Intuos Draw versus Wacom Bamboo comparison chart — choose the one
Wacom Intuos Draw Pen Tablet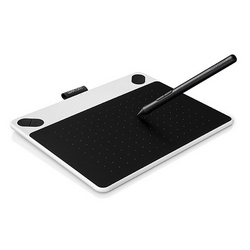 This is a portable model. The pen is very light (since it is battery-free) and ergonomic, so you can easily make precise, short strokes. The tablet surface prevents pen from any unintended sliding. It comes with all software you need – Art Rage Lite and online tutorials. Compatible with modern OS and software used by artists. The nib slides perfectly, it does not slip around and does not stick either. Also, Wacom Intuos Draw can be connected using the wireless protocol. Sometimes, a pen may glitch so it draws out a dot of fill pressure. The driver is not very stable. It may stop recognizing the device or crash.
Pros of Wacom Intuos Draw:
The sensitivity can be adjusted.
The surface has a special coat that makes it feel like drawing on paper.
The USB wire is long.
3 extra nibs.
It is mobile since it is small and light.
Cons of Wacom Intuos Draw:
The pen does not have an eraser.
The active area is quite small.
A wireless dongle is sold separately.
Some customers claim that the pen is too small.
Wacom Bamboo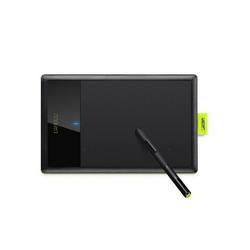 It has high resolution and read speed that makes drawing feel natural. The pen is ergonomic and it does not have any batteries inside. If you press too hard, using the nibs provided, you wear out the surface too fast. It is light and easy to manipulate. This model is available in two sizes, with the active area of:
Pros of Wacom Bamboo:
You can adjust the sensitivity settings.
It is portable, since it is light and small.
It is compatible with software used by artists.
High read speed and resolution makes it very precise.
Cons of Wacom Bamboo:
The tablet may lag if you have it connected with a notebook and the drivers are incompatible.
The USB port may come loose quickly. Therefore, the tablet will turn on and off.
No buttons.
Wacom Intuos Draw vs Wacom Bamboo comparison — find the best option for you
These two devices are great in terms of characteristics. However, there are some differences, one of them is the pressure module – 2048 Wacom Intuos Draw vs Bamboo that has 1024 levels and it may be enough especially if you look for the first tablets.
The advantage of Intuos Draw is that you can change different parameters. The disadvantage is that the drivers are unstable.
The advantage of Bamboo is that it is portable. The disadvantage is the consequence of the advantage – the active area is quite small.
Another factor you need to pay attention to when you compare Wacom Bamboo vs Wacom Intuos Draw is that Bamboo has multi touch, but it has not any buttons.
If you need to decide between Wacom Bamboo vs Intuos Draw then consider what you want. Bamboo is a great option if it is going to become your first tablet. Intuos Draw is complicated a bit and it is great for skilled users, but it is still not professional-level solution.