Best device for amazing art - Wacom Bamboo vs Wacom Cintiq?

Wacom Bamboo Capture Pen and Touch Tablet – less is more?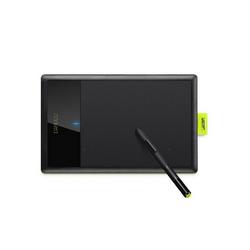 Trying to choose the best device to accommodate my personal needs, I decided to compare Wacom Bamboo vs Cintiq. I hope that my personal comparison of the two devices will be useful for you too. The first thing I realized with Wacom Bamboo Capture Pen and Touch Tablet - it is awesome for amateurs and beginners. It seems incredibly reliable; working in graphics software adds some pressure sensitivity to my d brush strokes. I was extremely impressed with a pleasant tablet surface that feels like I'm writing on a piece of paper. The pen has a nib tool and three spare nibs. I've found an easy-to-grip handle totally great!
Wacom Bamboo PROS:
For me is of high importance that the tablet is compatible both with Macintosh and Windows.
One more essential point in my comparison chart is the option of wireless connection.
Wacom Bamboo CONS:
I'm disappointed in the "toothy" texture of the surface as the pen nibs could wear down quickly.
I've found the USB cable too short.
My biggest complaint is resolution 2540 lpi only.
Wacom Cintiq – the device for professionals?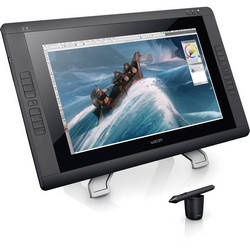 Going ahead and looking for a right decision, I would like to share my further comparison of Wacom Cintiq vs Wacom Bamboo. I have heard that Wacom Cintiq is the most popular among professional artists. At first glance, I was astounded by styling and impressiveness. Let's have a look at this reliable device. The pressure sensitivity level is amazing! It makes the tablet precise in catching my pressure. All my movements are caught thanks to resolution 5080 lpi.
Wacom Cintiq PROS:
16 buttons with all possible functions have definitely satisfied all my needs.
The built-in screen of the Wacom Cintiq facilitates my working process.
I like the active area of the tablet that is 19.5 x 11.5 inches. This is a perfect option versus the smaller areas of the other tablets.
Wacom Cintiq CONS:
The first notable con is a size of Wacom Cintiq: it is relatively heavy and big, this makes the tablet immobile.
I haven't found a cleaning kit that could be useful for me.
My efforts to find connections to monitor were unsuccessful.
Still hesitate among Wacom Cintiq vs Bamboo?
I find both devices are reliable and good. However, they are different. I have never found the options of the different devices that match one another. It is necessary to mention that the choice of two devices depends on the personal needs of the digital artist and the preferences one is going to get.
When the small active area of Wacom Bamboo is enough and comfortable for you be sure to choose Wacom Bamboo Capture Pen and Touch Tablet, as Wacom Cintiq has 19.5 x 11.5 inches that may be not comfortable for you. The main disadvantage of Wacom Bamboo is an absence of programmable buttons, that Wacom Cintiq has.
If you are on the road to improve your skills, the better resolution of Wacom Cintiq that is 5080 lpi must be your point, as Wacom Bamboo has only 2540 lpi. Nevertheless, think also about that Wacom Cintiq is about 18.7 pounds. Wacom Bamboo is only 0.53 pounds!
Such additional function as buttons design, color, protection box, comparison and other characteristics and options may determine your choice also. Set the priorities and your personal goals, this will appoint the right choice!