Wacom Cintiq vs Huion H610 Pro – different outside, similar inside

Wacom Cintiq – amazing size and resolution
Its size with a full HD resolution 1920×1080 impressed me greatly; also, the adjustable support makes it convenient to use and to work for a long time. I was pleased to discover that it can be a second monitor when I don't use it for drawing. My practical experience shows that keyboard is unnecessary due to its own plenty of express keys. The pen has an eraser and it's bestowed with advanced pressure and tilt-sensitive pen technology, so it copes with the natural effects, brushes, and markers. In the beginning, I was a little bit confused by the grainy anti-glare coat on its screen. The screen is plastic, I would like it to be out of glass. It'd prevent scratches and prolongs the life of the tablet.
Pros of Wacom Cintiq:
The screen is massive, I can't wish it was bigger.
16 buttons, also it has a scroll ring and radial menus - all together it speeds up a working process greatly.
Cons of Wacom Cintiq:
A pan can't be hooked to the table, so I've been looking after it, not to lose.
I had to take an extra adapter because my computer doesn't have a DVI port but a display connector is DVI-I.
Has not the greatest read speed as for an expensive model – 133 pps.
Huion H610 Pro – a compact size but rich for capacities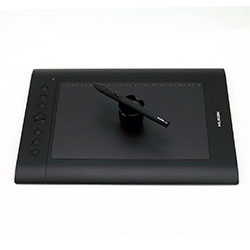 The first thing that I've noticed were buttons because I can't stand endless scrolling, however, it speeds up zooming. A pen holder is a plus, but there are not a lot of nibs to choose (the nib by itself is decent, I must admit). I wish it was wireless because being glued to the tablet is inconvenient. Also, I should admit its 2048 pressure level equal to expensive models.
Pros of Huion H610 Pro:
It's lightweight – 1.3 pounds.
The pen can be attached to the tablet, so I shouldn't have thought about where to place it.
Cons of Huion H610 Pro:
I didn't get use to its slippery surface.
A pen charging cable drives me crazy.
The pen doesn't work without the battery.
What is more convenient: Huion H610 Pro or Wacom Cintiq?
Wacom Cintiq vs Huion H610 Pro models are completely different outside but pretty similar inside.
The main disadvantage of Wacom Cintiq that is its price, in Huion H610 Pro vs Wacom Cintiq comparison it's massively expensive than its opponent. The main benefit of Wacom Cintiq is its huge working − 19.5 x 11.5 inches – you immediately see what you pay for.
If you're looking for a first drawing tablet to get experience or drawing is your hobby and you're choosing Wacom Cintiq or Huion H610 Pro, Huion H610 Pro is more suitable variant for you, I guess because it's compact and has good pressure sensitiveness (2048 – the same as its expensive opponent Wacom Cintiq has) – it's as for its strong point. As more budget tablet, Huion H610 Pro has a lower resolution – 4000 lpi vs 5080 lpi of Wacom Cintiq.
So, if you are in two minds Huion H610 Pro or Wacom Cintiq, take Huion H610 Pro if you're a beginner or plan to use it for not complicated tasks or choose Wacom Cintiq in case you're bound to a big screen.
If you're still looking for a drawing tablet, click on my similar reviews to compare them versus other models.
There is a comparison chart for your help if it's required.