Wacom Intuos Art versus Huion H610 Pro comparison chart

Wacom Intuos Art – a device for artists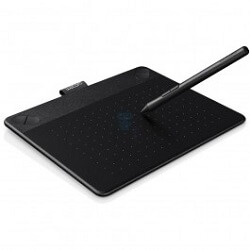 This is a small mobile device with a Bluetooth module that can guarantee lag-free drawing. It has a battery-free pen, which is ergonomic and lightweight. Performance of this device is great as well since it has 2 processors and 2 GB of RAM. The stylus has 2 buttons. It also supports multitouch. This model comes with the necessary software. It may have some issues with drivers (crashing). Windows 10 may not recognize the device.
Pros of Wacom Intuos Art:
The necessary software (Corel Painter Essentials) and tutorials are provided.
It is lag-free and responsive due to high-pressure sensitivity and read speed.
It is compatible with the most popular software packages used by artists and designers.
Multitouch lets you use your fingers to manipulate an image.
Cons of Wacom Intuos Art:
The UI does not scale well, so it looks too small at 4K resolution.
Some customers find the pen too thin and light.
Huion H610 Pro – a tablet for artists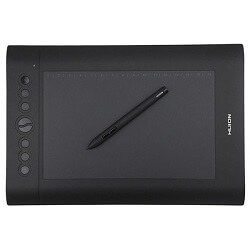 This model has a large active area with a special coating that has a grainy texture, so it feels like a sheet of paper. This surface prevents a stylus from sliding, which makes drawing more accurate. The stylus has a battery, so it may be a bit heavier if we compare with battery-free pens, but nevertheless, it is very precise and accurate in terms of movement and pressure. The device is very light, but it will not slide on a table since it has soft-mat feet. The device is compatible with modern OS – MacOS and Windows.
Pros of Huion H610 Pro:
It is compatible with modern software used by artists.
Great performance – good pressure sensitivity, resolution and read speed. It assures a lag-free and accurate process of drawing.
The pen is well-balanced and ergonomic. It is easy to draw with despite the fact that it has a battery inside.
Cons of Huion H610 Pro:
The pressure registration ramps up quite quickly.
The Windows driver lacks some functions.
A CD that comes with the device does is useless if you have a modern OS installed.
Pressing the pen buttons may stop the mouse cursor.
Wacom Intuos Art vs Huion H610 Pro comparison chart — find the best solution for you
These two devices are a great option for amateur-middle-level artists. Both devices are great in terms of performance, however, the first difference you notice is the size of the active area. Compare 10x6.25 Huion H610 Pro vs Wacom Intuos Art that has 6.0x3.7 (small) or 8.5x5.3 (medium).
The advantage of Wacom Intuos Art is its reliability. Plus, you will get the software you need. The disadvantage is the size of the active area – it may be too small for you.
The advantage of Huion H610 Pro is its large active area. Moreover, it is accurate in terms of pressure and resolution. The disadvantage is that the pressure registration may ramp up too fast.
If you need to choose what to buy - Wacom Intuos Art or Huion H610 Pro, then pay attention to the active area. If you need something large then Huion H610 Pro will be a good option, but if you need a small but mobile device that considers getting Wacom Intuos Art.
Another important factor that you should keep in mind deciding between Huion H610 Pro or Wacom Intuos Art is the price. Traditionally, the Wacom's products are more expensive.