Wacom is a Japanese company, which specializes in graphics tablets and related products. Three of their models are marketed worldwide. Their products come bundled along with the software and a digital pen or puck, which have an 'eraser' feature.
Wacom tries to cater to the needs of different kinds of artists. Features wise Intuos Draw vs. Art, there might be a lot of similarities.
Wacom Intuos Draw - create a new wave of digital arts
The Wacom Intuos Draw is a compact tablet which users can carry around and use the pen for drawing and erasing. The eraser is not at the tip but located behind the pen. It does not support multi-touch gestures. It has a sleek design and classy look but is still priced at an affordable range. It comes with a choice of two colors- White and Blue.
Has an ArtRage Lite bundled software? Intuos Draw is available in a small size which is ideal for beginners, amateurs or students. You can even get quick online training.
Pros
Its an excellent investment for a beginner or an amateur.
It has a slim plastic body but is sturdy with sleek lines.
There are two buttons on the side for express navigation, and it also gives the tablet a very trendy and modern.
It has four grips behind, which makes it stand comfortably even on smooth surfaces instead of sliding.
It comes with its own bundled software, which is ArtRage Lite.
The stylus nib gives it the texture that you feel while drawing on paper.
Cons
The tablet has no battery and needs to be powered by connecting to the computer, which makes it feel a little clumsy while drawing.
It does not support multi-touch gestures.
The placing of the buttons gives it a stylish look but not very comfortable to maneuver.
The stylus is very light and so does not give the exact feel of holding a pencil.
For people with larger hands, the size and the lightness of the stylus might be an issue.
While drawing quickly, the stylus tends to lag a bit.
Stay creative with Wacom Intuos Art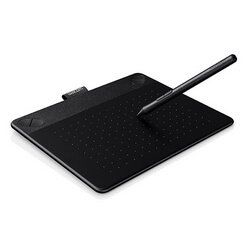 The Wacom Intuos Art is another beautifully designed tablet to sketch, draw, ink or color. And supports multi-touch gestures. Also, compact and thin enough to be carried around and comes with a USB cable to connect with. The eraser is placed not at the tip of the pen but behind and has to be turned for erasing. Its available in two colors- Blue and Black. The pen does not need batteries but works on a charge from the tablet itself. This model is also classy like Intuos Draw. There are two available sizes- Small and Medium. It comes with Corel Painter Essentials 5 bundled software.
Pros
Intuos Art is a beautifully designed, thin, sleek and comfortable to use model.
It supports multi-touch capabilities, same as a regular tablet or a smartphone.
It has Corel Painter Essential 5 as a bundled software.
Exact feel of drawing on paper.
It comes with tools and tutorials for learning new skills and techniques.
The software allows the pen to switch between pencil, chalk, watercolor, and oil for creating unique styles and designs.
Cons
The tablet has a plastic body and thus feels like it might bend or break under pressure.
Stylus also has a similar flimsy look.
It needs to be connected to a computer via USB cable and is not wireless by default; the wireless kit needs to be purchased separately.
Not very comfortable for precision drawing.
Comparison of Wacom Intuos Draw vs. Art
Though both the tablets come with a lot of similarities between them, the choice comes to Intuos Draw vs. Intuos Art, though both are entry-level models. Both have a lower pressure sensitivity of 1024 levels which is much lower than the other high-end models.
The Intuos Draw is available only in a small size. The active area is 6.0 x 3.7 inches; it is an actual work area, not the entire size of the tablet. The downside of having a small screen is that it is not very comfortable to work in the small space with a high resolution and it does not help for precision drawing as well.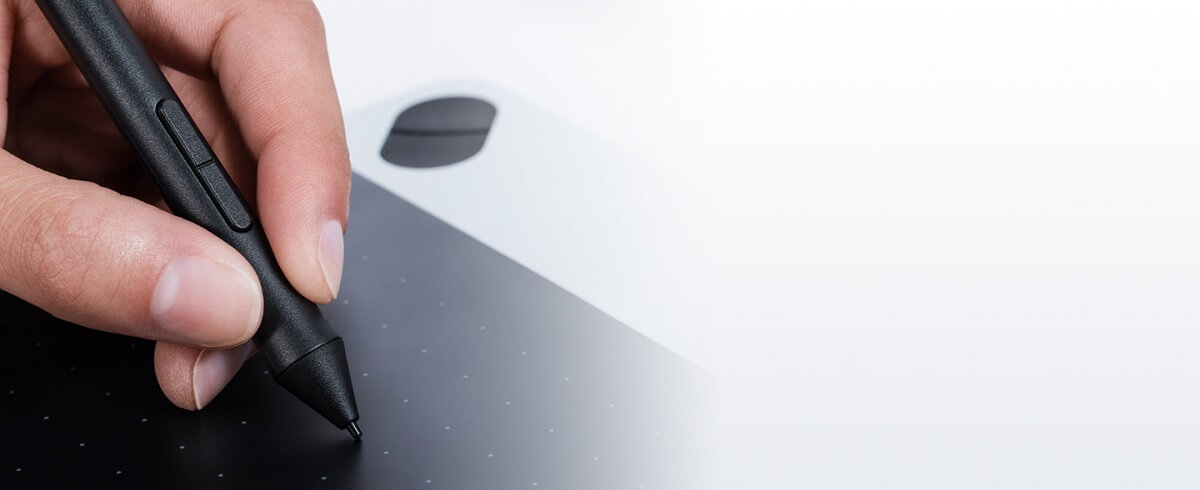 Though both the models look similar, while comparing Intuos draw vs. art, you have a choice of size between small and medium with Intuos Art.
It supports multi-touch gestures, just like other regular tablets where you can use many gestures.
The bundled software is Corel Painter Essentials 5, which can be used for creating amazing digital paintings, creating t-shirt designs, logos and many more.
Conclusion
Everyone interested in art, can invest in these gadgets and let your creative juices flow, while you create, color and upload to your heart's content. Use the features that allow you to switch from pastels to pencils to photo editing and keep creating. Let your tablet be your canvas, make a start and get creative.