Pen tablets, also known as digitizing tablets or graphics tablets, are input devices that can be used to substitute or complement a mouse. They're very popular in the graphic arts sphere and are considered by some as an indispensable help for any creative arts professional. Today we compared two famous graphics tablets Wacom Intuos art vs pro.
Wacom Intuos Art — create something amazing!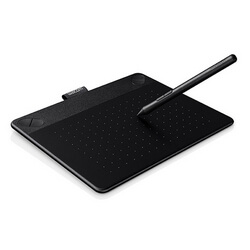 Unleash your creativity with the new Intuos. If your dream is becoming a famous digital artist — with Intuos Art you can move towards creating your portfolio, affecting your preferences, or pushing the limits of your creativity, Intuos has everything — just do it.
Everything you need in one Creative Box
Whatever your artistic ideas are, Intuos can deal with them. Each Wacom graphics tablet comes with a free Creative Box software package that includes a variety of downloadable software, services, and e-books.
Intuos is a fancy designed, easy-to-use graphics tablet. Draw, sketch, paint or edit with a realistic sense of "classic" drawing. Feel-sensitive pen, responsive work surface, intuitive gestures, and customizable ExpressKeys will concentrate all the new digital tools in your hands.
Pros
Intuos Art is a beautifully designed, thin, sleek and comfortable to use model.
It supports multi-touch capabilities, same as a regular tablet or a smartphone.
It has Corel Painter Essential 5 as a bundled software.
Exact feel of drawing on paper.
It comes with tools and tutorials for learning new skills and techniques.
The software allows the pen to switch between pencil, chalk, watercolor, and oil for creating unique styles and designs.
Cons
The tablet has a plastic body and thus feels like it might bend or break under pressure.
Stylus also has a similar flimsy look.
It needs to be connected to a computer via USB cable and is not wireless by default; the wireless kit needs to be purchased separately.
Not very comfortable for precision drawing.
Wacom Intuos Pro — digital technologies became better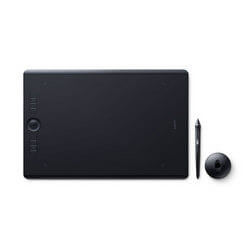 A new standard of graphics tablets for creative professionals. Wacom Intuos Pro, made of high-quality materials and optimized for working with an amazing pen Wacom Pro Pen 2, - the best graphics tablet for creativity. Thanks to the built-in Bluetooth module and a compact elegant case, it's easy to set up and simply placed on the table to immediately begin a new beautiful project.
Connect your device to your Mac or PC with Windows, using a USB cable or Bluetooth technology, install drivers - and you can start working on any creative application.
Unsurpassed exact pen Wacom Pro Pen 2 will help to feel the work, like never before.
Quality materials and compact body make the tablet an ideal tool.
Naturalness and accuracy
The new pen Wacom Pro Pen 2 is created to be a continuation of your hand. His unrivaled sensitivity and "responsiveness" will help your talents to rise to a new level.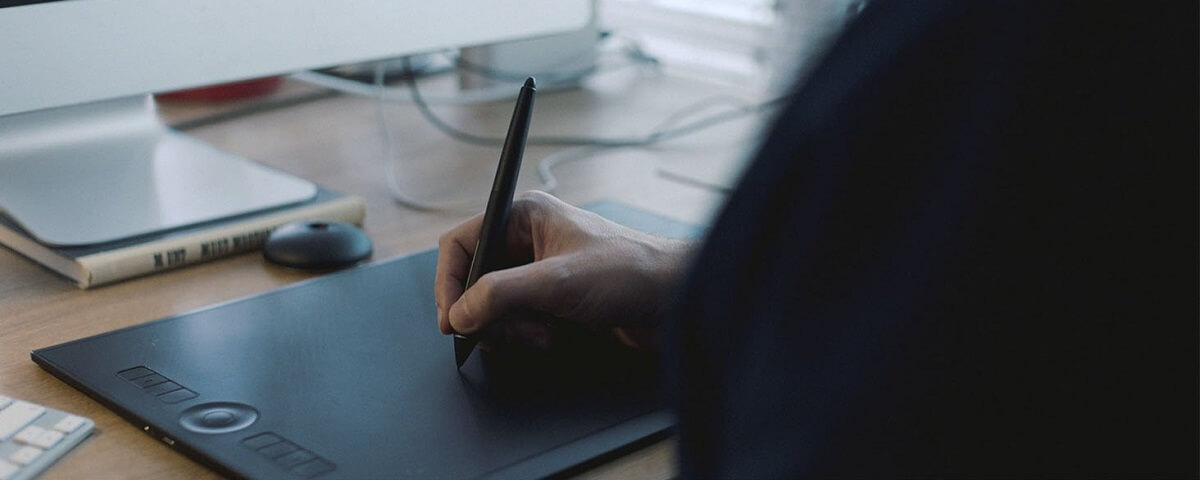 Slim and sleek design
The Wacom Intuos Pro body is made from high-quality first-class materials: black anodized aluminum and fiberglass composite plastic. Despite the thickness, only 8 mm, the tablet to the touch is reliable and durable. The Wacom Intuos Pro includes a stand with a steel base for storing spare tips. And yet it has a built-in convenient tool for replacing the tips.
The usual style of work for you
Wacom Intuos Pro allows you to fully focus on the most important - the creativity. Customizable ExpressKeys and Touch Ring provide quick access to everyday tasks. Thanks to the side buttons Wacom Pro Pen 2, the commands and controls you need are always at your fingertips. Gestures of multi-touch make navigation on working materials very simple - like on a smartphone.
Pros
The tablet adapts to the right-and left-handed.
8 control buttons on the tablet, 4-way Touch Ring and 2 keys on the pen are available for setting.
When working with graphics editors, the tablet can be set so that depending on the degree of pressure on the pen, the opacity of the brush changes, its size.
With professional pen Wacom GripPen or ProPen, you can control the shape of the brush.
Cons
No built-in screen which may provide you with useful information.
Hasn't Wool Liner Bag.
Hasn't clean kits.
What the difference between Intuos art vs Intuos pro?
When Wacom developing these devices, the main task was to provide maximum comfort in work by recreating the effect of the movement of a real brush on the canvas.
Comparing Wacom Intuos art vs Intuos Pro — Intuos pro is basically the big brother of the Intuos Art. More detailed pressure sensitivity, fancy look, and more buttons. It's also more expensive, and in our opinion, kind of gimmicky.
However, the Intuos Art is more than good enough for beginners needs. It really depends on what you want to use it for.
With the old Intuos range of tablets now being completely discontinued, Wacom's entry-level option is now the more recent Intuos Pro. The price tag may be a little more than its predecessor, but for the increased outlay, the Intuos Pro does come packed with a rich feature set that makes it ideal for more professional creative work.