Huion 1060 Plus vs Wacom Intuos Photo – my awesome tablet

Huion 1060 Plus – can make me crazy?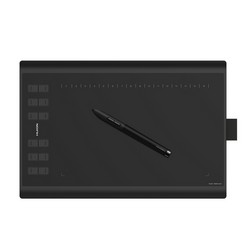 My first thought as I saw Huion 1060 Plus - how solid and large is the working surface! Having tested sixteen Function keys and twelve Express keys, I realized that they make my drawing process more efficient and quick. The glove works both for right- and left-hand users, I think it's of great importance. I have been also impressed with surprisingly quick customer service and clear manual thanks to this I was successful with the installation of all necessary programs.
Huion 1060 Plus PROS:
I like a plenty of replaceable nibs that come with the graphics tablet. They make my working process in Photoshop much more enjoyable.
The tablet is slim and easy to store. I can take it anywhere with a special bag that is included.
Huion 1060 Plus CONS:
The customizable buttons changed suddenly their programming after the first minutes of working and came back to their factory settings.
The tablet was disconnected after I began to work. I had to unplug and plug it back in to return it back to "life".
Wacom Intuos Photo – a magic helper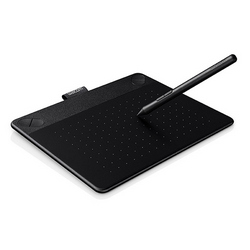 Wacom Intuos Photo, that I tested as the next, connects to Mac (10.8.5 and later) and PC (Windows 7 and above) wireless or via USB cable. I am happy as it works great with my Windows 10. Wacom Intuos Photo comes with a special free Photo pack that includes online tutorials, Horizon Canvas Print and Shutterfly Photo Album. I can add that the tablet is compatible with the current versions of Adobe Photoshop Lightroom CC. The back of the device has an easily removable plate with helpful spare pen nibs.
Wacom Intuos Photo PROS:
I tested ZBrushCore that I actually need for my working - it is amazing.
I find amazing that drawing tablet comes with a free Corel PaintShop Pro X8 software.
Wacom Intuos Photo CONS:
I have realized that the pen is too lightweight and rolls all the time between my fingers and the thumb. It is not comfortable to work with.
Coloring an area in Photoshop I have to press on the device much harder to get a solid coverage of an area. I find this a little bit irritating.
Huion 1060 Plus or Wacom Intuos Photo – the best alternative?
Hesitating a lot between two great graphics tablets Wacom Intuos Photo vs Huion 1060 Plus I decided to make a short comparison chart as a last point before the final verdict. In order to compare Huion 1060 Plus with Wacom Intuos Photo it is worth mention that the first one has the read speed of 233 pps, while Wacom Intuos Photo has only 133 pps.
There is no multi-touch function by Huion 1060 Plus in comparison to the Wacom Intuos Photo.
Wacom Intuos Photo is small and portable versus larger Huion 1060 Plus that takes more place in my bag actually.
The pen charging cable is absent by Wacom Intuos Photo but you may find it in Huion 1060 Plus.
Thinking about the best graphics tablet Wacom Intuos Photo or Huion 1060 Plus, you may direct your attention to the availability of micro SD card, wireless kit, the length of the USB cable, accessible manual and quick installation of essential programs.