Huion 1060 Plus vs Wacom Intuos Comic – a healthy struggle

Huion 1060 Plus – a magic device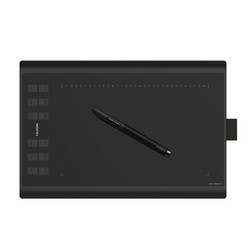 Trying to test both perfect graphics tablets Wacom Intuos Comic vs Huion 1060 Plus, I would like to begin with Huion 1060 Plus. It comes with the built-in card reader and the microSD card with enough memory to save my artworks. The 2048 levels of pressure sensitivity help me create lines of different thickness. 16 soft keys are on the top of the working area and 12 customizable express-keys that could be easily found on the left hand side. As a result, I've got a plenty of possibilities through the customizable keys to raise my work efficiency. I've found also a special nice carrying bag in the box.
Huion 1060 Plus PROS:
I find the tablet rather solid.
The tablet works amazing and fast for editing photos. It helps me streamline the photo editing process.
Huion 1060 Plus CONS:
After I have left the tablet idle for a short time it was powered off mysteriously. I had to unplug and reset the cable again to return it back.
As I have switched between the desktops the drivers were crashed.
Wacom Intuos Comic – accuracy versus size?
Speaking about Wacom Intuos Comic I would like to mention that it comes with Anime Studio software and online tutorials. The immediate control of the top right corner of the drawing area allows faster operations and higher accuracy while working. Despite the fact the working surface is not so huge, I feel like I'm creating the lines on a real piece of paper!
Wacom Intuos Comic PROS:
I have tested Wacom Intuos Comic with Chrome OS, it works perfectly! No objections!
There were no delays during the installation process of Windows 10. It took me some minutes.
Wacom Intuos Comic CONS:
The tablet doesn't have the option for an SD memory card.
The device doesn't support tilt that I want for my working process.
Which one is the leader - Huion 1060 Plus or Wacom Intuos Comic?
Testing two graphics tablets I have performed a quick comparison chart taking into account all essential moments for me. Choosing between Huion 1060 Plus or Wacom Intuos Comic take note that Huion 1060 Plus comes with a special black glove for the digital artists. I find it perfect as Wacom Intuos Comic doesn't provide such one.
However, Huion is heavier in comparison to Wacom Intuos Comic (3.2 vs 0.8 pounds).
Wacom Intuos Comic has better support in case any problems with the installation process or other difficulties arise. The customer support by Huion 1060 Plus seems to be a real disappointment.
Wacom Intuos Comic isn't compatible with AutoCAD. Fortunately, Huion 1060 Plus is compatible with it.
Before choosing between Wacom Intuos Comic or Huion 1060 Plus you should compare all the essential features for you such as helpful functions of the Express Keys, resolution, the length of the cord for comfortable working process, and others.