Wacom Intuos Comic vs Wacom Intuos Pro - battle of the drawing tablets

Wacom Intuos Comic Pen Tablet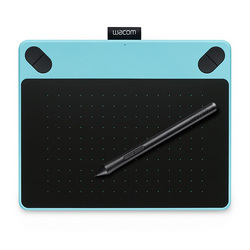 Responsiveness seems good, and the Wacom software is fairly intuitive, and doesn't seem overly demanding on system resources. I'm pleased to report there's now support for multi-monitor setups: you can choose whether movement on the tablet tracks across all your monitors as one giant workspace, or applies to monitors individually, or is locked to one specific monitor - useful if you're using a centre display for photo work, and surrounding displays for other day-to-day stuff. It comes with a pressure-sensitivity pen that registers even the slightest changing of pressure. It is battery-free and well-balanced. The device supports multitouch. This model comes with software you may need to draw a comic – Clip Studio Paint Pro (the license is valid for 2 years), Anime Studio and online tutorials.
Pros of Wacom Intuos Comic:
Compatible with software packages used by artists.
Can be connected via a wireless protocol.
The tablet is portable since it is lightweight and small.
The drawing surface has a special coating so it feels like a sheet of paper.
Lag-free and precise.
Cons of Wacom Intuos Comic:
The pen does not have an eraser.
Needs a special dongle to use it wirelessly.
No tilt support.
The active surface is not large.
Nibs wear out too fast.
Wacom Intuos Pro — Pen Tablet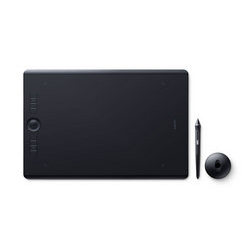 It has a huge active area with a special coating that is durable. It also prevents from any unintended pen sliding. The device supports multitouch. This model has many express keys and a touch ring that lets you access menus very quick. It's completely reversible. The USB port is on the right-hand side. The tablet can be rotated either way, and switched to left-hand mode in the settings menu. A Bluetooth module can guarantee a high-speed stable connection that is enough to translate pen movements accurate without any lags. The model is available in three different versions – small, medium and large.
Pros of Wacom Intuos Pro:
Native wireless support. You do not need to buy any extra devices.
An elegant pen holder where you can store 10 extra pen nibs.
The touch pad can be used for everyday functions, like web-surfing.
The work area can be adjusted.
Cons of Wacom Intuos Pro:
Touch may be not precise with some software package.
The pen buttons are sensitive and you can press them occasionally.
The nibs wear out too fast.
Wacom Intuos Comic vs Wacom Intuos Pro comparison chart - find the best option
These two tablets are a great option for artists, since they have high resolution and read speed, which makes the drawing process feel natural. However, there are some major differences if we compare Wacom Intuos Comic vs Intuos Pro, for example the number of buttons or pressure sensitivity – 8192 (with Pro Pen 2) Wacom Intuos Pro vs Wacom Intuos Comic that has only 2048.
The advantages of Intuos Comic are its size and the software that comes with the device. The disadvantage is that it does not have a native wireless support (you need to buy a special device).
The advantage of Intuos Pro is that it registers pressure and movements extremely precise. The disadvantage is that the nibs wear out too fast.
If you compare Wacom Intuos Pro vs Intuos Comic you should keep in mind that the devices are for different classes of users, if you are looking for your first tablet then Intuos Comic is a good option for you, but if you are an experienced artist then consider getting Pro.