Keep in mind these moments - BenQ HT1075 vs Optoma HD141X

BenQ HT1075 – a project with full-HD native resolution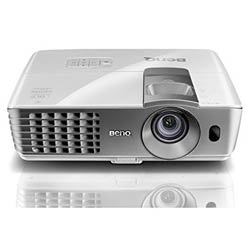 I have been lucky to compare BenQ HT1075 vs Optoma HD141X and I'm ready to share my results. Firstly, I'd like to point out that BenQ HT1075 includes MHL that allows me to connect it to a Roku Stick for streaming Netflix content. Not all projectors have a vertical lens shift, but this one does, so it's possible to move the image up and down from the center by about 5% of its height. It eases the process of the picture adjustment because I don't need to move a projector physically.
BenQ HT1075 PROS:
I really like the simplicity of color adjustment. For watching movies at night I choose "User 1" and it looks like the "Standard" setting, also I change the Color Temp button to "Lamp Native", and turn the Contrast up.
It's lightweight and portable, so I haven't looked a special place for it and put it out due to occasions.
BenQ HT1075 CONS:
Unfortunately, the jerkiness in the picture presents, even after my attempts to turn noise reduction to the maximum.
I was surprised when discovered that Eco mode is claimed to be 30% less bright in a data chart, but in practice, it's about 37% lower.
The remote control is fine, but red LED light is too bright in the darkness.
Optoma HD141X – a projector with equally decent 2D and 3D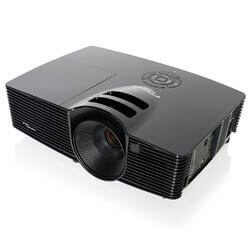 3D and 2D images are equally of high quality. In addition, I don't see any crosstalk and only see a hint of 3D-related motion artifacts. I tried to use it outdoors at night on a 12 x 20 screen, but it was clear that it was pushing efforts to its limit. I placed it 30 feet away to be able to get that large screen size. Ideally, you want no ambient light at that distance. You may want to look at going with a smaller screen or a unit with higher lumens.
Optoma HD141X PROS:
Lag time is unnoticeable and better than most projectors have.
It doesn't cut off edges and any shaky lines are presented. Only a very slight jittering appears while extremely fast changing pictures, but I'm finding faults!
I easily hooked it up to a laptop to watch usual DVD films, not only Blu-ray ones because it works with any source of 3D and set-top boxes.
Optoma HD141X CONS:
Unfortunately, it doesn't have Bluetooth, but I have planned to connect a soundbar to it wirelessly.
Optoma HD141X vs BenQ HT1075 comparison clearly shows that Optoma HD141X is not a versatile project because its speakers are not loud enough for presentation purposes.
Are you keep trying to choose between BenQ HT1075 vs Optoma HD141X?
Read more of my reviews if you still choosing, I have done a plenty of both these projectors comparisons versus other models where I tried to include more practical experience rather than obvious data from a chart.
Before making a purchase, take a note that Optoma HD141X provides an energy saving feature, in a standby mode, it consumes just 0.5 Watts. Also pay attention to BenQ HT1075 audio out that feeds sound to a larger sound system, of course, if you use MHL source.
BenQ HT1075 has smaller keystone correction manual in comparison to Optoma HD141X (- 30 versus - 40 degrees), while the last one doesn't have USB (Type mini-B) and RS232 (DB-9pin).
In contrast, BenQ HT1075 has more powerful lamp type (240 vs 190 W), but Optoma HD141X has twice higher contrast ratio (20000:1 vs 10000:1).