Highly similar models BenQ HT2050 vs BenQ HT3050 with crucial differences
BenQ HT2050 − a loud and bright projector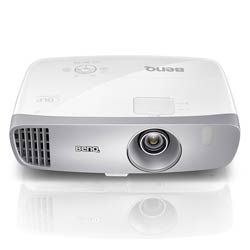 I'd like to compare pretty similar models BenQ HT2050 vs HT3050 but with a couple of fundamental differences. A number of modes (Cinema, Vivid, Bright, etc) have impressed me straight away.
BenQ HT2050 PROS:
Multiple modes with variable color schemes for different lighting enhance a picture. I use Vivid mode during the day and Game one in dusks. Both of them come pre-set.
A remote control has backlighting which is useful in darkness.
Vertical keystone is a profound advantage because it lets me place it wherever I want, either on the wall or on the back of the sofa behind me.
BenQ HT2050 CONS:
I guess it turns off after a while of non-activity but it would be nice to add a sleep timer on the remote.
The HDMI ports look loose, so I have routed the somewhat stiff HDMI cable carefully to make sure it was finally adjusted.
The lens cap is not sturdy and doesn't fit nicely but still stays in place.
BenQ HT3050 – an ideal projector for films, but not for games
I would call BenQ HT3050 a reasonable combination of a price and quality. I was speechless, because of its Cinematic Color Rec. 709 picture quality. Also, I have tried the projection − it is able to project on a window screen.
BenQ HT3050 PROS:
I'm satisfied with its vertical lens shift, so I shouldn't move physically the projector in order to adjust an image up and down.
I'm in love with its stereo sound! The two 10-watt speakers provide the sound like in a cinema. It's a bargain to have two decent speakers, while the similar models have only one for such price.
As for me, both 2D and 3D are close to excellence. I haven't notice sudden shading changing where it should be gradual or some noise that influenced a picture.
BenQ HT3050 CONS:
I have planned to watch TV with it but turned out that it hasn't got a built-in tuner, so I need to purchase it with an HDMI or component output separately because it's impossible to connect a cable directly to the projector.
3D glasses are not included, moreover, not all models are suitable e.g. I have tried Samsung active 3D glasses − no, so only DLP-Link glasses are required.
The setup process is utterly complicated and looks disconnected. I have been bewildered because a half of the info is on the remote and another is in the settings.
It's inconvenient to move it outdoor because it's pretty heavy.
Did you consider all fine details of BenQ HT2050 vs BenQ HT3050?
In order to foster your choice, I have completed more comparisons with these models to other projects including not only data from a chart but also my impressions from testing them.
BenQ HT3050 vs HT2050 comparison shows that BenQ HT3050 has 3 HDMI versus 2 in BenQ HT2030, but the last one has a range of modes. In contrast, BenQ HT2030 hasn't got a sleep timer, when BenQ HT3050, a minor con, but an onboard display isn't user-friendly.
Prior buying, note that BenQ HT3050 has the stereo sound, in case you are planning to arrange a home cinema, just make sure your mounting options match, while BenQ HT2050 will be a more reasonable choice if you are into games because it has unnoticeable low lag time.