Crux of the matter of BenQ HT2050 vs BenQ W1070
BenQ HT2050 – a quiet projector with shallow black depth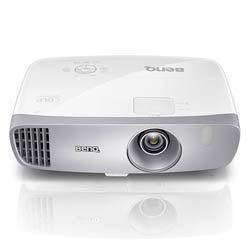 I've tested BenQ HT2050 vs W1070 on sports games and discovered that BenQ HT2050 is superb in motion handling and doesn't have smearing and other artifacts. Watching hasn't been distracted by rainbow effect; the picture is clear and crisp. With the bright mode setting, I can watch with the lights on a bit.
BenQ HT2050 PROS:
Both 3D and 2D are bright and don't have any crosstalk, in addition, it supports 3D-specific issues, unfortunately, it doesn't come with 3D glasses.
I don't use additional speakers when we are outside; I'm completely satisfied with their quality, which is a rarity for built-in speakers.
It operates quietly with the lowest fan noise in its class, so its presence is unnoticeable.
BenQ HT2050 CONS:
Its Cinema mode doesn't have gentle calibration to target Rec 709 standards.
It's slow to auto switch sources; I switch it on manually because it doesn't have the Mute to On.
The picture is dynamic but lacks black depth. The night sky seems more dark grey than black; I've tried to make some calibration, but it didn't influence native contrast.
It lacks a fixed iris that lets me adjust the amount of light and consequently, make darker blacks.
I can't adjust the picture horizontally automatically, only by loosening the screws on the base.
BenQ W1070 – lack of motion pace but contrast is decent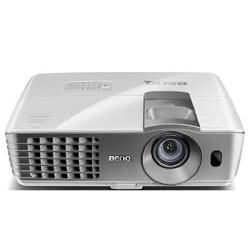 I'd like to share my recent experience of testing BenQ W1070 vs HT2050 projectors. First one was BenQ W1070 and it made me glad about its full variety of connections: two HDMI ports, component video, composite, S-Video, a PC input in contrast to its opponent.
BenQ W1070 PROS:
The Smart Eco Mode is a super function! It maximizes power saving on its own via reducing the lamp power up to 70% without decreasing picture quality; also, it prolongs a lamp life.
Skin tones are, fortunately, close to natural, they don't have a pinkish tint.
A 5% of vertical lens shift is not a common feature in projectors in this price range; it alters the picture's height without physical replacing of the projector.
BenQ W1070 CONS:
It doesn't have options to smooth out the image, particularly intense action sequences are shaky.
The forward-firing exhaust fails to block lamp leakage onto a wall so the light is constantly shed.
I've left the Standard settings because Dynamic mode ads turquoise hue to the whole Cinema mode loses detailing due to an increase in the gamma settings.
Shadows are weak; especially in darker areas they are almost invisible; I've tried to change contrast ration, but it's not responsible for its improvement.
The tiny remote control is inadequate; there's a useful selection of options, but the navigation buttons are spongy, unresponsive, and, of course, are not backlit.
What is the final result of BenQ HT2050 vs BenQ W1070 comparison?
BenQ HT2050 has more powerful brightness (2200 versus 2000 lumens) between BenQ HT2050 vs BenQ W1070. BenQ W1070 has 2 composite videos (RCA) in comparison to BenQ's HT2050 one. BenQ W1070 has lower contrast ratio (10000:1 vs 15000:1) and doesn't have USB (Type A). BenQ HT2050 is heavier in this BenQ W1070 vs BenQ HT2050 opposition.
Before coming to a conclusion, note, BenQ HT2050 has vertical keystone only, while with BenQ W1070 you have to have a big space for a 235-inch screen from its maximum 1.5x throw ratio.
If you crave for more details, glance over a chart and my other reviews.