Key points of BenQ HT3050 vs Optoma HD131Xe opposition
BenQ HT3050 – a perfect indoor projector for movies
I've come up with the idea to compare BenQ HT3050 vs Optoma HD131Xe projectors. BenQ's HT3050 stereo sound and Cinematic Color Rec. 709 picture quality have stricken me right away. So, it looks like a perfect combination of the picture and the sound of high quality at reasonable price. However, not everything is perfect, 3D glasses are not included, moreover, not all models suit this projector, only DLP-Link glasses are required.
BenQ HT3050 PROS:
Not all projectors have the vertical lens shift, I'm glad that this one has and I don't need to remove it to adjust the picture.
It can project on window screen for holiday illumination for example; I have tried its capabilities of projecting on the back of a screen.
The stereo sound is massive. The 20W speakers do their job and sound like in a cinema.
I've been glad to discover that it has a faster color wheel than most DLP models, thus this 6X color wheel causes less rainbow effect.
BenQ HT3050 CONS:
Setup process drives me crazy because the info is divided between the remote control and the settings.
Be ready for additional spending because it doesn't have a built-in tuner for watching TV. I couldn't connect a cable straight to the projector.
Lag time is about 50 ms, which is not great for games, at least hardcore ones.
It's noticeably heavy, so I don't plan to take it at work or even outdoor for evening movie watching.
Optoma HD131Xe – an extremely quick projector for live streams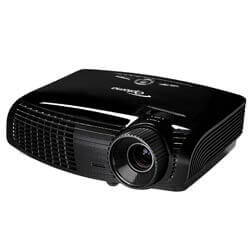 When I have been checking up Optoma HD131Xe vs BenQ HT3050 I didn't expect that Optoma HD131Xe could impress me greatly but unexpectedly it did! Its 17ms input lag time is an excellent result for serious gaming and live broadcasts streaming.
Optoma HD131Xe PROS:
The keystone adjustment solves the problem with setting a beam directly in the middle of a screen that firstly has been directed forward and up.
It works pleasantly quite equally on ECO and Bright Modes, so it doesn't distract from watching. Also, Eco Mode makes brightness more distinct.
Contrast ratio 18000:1 works off its cost completely – the contrast between dark and bright colors is drastic.
I've chosen "Brilliant color" Mode for more colors because it visibly enhances the secondary colors.
Optoma HD131Xe CONS:
I've noticed that images have some noise, especially in the transition from dark to light areas.
The darker black level is not intense and the lamp power is weak, so the picture has less nuanced shades of light.
​It needs additional adjustment because it focuses on the top and the bottom is blurred.
Projector heats up quickly and at least one time in an hour it requires rest to cool down.
It doesn't have an image size adjust in setup, so each time I have to change its position to fix a picture's size.
Do you still have some questions about Optoma HD131Xe vs BenQ HT3050?
Optoma HD131Xe is brighter in comparison to BenQ HT3050 (2500 versus 2000 lumens), but BenQ HT3050 has twice powerful speakers (20 vs 10W). BenQ HT3050 has lower contrast ratio (15000:1 versus 18000:1), while Optoma HD131Xe has weaker lamp type (195 vs 240 W).
Before buying pay attention to BenQ's HT3050 stereo sound and Optoma's HD131Xe black margins around the image, but it's not a great flaw, you will probably get to it soon.
For more practical experience info, check out more of my reviews of these models.