What matters in Optoma HD141X vs ViewSonic PJD7820HD opposition?

Optoma HD141X – a bright projector at a tight budget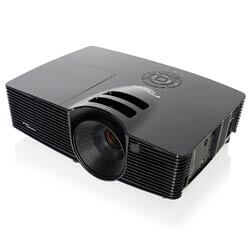 Recently I've decided to compare ViewSonic PJD7820HD vs Optoma HD141X and straightforward I noticed the simplicity of Optoma HD141X connection to my MHL through a single cable solution. So, I have everything on the wall that I have on my smartphone. Moreover, I can control my device with the remote. It has inexpensive maintenance of the projector and a long lamp. It lasts for 6,000 hours in Eco mode or 5,000 hours at full power. This makes the Optoma HD141X in opposition Optoma HD141X vs ViewSonic PJD7820HD, cheaper to own.
Optoma HD141X PROS:
It's cool that both HDMI ports support 3D from Blu-ray, a cable or FiOS box – it's a good variety of choice. Also, it works with either DLP-Link or Vesa RF glasses, but not simultaneously.
Low input lag of 33 ms makes it a good choice for gamers, but I'm not the one. However, at sixty frames per second, 33ms is only two frames.
Optoma HD141X CONS:
It gets warm in an hour, so it's impossible to put it behind the sofa because the fans are placed in the front of the projector and the heat displacement bothers us setting in front.
It's inconvenient that I must keep in mind what devices are suitable and what aren't because it has only two HDMI 1.4 ports, mini-USB, and audio-out jack.
Also, it doesn't have Bluetooth and the Internet connection, so I can't adjust it to my wireless speaker.
ViewSonic PJD7820HD – a small but noisy device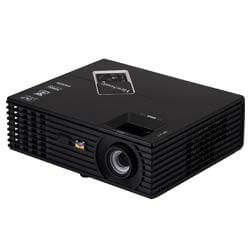 Not all even expensive models work perfectly at a far distance, but this one does; I have put it upside down, 8 feet from our 100-inch retractable Da-Lite 16:9 projection screen and the result was better than I have expected. Brightness is great; it works regardless of natural or artificial light. It doesn't lose quality even a 10-foot screen.
ViewSonic PJD7820HD PROS:
I like how its full-size remote control is divided into four functional sections and controlling it via mouse when the USB-B cable is connected to my laptop.
A 1.3x manual optical zoom and a keystone correction saved a situation when I discovered that I couldn't place the projector on the same level with a screen.
ViewSonic PJD7820HD CONS:
An image the top and the bottom have been cut off when I pared the projector with my MacBook that offered a few display resolutions over HDMI.
Remote control bothers me because firstly, its IR control sensor is weak and I must target directly in it.
I have noticed that the image corners are significantly dimmer than its center; the situation is the same with pictures and video.
What is a conclusion from Optoma HD141X vs ViewSonic PJD7820HD review?
Please, check up more of my reviews that will assist you in your projects comparison. I've tried to include as much testing experience as possible to make it more useful than chart data.
Optoma HD141X has a far great pixel number in comparison to ViewSonic PJD7820HD (10244000 versus 480000). ViewSonic PJD7820HD has USB (Type mini-B) and RS232 (DB-9pin). However, it doesn't have USB (type A), while Optoma HD141X has higher contrasting ratio (20000:1 versus 15000:1).
Before buying, note the Optoma's HD141X loudness in a normal mode, so it'll be more suitable for presentations; ViewSonic PJD7820HD is a good choice for home theatre; note that it has placement flexibility due to its optical zoom of 1.3:1, so it will accommodate to the size of your room and audience seating configurations.