BenQ W1080ST vs BenQ W1070 – Are they similar in quality?

BenQ W1080ST – a short throw projector with a great brightness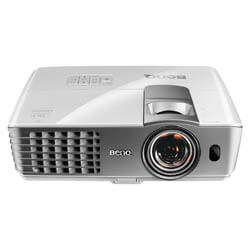 Recently I have tested a short throw projector BenQ W1080ST that is capable for throwing a 65-inch image from 1 m from a wall, which is more impressive result than its opponent BenQ W1070 vs W1080ST.
BenQ W1080ST PROS:
The optical zoom in varied; this short-throw can be made even shorter due to the precise focus ring.
A contrast performance is definitely strong thanks to a natural and deep black level response and high-level brightness.
It produces a lot of dark shadow detailing; I've noticed that most budget projectors have blurred subtle background detailing in dark scenes, but BenQ W1080ST dark scenes contain the profound background detailing depth that bright ones do
BenQ W1080ST CONS:
I suppose that the clarity is a little bit reduced in moving objects and noise is presented in the Normal lamp mode.
At first, skin tones looked green or orangey, even with Cinema mode. However, the color management system saved the situation – I added the red hues and reduced the green and blue ones. As a result, the color palette now looks sufficiently
The Brilliant Color technology doesn't please me with the quality; I've tried it in a brightly light room, but it didn't save the situation completely. I noticed the reduction of color warmth and stretched colors.
BenQ W1070 – the projector with a sharp picture but subtle darkness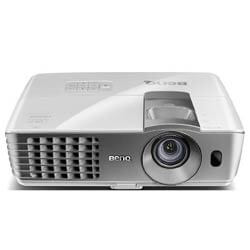 I didn't believe in a big decent picture for a little money before this BenQ W1080ST vs BenQ W1070 comparison. A first, BenQ W1070 made me even change my mind thanks to its bright picture and sharp contrast, but vertical lens shift that needs a touch of a screw for controlling, is annoying because it's tough to get it right since it's sensitive.
BenQ W1070ST PROS:
Eco Blank Mode enhances lamp life; it decreases light output if any source is adjusted and a lively on-screen message appears "Save up to 70% of your lamp power. Time to do your part in saving the planet."
It has front and back adjustments, thus I am not concerned about its perfect level of height mounting, it improves imperfections if it's necessary.
I'm excited to see in a projector this cheap a vertical lens shift that eases a life and brings flexibility in how high or low I place the projector regarding a wall.
BenQ W1070ST CONS:
I've been surprised that color and tint settings aren't accessible with HDMI source in use, but there are two HDMI ports for Blu-ray players or AV receivers.
The remote control isn't backlighted, so I fumble as usual in the darkness.
The built-in speakers are sufficient only for casual videos from YouTube or gaming but not for films watching.
More info about BenQ W1080ST vs BenQ W1070 comparison?
In opposition BenQ W1080ST vs W1070, BenQ W1070ST has bigger focal length (16.88 - 21.88 mm versus 10.2 - 12.24 mm). BenQ W1080ST has USB (Type A), while BenQ W1070ST doesn't. BenQ W1070ST has smaller vertical - 20 degrees keystone correction manual in comparison to BenQ's W1080ST vertical - 40 degrees. In contrast, in BenQ W1070 vs BenQ W1080ST, BenQ W1080ST doesn't have lens shift.
Also, before your final choice, pay attention to BenQ's W1080ST sore point − Cinema mode and Brilliant Color. BenQ's W1070ST speakers aren't powerful enough for movies watching.