Huion H610 Pro: Affordable Drawing Tablet For Professional Artists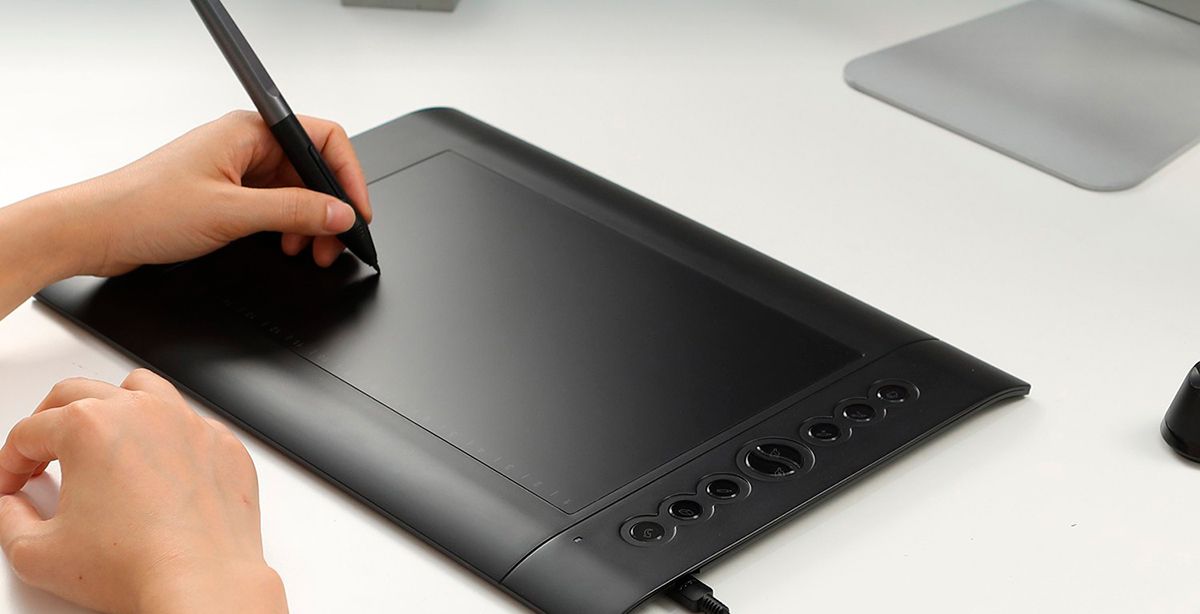 The Huion H610 Pro review is dedicated to the model, designed for professional use. It has an extensive drawing surface which makes it a convenient solution for small and large projects. Despite this, it's in the budget price segment which makes it one of the most affordable devices for professional digital drawing.
Setup
The Huion H610 Pro graphic drawing tablet works with Windows 7-10 and Mac OS 10.8.0 and later versions. The installation process for both of them doesn't differ. The first thing you have to do is insert the installation CD with the Huion H610 Pro driver in the CD-ROM drive of your PC or laptop (if there is no CD-ROM drive, download the driver from the Huion's official website). After that, the main installation screen will appear automatically, and then all you have to do is just follow the instructions.
Features
The H610 Pro's specs of 5080 LPI and 233 RPS give you a high level of responsivity and control over the line thickness, transparency, and color.
The Huion H610 Pro pen is rechargeable and feels very lightweight in the hand. You can choose from 2048 levels of sensitivity and 8192 levels of pressure. There are also two buttons on the pen that can be programmed to perform any functions you need.
This tablet doesn't come with additional art programs, but it's compatible with lots of art programs: Adobe Photoshop, Adobe Illustrator, Adobe Effect, and many others.
One of the greatest things about the Huion H610 Pro is a large set of accessories that are included in the package. As you open up the box, except for the installation CD, charging and USB cables, stylus, and the user's manual, you also get a carrying/storage bag, 8 pen nibs, and a pair of black gloves that rarely go in the kit with drawing tablets. They prevent you from leaving grease stains from your fingers on the working surface, contributing to better responsivity and visibility and also prevent hand-versus-tablet friction.
Design
The Huion H610 Pro has a nice and sturdy construction that feels really durable. The active surface is 10 x 6.25 inches which is even bigger than an A5 paper. The surface has papery, semi-matte texture which is very pleasant to touch, makes the drawing process more natural, and prevents the pen from slipping. However, it does create a fair amount of noise while you are drawing. The unit is lightweight, weighing 1.3 lbs so it's convenient to carry with you.
I don't like the wide frame around the drawing surface: it makes the tablet look like an old-fashioned device. However, it's comfortable for resting your hands on it while working.
Except for 8 customizable physical express keys, there are also 16 hotkeys along the top which allow activating such functions as erasing, zooming, scrolling, and others. Besides, the Huion H610 Pro can be used by both left- and right-handers.
Conclusion
To conclude this Huion H610 Pro graphic drawing tablet review, I would like to say that this model can convince the professional artists that they don't need to break the bank to get a multipurpose professional drawing tablet. It has almost all the important features that you normally expect from graphics tablets. However, to my mind, as for professional device, it lacks the possibility of wireless connection. The compatibility with almost all the art programs that you can imagine makes the device suitable for photographers, graphic designers, and other artists.