Wacom Intuos Draw: Tablet With Battery-Free Pen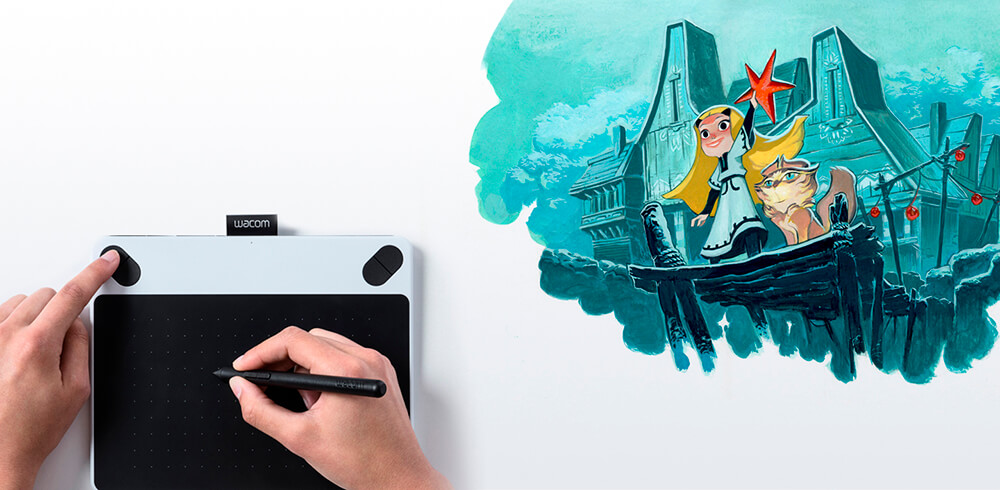 The Wacom Intuos Draw is a cost-effective drawing tablet that allows for both painting and editing. It's one of the most basic Intuos' drawing tablets that goes with a pen that has 2048 levels of pressure, being able to provide a natural feel of drawing on a real paper.
Setup
The Wacom Intuos Draw tablet can work with both masOS (10.8.5 and above) and Windows (7 and above). The installation process is very easy: firstly, you have to connect the tablet to your PC/Mac via an included USB cable and turn it on. Then, go to the official Wacom website to download the Wacom Intuos Draw driver and run the installation. Of course, you can use the included CD with the driver, but the site will give you the latest driver version.
After the installation is complete, you will have to reboot your computer. The driver's icon will appear on your PC's control panel. Clicking on it, you will get access to 4 tabs that will give you full control over the tablet and pen settings.
Features
The first tablet's feature that I would like to highlight in this Wacom Intuos Draw review is the possibility to adjust it to work for both left- and right-handers.
The tablet goes with a battery-free pressure-sensitive pen. It looks and feels like a usual pen in your hand, weighing about 0.3 ounces. The pen also has two buttons that can be customized, but, unfortunately, can't offer an eraser tip. The tablet doesn't have a multitouch feature, so the only way to interact with the drawing surface is by using the pen. The drawing surface is mappable, so you may use only a part of it if you want.
In the package, you will find 3 pen nibs and code with free access to the ArtRage Lite software for sketching and drawing. The tablet works with almost any Adobe software.
Design
Having 8.2 x 0.4 x 6.7 inches, this Wacom Intuos Draw small tablet is suitable for placing on a limited desktop area. This also makes it an extremely portable model.
The small dots on the surface indicate the drawing area (they also serve great for precise mapping). This area itself is 6.0 x 3.7 inches, has a paper-like texture, and generally feels very smooth.
There are white matte plastic borders around the drawing area (the majority of the tablet is made of plastic as well so it's not very durable). The upper border contains 4 express keys that can be set to perform your most frequently used function, like copy/paste, for example.
The edges of the tablet are rounded and feel much more convenient for your wrists than sharp edges. On the upper right corner, you will find a security lock slot for pen. 4 rubber feet on the back of the tablet serve to prevent slipping.
Conclusion
This Wacom Intuos Draw creative small pen white tablet will work great for those who don't need multitouch function and want something affordable. Thanks to an easy-to-use battery-free pen and simple functionality, you may want to consider it as your first graphic tablet. Plus, it has only 4 control buttons and compact size which makes a good choice for kids as well.