Huion H610: Graphics Tablet with Rechargeable Pen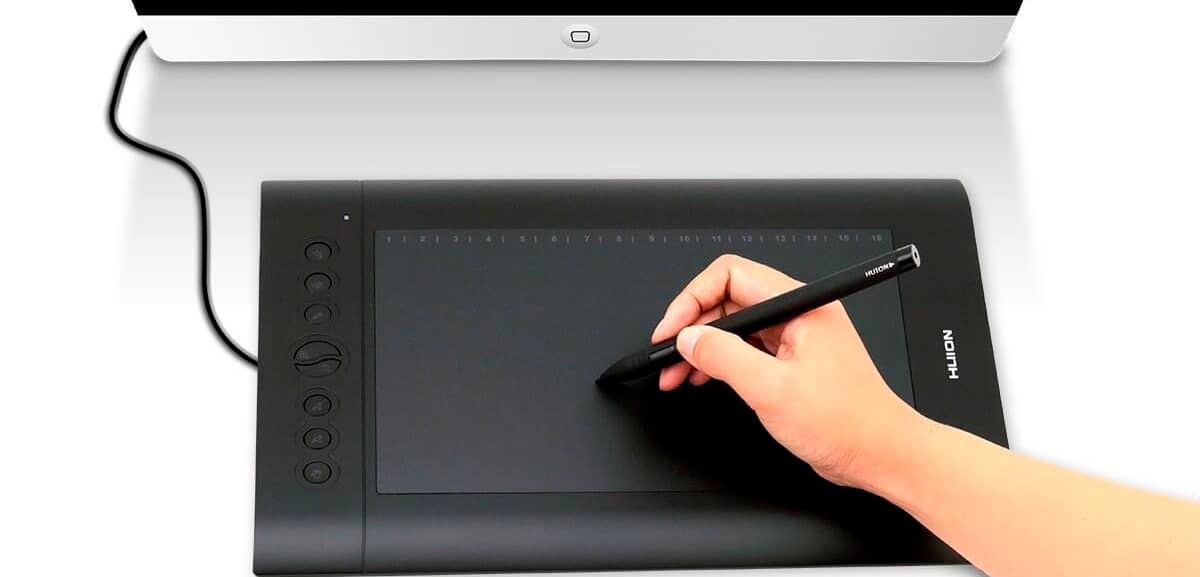 The Huion H610 is a fairly simple drawing tablet, suitable for amateur digital artists, photographers, designers, etc. It also fits for both left- and right-handed users.
Setup
The first thing you need to do is hook up the H610 to your PC via USB and turn it on. Then, install the Huion H610 driver (you can download it from Huion's official website or use the provided CD) and follow on-screen step-by-step instructions.
Features
The drawing surface measures 10 x 6.25 inches, being quite large. It doesn't have a papery texture and can't offer any kind of slippery-proof coating. This way, you will have to take some time to get used to it.
The Huion H610 pen features 2048 levels of pressure sensitivity that allow for precise control. It's designed to act as a pencil, marker, pen, or brush. The stylus requires an AAA battery. Being a rechargeable model, it's more sensitive and responsive than battery-free styluses. It requires recharging every 3 days of active use. There are 2 programmable buttons for your convenience. The pen also can replace a mouse and feels fairly lightweight in the hand. With ±60° tilt support, it perfectly simulates a regular pen.
Having a resolution of 4000 LPI, it allows drawing with high clarity and sharpness. The report rate of 220 RPS is fairly standard and provides a decent level of responsiveness allowing you to easily draw both thick and thin lines. The Huion tablet H610 supports many useful programs, such as Adobe Photoshop, Adobe Illustrator, Zbrush, etc.
This model comes with a carrying case, a glove that reduces friction, a pen charging cable, 8 nibs, and an installation CD
Design
The Huion H610 tablet has an all-black design and is fully made of plastic. It features 8 customizable keys and 16 soft press keys (for erasing, zooming, scrolling, etc.). The curved sides allow it to reliably stick to the surface for added stability. The frame around the drawing area is very thick. The LED power indicator is located on the right corner of the tablet. It's very small and hard to see. This model is quite large and heavy to be suitable for frequent transportations.
Conclusion
Summing up this Huion H610 review, I can say that it's a good model with decent specs. Its active area will be suitable for small and large projects. It works with the most essential programs and has a great number of customizable buttons which is quite convenient.
However, it doesn't have a papery surface. This may be disappointing for beginners, but for some experienced digital artists, it may not be a problem at all.