Huion H610 vs Wacom Intuos Comic – looking for a winner

Huion H610 – best deal for beginners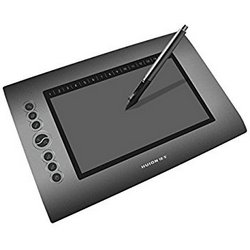 Looking for the best and simplest graphics tablet Huion H610 or Wacom Intuos Comic I was hesitating between two famous brands. I have found that Huion H610 is compatible with Mac OS 10.8 and Mac OS 10.10. or later; Windows 7, 8, 8.1, 10. The graphics drawing tablet has been easily installed by me and I connected it to the computer without any problems. Huion H610 is both for left- and right-hand users. The huge workspace offers me perfect work environment, better results, and less scrolling.
Huion H610 PROS:
Works really well in both Illustrator, Photoshop, and Lightroom 6.7 CC. The installation didn't take too much time.
Great working tablet for sketching. I have tested it to perform the mind maps. Very tidy and sensitive, seems like I'm using a real paper and pen.
Huion H610 CONS:
The plastic nib is a bit flakey, making scratching noises when held exactly vertically.
Too small inactive area to put my hand on! Despite the fact I don't have huge palms, they are sliding off the tablet's edge all the time!
Wacom Intuos Comic – a five stars device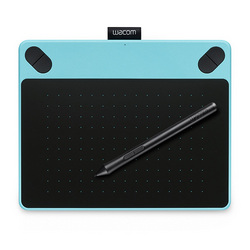 The Wacom Intuos Comic has a useful multi-touch option. It lets the digital artist use the general gestures to turn and zoom the artwork. To begin at once, Intuos Comic comes with Anime Studio Debut 10. Wacom Intuos Comic provides a perfect build quality, even taking into account that fact - it is plastic throughout. The mint blue colored top part has a perfect rougher textured area, the drawing surface is rather smooth. All the ports could be easily found at the top of the device. There is a hole at the top corner of the device to lock it and to switch the Multi-touch function.
Wacom Intuos Comic PROS:
I like a fine tactile feel to the nib as it slips on the drawing surface. The lines simply spring as commanded by the stylus actions. The quick lines are plane and have no flutter.
I have installed the drivers for the device rather quickly.
Wacom Intuos Comic CONS:
Clip Studio Art Pro didn't come with the tablet as it was advertised.
The device has a poor read speed – only 133 pps.
Wacom Intuos Comic vs Huion H610 – final conclusion
After I have spent some hours testing both devices and tried to make a final conclusion Wacom Intuos Comic or Huion H610 it was clear, they both have many pros and cons. A short comparison chart helped me compare Wacom versus Huion.
The resolution of Huion H610 is 5080 lpi, Wacom Intuos Comic has only 2540 lpi. Huion H610 is too heavy – 2.9 pounds, while Wacom Intuos Comic is 0.8 pounds.
Wacom Intuos Comic tablet could be of mint blue or black color, Huion H610 comes only in one color.
Wacom Intuos Comic has no pen holder that is expected by digital artists. Still, Huion H610 has such an addition.
Make your own comparison and choose the best device paying attention to the most important features such as sensitivity, working space, buttons functions and so on.