Huion H610 vs Wacom Intuos Photo – which one is mine?

Huion H610 – a five stars product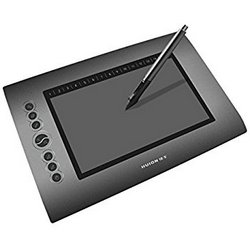 Testing Huion H610, I was surprised with a great working area 10 x 6.25 inches that are full enough for me as for the beginner in digital art. I like the pressure sensitivity of the device and 16 Function Keys that can improve my work. Huion H610 comes with a battery pen P68 that could actually work as a replacement for a traditional mouse. The device is compatible with CorelDraw, Adobe Fireworks, Macromedia Flash, Autodesk MAYA and others.
Huion H610 PROS:
The high-pressure sensitivity allows the tablet to work incredibly well.
The screen could be hooked to monitor that I actually need for working.
Huion H610 CONS:
The installation process is a little bit difficult as there is no instruction in English.
The button's icons from the left side are dark and hard to find in a low light.
Wacom Intuos Photo – a great tool?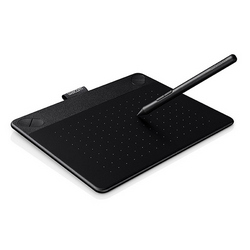 Wacom Intuos Photo – is one more product of Wacom that comes with a free Photo Pack that includes: Horizon Canvas Print and photo editing software for Mac; and for Windows - Corel PaintShop Pro and Corel AfterShot Pro. The pen is battery-free. It helps you draw various lines depending on how hard the push on the pen is. There is a switch to turn on touchpad sensitivity.
Wacom Intuos Photo PROS:
The back of the tablet has a pretty removable plate with a few helpful things under it: spare pen nibs and labeled compartments for an optional wireless "upgrade" kit.
The pen doesn't slip over the surface of the device. The texture is perfect!
Wacom Intuos Photo CONS:
There are some installation problems with Windows 10.
The shortcut keys don't work at all.
Huion H610 or Wacom Intuos Photo – to buy or not to buy?
Summarizing all the advantages and disadvantages of both devices Wacom Intuos Photo or Huion H610, I would like to make a short comparison chart. If you compare the resolution of Huion H610 versus Wacom Intuos Photo, Huion has 5080 lpi, but Intuos Photo has only 2540 lpi. The weight of the Huion H610 is 2.9 pounds. It is not light as Intuos Photo.
Wacom Intuos Photo has no pen holder in comparison to Huion H610. Four buttons are really enough instead of eight of the Huion H610.
Before a final decision, comparing Wacom Intuos Photo vs Huion H610, look through such characteristics as weight, size, pressure sensitivity once more.