Wacom Intuos Pro vs Huion H610 Pro which one is the best?

Wacom Intuos Pro – continuing industry leader?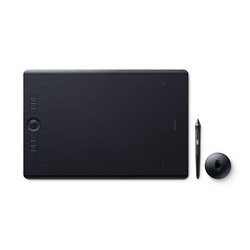 As I tested new Wacom Intuos PRO I realized that this device combines almost all modern technologies of graphics tablets and allows you a simple and familiar way of working. The most exceptional performance of the device in comparison to a heap of the models I have already tested is its unbelievable pressure sensitivity of 8192! The device is compatible with Windows 7 Professional and above as well as with MacOS 10.10 and later. Wacom Inkspace helps sync, store, and export the ready paper sketches in common file formats that adjusts the work on PC or Mac. Digital ability of the device lets me choose how to work: to acquire editable versions of the paper sketches or to work digitally.
Wacom Intuos Pro PROS:
The device is for both right and left users, it's great!
The multi-touch gestures speed the workflow.
Wacom Intuos Pro CONS:
Some programs need too much time to be installed.
The weight of the device is 1.54 pounds. Is the stuff of the device really reliable?
Huion H610 Pro – a "must-have" device?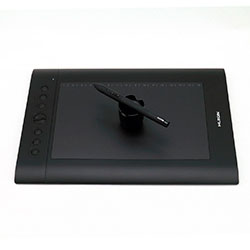 Another device that I have also tested is Huion H610 Pro that has also impressed me from the first touch. Despite my concerns, I can say it could be an absolute dream to use. The surface is perfect, drawing with the pen on it seems like you are moving on the cardstock. Huion H610 Pro is fully compatible with Adobe Photoshop as well as Illustrator and Windows 7/8/8.1/10, Manga Studio, Mac OS X 10.8.0 and later versions. Great! All the programs are installed promptly just restart your PC and work. 2048 level of pressure sensitivity could be real enough for amateurs.
Huion H610 Pro PROS:
I liked the pen that is made of high-quality stuff. It feels fantastic.
The reed speed of the device is 200 pps.
Huion H610 CONS:
The pen holder could be made of higher quality stuff.
An amazing tablet for a great work – Wacom Intuos Pro or Huion H610 Pro?
Having tested both devices in order to understand which one is better Huion H610 Pro or Wacom Intuos Pro I advise you to read my short comparison chart.
Both devices have their advantages and disadvantages. Choosing Huion H610 Pro vs Wacom Intuos Pro, remember about the main achievement of Wacom Intuos Pro – the resolution is 5080, Huion H610 Pro has only 4000! At the same time, there is no pen charging cable that is present in Huion H610 Pro.
Huion H610 Pro provides users with larger active surface 10 x 6.25 inches, while Wacom Intuos Pro allows only 8.7 x 5.8 inches. Bad quality of the nibs in Huion H610 Pro is its fault, actually Wacom Intuos Pro provides better nibs.
It is simply easy and tough choice simultaneously of one device versus another. I hope if you compare the essential points for you, you will make a right choice at once!