Huion 1060 Plus vs Wacom Intuos Pro comparison chart of drawing tablets

Huion 1060 Plus – a tablet a built-in MicroSD card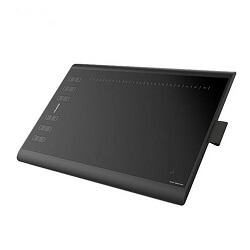 This model has a large active area. It also has a thin border, which makes it look even bigger. It is very accurate in terms of sensitivity so it registers the slightest changing of pressure. A high read speed excludes any lagging when you move a pen. Moreover, you can also customize the buttons. The device is fully compatible with modern OS. This device has a built-in card reader. You can save your artwork on a MicroSD card. The device supports cards up to 64 GB.
Pros of Huion 1060 Plus:
The active area is smooth and matte. The pen does not slide when you do not want it to.
A High resolution and a high read speed exclude any lag and the device reacts immediately to your actions.
Cons of Huion 1060 Plus:
When a PC "wakes up" it stops registering pen movement. Therefore, you need to unplug and plug to USB cable.
In some cases (when you rotate the stylus) the pen lags and you get a blank space.
Wacom Intuos Pro – a drawing tablet for Mac or Windows
This is a high-performance model with a very high level of pressure sensitivity and read speed. It also registers pen tilt. The active area is enough for artists who draw with wide strokes. The device comes with a Pro Pen 2 that translates your movements extremely precise (just like a pencil). It supports multitouch. It has many express keys and a touch ring that allows you to quickly enter a menu. The device has a Bluetooth module. This model comes in three different variants – small, medium and large. If you compare these three models then you will see that the main differences are:
The active area
The pen that comes with a tablet (the medium and the large models have Pro Pen)
The wireless module – the medium and the large models have a Bluetooth module, while the small model features an RF adapter
Pros of Wacom Intuos Pro:
The device is lightweight (even the large model).
Native wireless support excludes using any special devices.
The Bluetooth module assures a stable connection without any lags even if you move the pen fast.
Cons of Wacom Intuos Pro:
The amount of drag that the nibs and the surface produce may slow down the process.
The pen buttons rattle if you shake the stylus. Plus the buttons are too sensitive and you can press them occasionally.
Huion 1060 Plus vs Wacom Intuos Pro comparison chart
Comparing Wacom Intuos Pro vs Huion 1060 Plus we can see that these two devices have many great functions, but there are still some differences like pressure sensitivity – Huion has 2048 levels while Wacom 8192 (Pro Pen), but Huion wins when it comes to the read speed – 233 versus 133 that Wacom has.
The advantage of Huion 1060 Plus is its large active area. The disadvantage is a pen that is quite fragile.
The advantages of Wacom Intuos Pro are its performance, the wireless connection protocol and the ability to replace the surface. The disadvantages are the nibs that can wear out fast and the pen with loose buttons.
If you need to decide between Huion 1060 Plus or Wacom Intuos Pro and you need a large active area then Huion is for you, but if you need a device with great performance then Wacom is right for you. Do not forget about the price choosing between Wacom Intuos Pro or Huion 1060 Plus, since Wacom tablets are quite expensive.