Huion H420: Small Graphics Tablet With USB Interface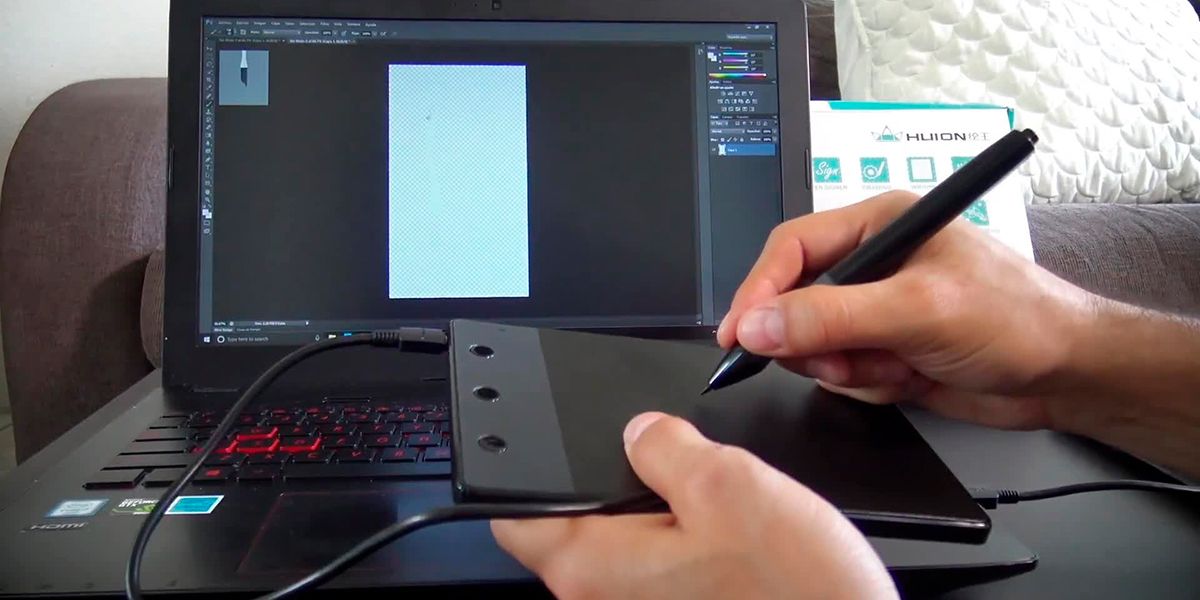 This Huion H420 review will reveal some details about one of the cheapest yet solid drawing tablets on the market. This model has a small working area, being designed mainly for beginners and kids thanks to its minimalist and simple three-button interface.
Setup
The tablet is compatible with Windows 7-10 and Mac OS 10.8.0 or above. The setup process does not require the installation of any external Huion H420 drivers. You can use the CD or download the driver online. Firstly, the installation program will ask you to select your type of OS, then choose the H20 from the list of models, and the installation will begin.
Features
The Huion H420 USB graphics drawing tablet features a resolution of 4000 lines per inch and an average report rate of 200 RPS. All the lines look clear no matter how you press on the pen. Generally, drawing on this tablet feels like drawing on some rough paper with nice feedback.
The rechargeable Huion H420 pen has 2048 levels of pressure and works with the help of one AAA battery which lasts on one charge up to 2-3 days. The on/off button is located on its very top. By pressing the middle button on the pen, you can scroll documents and pages on the tablet's working area. There are also two buttons that can be re-programmed for specific functions. To give you a seamless and convenient drawing experience, the pen is equipped with an electromagnetic digitizer. It can replace the wireless mouse, being suitable for both the left- and right-handed users.
The H420 is compatible with all the popular graphics programs, like Corel Painter, CorelDraw, Photoshop, Illustrator, Fireworks, and many others.
The Huion H420 USB graphics drawing tablet board kit is impressive. It includes a 10-inch grey liner bag with an excessive space for a phone and other items. It's made of wool felt and microfibre leather. There are also the two-finger glove made of lycra fiber with high elasticity, 4 spare pen tips for replacement, removing tool, and cleaning kit.
Design
The drawing area of the Huion H420 is only 4 x 2.23 inches while the overall surface of the device takes 10 x 7.5 inches. The tablet is extremely lightweight, weighing only 4.6 ounces. This way, it will not take a lot of space on the desk or in the bag and can be easily carried with you anywhere.
Three express keys are located on the right side of the tablet. Initially, they perform such functions as close, save, and back but can be customized for other needs if you would like to.
Conclusion
The Huion H420 drawing tablet is a great entry-level device for gaining your first experience in working with digital graphics tablets. It appears to be suitable for drawing, playing OSU, creating sketches, editing files, and more.
Its biggest advantages are portability and large kit of additional accessories. However, it can't offer some advanced features like smartphone compatibility or wireless connectivity which may be a problem for some users. Plus, the lack of drawing room makes it longer to draw something with precision.