Need a projector? I compared Epson VS350 vs VS355 for you

Epson VS350 - bright and clear
For the comparison of two models of projectors, I had on my hands Epson VS350 vs Epson VS355. VS350 has 3300 lumens and conveys color accuracy. The projector allows me to display presentations with infographics and chart and they were very clear and readable. The laptop can be easily connected to the projector using an HDMI cable. While watching the movie, I noticed that the quality is normal, but there is a black frame around and in the end the eyes begin to hurt. So watching movies on this projector is often inconvenient.
Pros of Epson VS350:
The projector gives a bright image, both in daylight and in artificial light.
Very light and easy to carry, so you can easily take it with you for presentations to any place.
Cons of Epson VS350:
Sound volume is not enough for large rooms. If the sound is necessary, it is better to connect additional speakers.
For adjusting the size, the projector should be set far from the wall, but it is not always possible in small rooms.
Epson VS355 – a perfect choice for widescreen video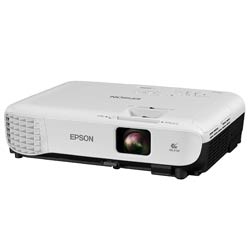 Thanks to the 16:10 aspect ratio this model is suitable for viewing the widescreen video because, basically, the movies have exactly this aspect ratio, which means that you'll not have a black frame around the image. The projector accurately conveys colors, allows you to see even the shades of the same color. I want to note that it was inconvenient for me to adjust the size of the image on the wall. I had to physically put the projector further to enlarge the picture.
Pros of Epson VS355:
The projector gives a bright and contrast image, regardless of the lighting.
The device is easy to configure and I quickly figured out how to switch the image modes depending on the purpose of using.
Cons of Epson VS355:
The sound is quiet, it's better to use only in small rooms, and to amplify the connecting speakers.
After watching the movie, the projector got very hot, and by the end, it started to make noise even more. In this case, it is better to fix the device to the ceiling.
Let's compare the Epson VS355 vs VS350 face to face
The Epson VS350 is definitely cheaper than the VS355 and easier to configure, but the VS355 is suitable not only for presentations but for watching a widescreen movie in full HDTV and Blu-ray quality. The VS350 versus VS355 loses in resolution and it doesn't allow you to enjoy watching long videos.
In the battle Epson VS355 vs Epson VS350, the model VS355 is versatility device: this is a good option for demonstrating presentations and for watching movies. Convenient and easy to carry.
Before you buy the projector, determine what you want to show on it. For presentations and short videos, you'll have enough VS350 models. If you want to watch movies often, VS355 will win in this case.