Optoma HD27 vs GT1080Darbee – Perfect Picture, Accurate Adjustments

Optoma HD27 review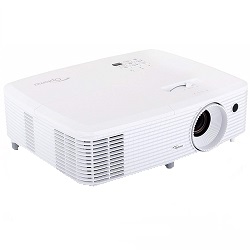 While testing Optoma HD27 vs GT1080Darbee I'd like to compare its key features that can help choose the projector in terms of its relevance to certain operating conditions.
Optoma HD27 has DARBEE Visual Presence tech to enhance the picture clarity and depth. It lacks the contrast ratio that doesn't permit to display all shades of gray between blacks and whites. This drawback is not a great deal due to its 10-step BrilliantColor Adjustment and RGB Mode that allows tweaking the picture to your preferences.
It has a common resolution that is typical for home theater projectors. It offers 6 picture modes and 4 color-tones presets, Eco and Bright lamp modes, etc. Still, to see the frame interpolation mode it would be great to decrease judder in movies.
Optoma HD27 PROS:
IR remote is backlit and includes all the necessary buttons for both inputs and picture settings.
Optoma HD27 CONS:
No glasses in the box (the projector is compatible with VESA and DLP Link glasses).
No analog video connections.
GT1080Darbee review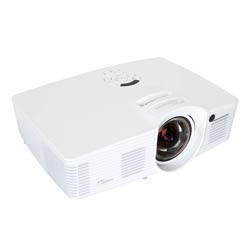 The test Optoma GT1080Darbee vs HD27 has demonstrated GT1080Darbee's low input lag and outputs 1080p/60 Hz that is perfect for console gamers. It works well both with PC and PS4. Its latency is 16 ms that is good for gaming. It falls short of the gaming monitor but is awesome in comparison with the other projectors. The manufacturer could pull off the impossible and implement perfect video gaming and video processing in the same device.
The product is full of picture adjustments to get a good picture under different conditions (bright or dark room, etc.) that delivers an amazing picture quality. You can't adjust the size of the image but need to change the unit's position for this purpose.
This model has 20-watt built-in speakers that gladden with clear sound without the external speakers to make the sound powerful.
Optoma GT1080Darbee PROS:
Doesn't require a long distance from the screen – 2–6 feet is enough.
3D capability and 3D picture that is better than other models in this price range have.
Optoma GT1080Darbee CONS:
A bit loud to sit near it. The projector should be mounted somewhere on the ceiling.
No opportunity to use more than 2 devices without additional HDMI switch or replugging.
Optoma HD27 vs GT1080Darbee – Hints for Choosing
Optoma HD27 has less speaker power (needs extra speakers) than GT1080Darbee but higher brightness of 3 200 lumens (versus GT1080Darbee's 3 000 ones) that makes it more versatile to use it in classrooms, in the house or outdoors.
GT1080Darbee has a shorter throw that reduces the range of distances you can place the unit. However, it has longer battery life with less power consumption.